Imagine spending the night surrounded by nature, sleeping in a comfy bed in a room with a magical view of a forest or an ocean...All of that while there is nothing but air beneath.
Treehouses are not just for parents to build and only for children to enjoy. Imagine literally walking from one branch to another, linked by suspended wooden bridges, reaching a paradise of peace, quiet, fresh air and majestic views after a short climb up a ladder.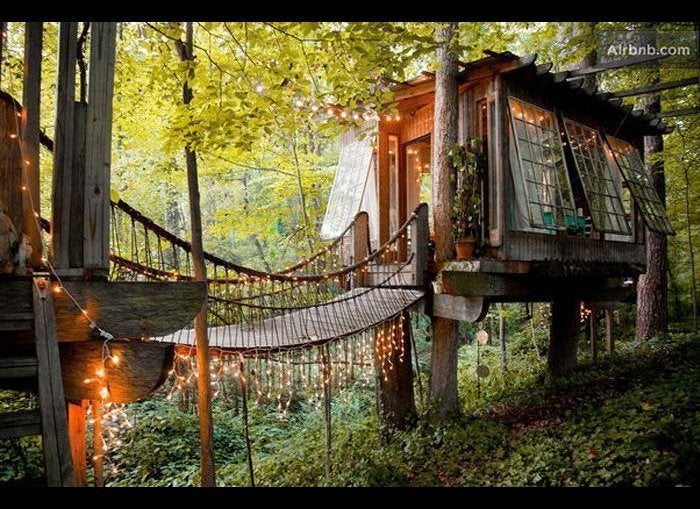 Epic Tree Houses You Can Actually Stay In
Adventurous folks who are looking to book their next trip may not want to look further. Tree houses are the ultimate off the beaten path destinations - they literally cannot host more than a handful of people and are located, by definition, in remote areas. The closest you are going to get to a big hotel and a dark room is seeing one in the distance while savoring the forest breeze.
Tree lodgings go back centuries when people in the South Pacific and Southeast Asia lived in them to protect themselves from animals. "Residents" used thatched baskets that were raised and lowered down the tree trunk. In the Middle Ages, Hindu monks lived in tree houses to free themselves from earthbound reflections.
Tree houses vary in shape and form from country to country and state to state. You can find hotels up in the treetops in Brazil to sightsee the jungle and treehouses-like spheres in Vancouver. Many of these wooden structures, which started to become more popular in the 1980's, have modernized as much as possible and have running water, electricity, luxurious baths, even fireplaces - all in between centuries-old trees.
It's often the isolation and privacy that attract people to tree houses and sleeping in nature whether it's in a jungle or a rainforest. But sometimes people won't be so-alone, as is the case in southern India, where tree house visitors are likely going to be woken up by monkeys jumping on their bed.
Dozens of businesses in the U.S. and Europe specialize in building tree houses, giving a realistic and safe opportunity for people to realize their childhood dream as adults to sleep in an authentic tree house big enough to fit them and their families. Options vary from rural, modern, fancy, and high-tech.
So read on and be inspired...