Every spring, 20,000 Steampunkers, Fairies, Lolitas and deathrockers meet in Leipzig for the world's largest Goth festival: Wave Gotik Treffen.
In this video, I share highlights from the three-day event, including an absinthe picnic and New Romantic ball.
Agra is the best spot for people-watching. Among the most stunning looks were Victorian mourning gowns and foot-long Mohawks.
With a wristband, I had access to hundreds of concerts that ranged from classical to cyber. Electro-industrial favorites Aesthetic Perfection prowled the main stage in front of thousands of fish-netted dancers. Singer Daniel Graves says, "It was the closest thing to a religious experience an atheist like myself could ever hope to have."
Between sets, I shopped at the "Black Market," a hall filled with booths selling dark fashion and accessories. I was tempted to buy a wizard hat and alien corset.
One tram stop from Agra is the Pagan Village, a Medieval-Renaissance faire. Lords and ladies listened to metal bands as they downed mead, honey wine and cherry beer.
As the sun sets, the clubbing begins. I waltzed with Rococo aristocrats at the "New Romantic Ball," and swayed with old-school punks at "When We Were Young." Unfortunately I couldn't make it to the Fetish or Japanese Visual Kei nights, which were recommended by experienced attendees.
There's always next year. Daniel Graves has been to WGT eight times, and considers each one better than the last. He recommends to first-timers, "Check out everything you can. The festival offers so much that no matter who you are, you're bound to find something that will keep you coming back."
Most attendees travel to Berlin, then take the 1.5 hour Bahn train to Leipzig, Germany. Since hotel rooms fill up fast, many opt to camp out on the site.
During the festival, public transportation is free to anyone with a wristband. Events take place all over the city. The main location, Agra, is a 30 minute tram ride from Leipzig Central Station.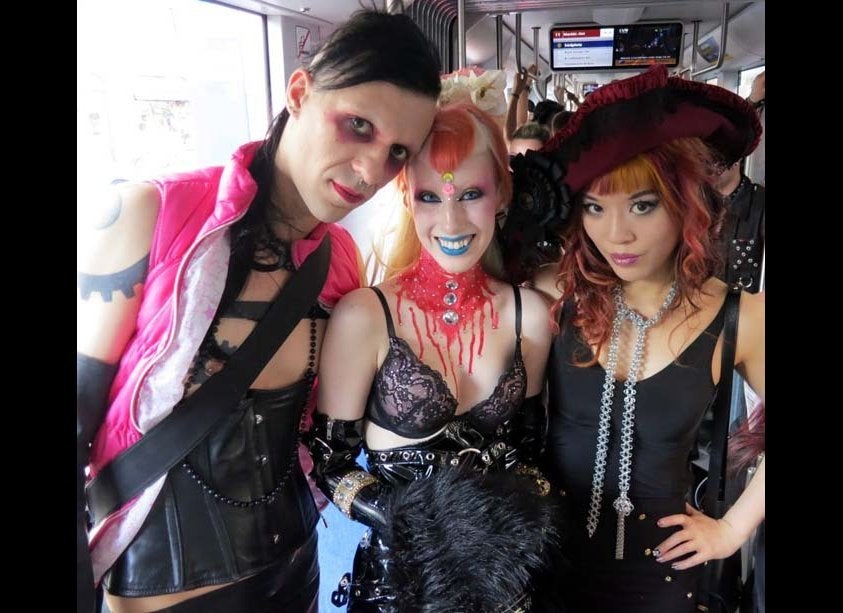 Steampunk, Victorian, Goth fashion at Wave Gotik Treffen music festival
Related