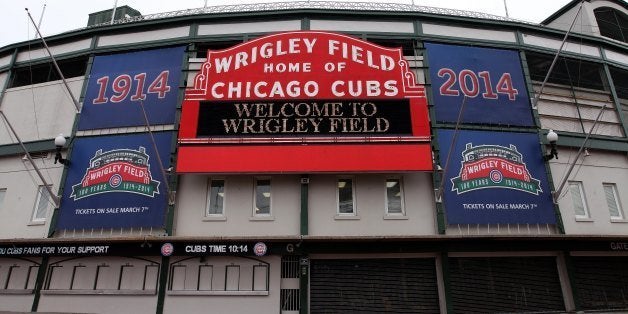 Leave it to one of Chicago's finest baseball movies to sum up the meaning of Wrigley Field in just 21 words.
Back in 1993, "Rookie Of The Year" announcer Cliff Murdoch, who was played by the late actor John Candy, set the tone for a magical Hollywood-driven season.
"Opening Day at Wrigley, and oh what a sight!," he exclaimed. "The diamond, the decorations, and the dread of yet another losing season."
Sure, the Cubs haven't won a pennant since 1945, or a World Series since 1908. But anyone who has had the privilege of taking a walk on Waveland Avenue knows what separates Wrigley Field from the rest.
To honor the park's 100th birthday on Wednesday, HuffPost Sports takes a look back at how the space has evolved over the years: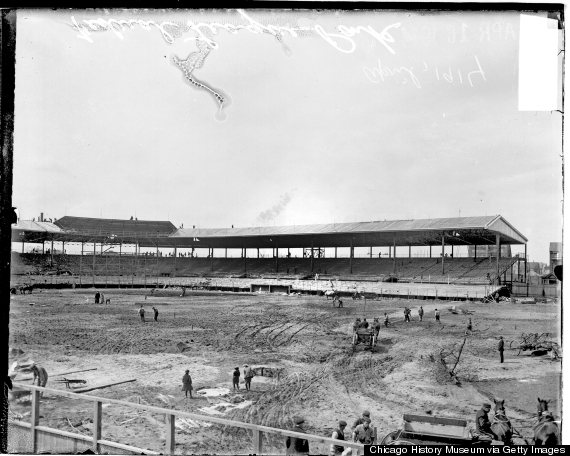 In 1914, construction is seen taking place at Weeghman Park, which later became Wrigley Field. It cost $250,000 to build the park, and the Cubs began playing there in 1916. (Photo by Chicago History Museum/Getty Images)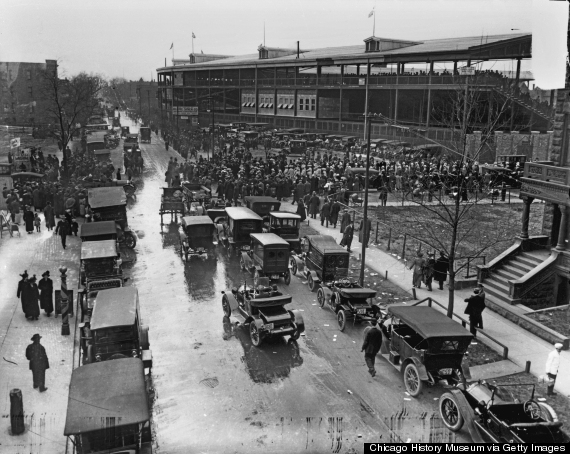 The view of the traffic surrounding Wrigley Field, as fans gather for a game, ca. 1920s. Vehicles can be seen parked on the street or driving through. (Photo by Chicago History Museum/Getty Images)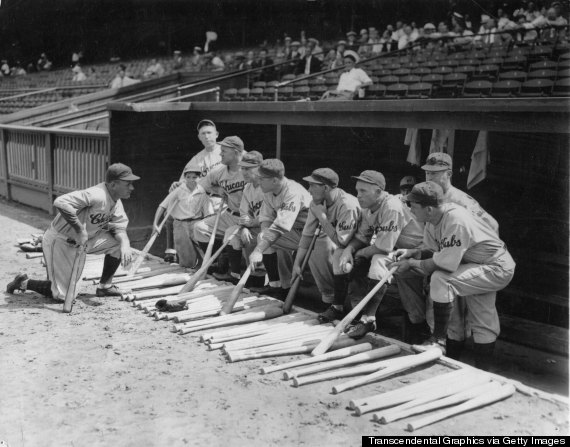 Charlie Grimm, left, manager of the Chicago Cubs, talks with his players on August 5, 1932 at Wrigley Field. The Cubs had a good run during this decade, finishing each season with a winning record. (Photo by Mark Rucker/Transcendental Graphics, Getty Images)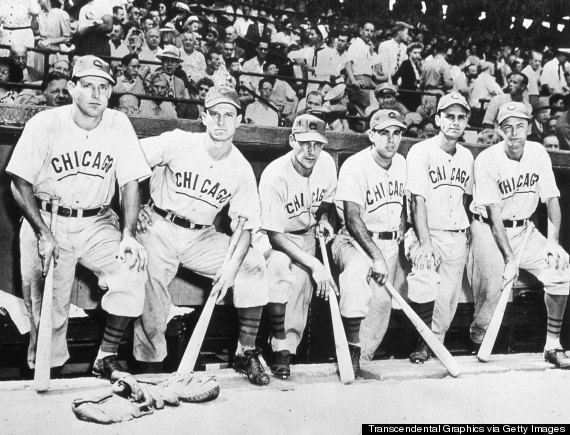 A group of Chicago Cubs pose in their dugout before the start of game four of the 1945 World Series -- (from left to right) Swish Nicholson, Andy Pafko, Phil Cavaretta, Peanuts Lowrey, Don Johnson, and Stan Hack. They lost to the Detroit Tigers in seven games, and have not returned to the Fall Classic since. (Photo by Mark Rucker/Transcendental Graphics, Getty Images) Fans at Wrigley Field are taken to upper-deck seats by a moving ramp, which is used for the first time on July 22, 1956 at Cubs-Giants double-header in Chicago. The moving ramp was the first of its kind to be used in a major league ball park. As for the team's movement on the field, this was a tough decade, as the team finished .500 or worse each year. (Photo by the Associated Press)
The Sixties Bleacher Creatures New York Mets left fielder Cleon Jones goes up for long fly ball against the left field wall on Oct. 1, 1969. He caught it despite the reach by a few fans in the bleachers. The Cubs won 92 games that year but still missed the playoffs. (Photo by the Associated Press) Two women wait in the rain at Wrigley Field for the start of the Sept. 28, 1973 game between the Cubs and Mets. Chicago was shut out from postseason play during the entire decade. (Photo by the Associated Press)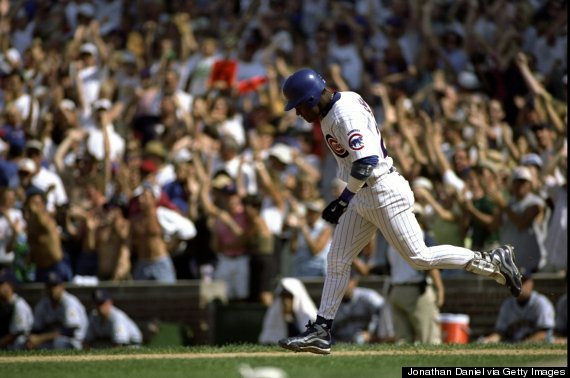 Cubs outfielder Sammy Sosa rounds the bases after hitting his 61st home run on Sept. 13, 1998 against the Milwaukee Brewers. Sosa went on to hit 66 home runs that year, but the achievement has been marred by steroid suspicions. (Photo by Jonathan Daniel /Allsport)
The Millenium Arrives, And The Bartman Pain Remains On Oct. 16, 2003, Cubs left fielder Moises Alou's arm is seen reaching into the stands for a foul ball in the eighth inning of NLCS Game 6 against the Florida Marlins. Standing in his way was fan Steve Bartman -- the force behind one of the most talked about plays in Cubs history. Holding a 3-2 series lead, the Cubs went on to lose in seven games, and they have not won a playoff game since. (AP Photo/Morry Gash)
Popular in the Community