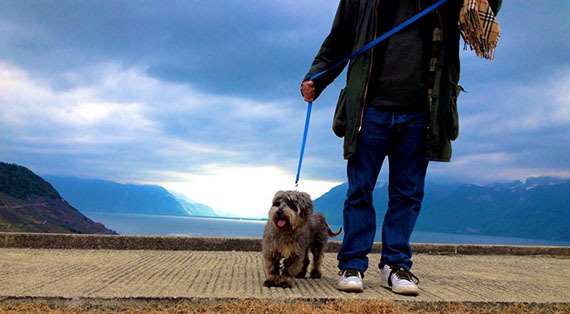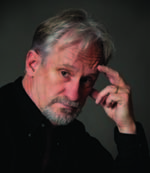 This post was co-authored by Jon Steele, an award-winning journalist and author.

Steele, a fellow expat writer in Switzerland, wrote this heartwarming article for last week's National Dog Day. He shares how his dog helped him survive writing the last book of The Angelus Trilogy and work through the remnants of PTSD from his many years as a video journalist in warzones.
The Writerly Benefits of Getting a Dog
There are two things I tell people about writing mystical noir fiction. One: It's the closest thing there is to madness this side of medication. Two: It's lonely, and you need all the friends you can get. I'm lucky enough to be married to my best friend, a woman who knew me as a front-line cameraman for British TV News in the Middle East and elsewhere. In fact she more than knew me; she was my producer for six years. Her name is Afnan.
Back then, she knew I was fairly barking already; so watching me jump careers from PTSD-laden cameraman trying to save the world by shooting pictures, to author writing books about PTSD-laden angels trying to save all that's left of paradise by killing bad guys, made perfect sense to her.

Afnan was used to the long days of silence while I was locked up in my writing room. Now and again she'd stick her head through the doorway and say, "You haven't talked to me in three days." So I would talk to her for as long as she made me talk. Then I'd go back to work. If she was out and about, (running a media production bureau in Paris, or off on a business trip) she would always call me around noon. I only answer phone calls from Afnan. Ever. I'm afraid of talking on the phone. I don't know why, but it started after I quit TV news in 2003. The usual midday conversation with Afnan was thus:
"Hello?"
"Did you eat lunch?"
"No."
"Stop what you're doing and eat something."
"Okay."
I'd hang up and go back to work. Twenty minutes later she'd call again.
"Hello?"
"I said, stop what you're doing. Go Downstairs. Get something to eat. Now."
"Okay," and this time I would do as instructed.
Afnan had watched me hammer out books one and two of The Angelus Trilogy, through good days and bad days. Truth is, she was reading me like a book. She knew I was working through a lot of emotional baggage in the trilogy.
During book two I hit the wall. I had a character trapped in the tunnels deep under Paris. It was dark, there was no way out. I didn't realize it then, but I was writing about myself. PTSD had me by the throat and would not let go.
I couldn't write for four months. It was one of the more painful periods of my life, but it passed. So as I geared up for book three, Afnan announced that she was bringing in some extra help.
"What sort of help?"
"A dog."
Afnan had been cruising the internet and spotted a mutt named Toby in Amman, Jordan. She showed me his picture. Toby was in desperate need of rescue. He had been physically abused and was half his proper weight. He's part Havanese and was supposed to have elegant long hair, not fur, with a fluffy tail. But Toby had a mass of matted hair like he'd been born with his paw caught in an electrical socket, and he had a tail like a rat.
"You need a friend," my wife explained.
"I have friends."
"You need a special friend."
"What sort of special friend?"
"One that requires your focused attention every day, several times a day, or else he'll pee on your leg."
"Excuse me?"
"Jon, you're going to be spending a lot of time alone again. You know how that one works. Having a companion dog will take the edge off."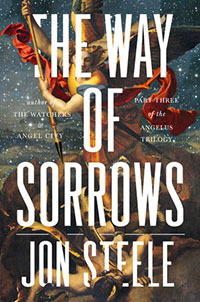 Et voila. Afnan flew to Jordan to get the dog named Toby. (Having previously filed the proper import papers, provided blood samples for rabies tests, and secured an official Swiss Pet Passport.) As it turned out, Toby had been so abused he was more screwed up than me. He needed more than a few hours a day; he needed me every minute of my day. Luckily, living in Switzerland, your dog can go everywhere with you (except grocery stores and hospitals) as long as it has graduated Swiss Doggie School. That meant I had to spend every day training myself to train him.
As Toby settled in, we developed a rhythm throughout the day, and I got back to work - slowly. Too slowly. But unlike book two, I didn't panic at the meager pace of my daily word count. I didn't have time to think about it. I was too busy walking Toby through the vineyards morning, noon, and night. Also, each day, we took a long walk through the forests and farms just over the hill from the lake. We'd see cows and horses and sheep and foxes. I didn't talk, Toby didn't bark. We just walked in silence, listening to the sounds of the world.
He liked to stop and smell the earth and plants and scents drifting in the wind. Sometimes he looked at me, and wagged his tail. It was out there, during those silent walks with Toby, that I heard the voices of my characters louder than ever before. Scenes played out in my eyes, and the plot of the story was made as clear as the road I was walking with my dog. And though the writing-it-down part was slow, I did not fear hitting a wall because I wasn't alone. There was a battered angel at my side. I remember the day he revealed himself to me.
Toby always slept next to my writing desk as I worked. Once, while in his deepest nap, he had a nightmare. He trembled and cried in his sleep; he moved his stubby front paws as if trying to claw out of some terrible place. I remember, one day, watching him for long minutes. I reached down and petted his side, "It's okay, boy. No one will hurt you now." Toby licked my hand, laid down his head and sighed, then he went back to sleep.
I was suddenly overwhelmed that this dog's presence in my life was very much like one of those "lines of causality" I write about in my books. Toby was meant to be in my life, at this very moment. Giving him comfort through his nightmare opened the door for him to get inside my soul and render me comfort, too; much more and far deeper than I had given him. I cried that day. Actually, I wept. Something I had not done in a very long time.
Not long after after, I was writing a section in the story where Jay Harper, the last warrior angel on planet Earth, is given a cup of herbal tea to help him cope with the flood of memories coming back to him. I wrote it thus:
Harper sat up against the wall, took the tea, had a sip. "What's in the tea?"
"Essence of ornithogalum umbellatum."
"Tastes flowery."
"It is. Star of Bethlehem, it's called. I added a spoonful of organic honey to sweeten it. Drink it."
"Orders from the cop?"
"Nope. It's a homeopathic doodah Karoliina whipped up for me once. In the real world it helps dogs adjust to the sorrow of loss."
"The sorrow of loss. In dogs."
"Yup. Drink some more."
Harper did, then he chuckled. "Your dream catcher prescribes you herbal remedies for sorrowful dogs?"
"Karoliina says the closest thing to a genuine angel on earth is a dog. Finish it."
Harper did finish his ornithogalum umbellatum tea, and a few weeks later, I finished the book.
Related
Popular in the Community