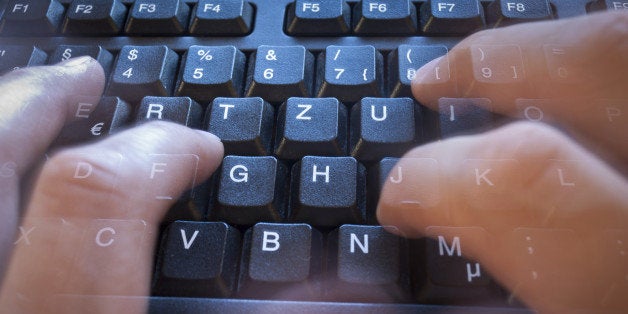 Whenever I see an author I admire posting a photo from a writing retreat, I feel a flash of jealousy. The pictures are usually from some gorgeous, foreign country that I've yet to travel to. Sometimes it's a picture of a sleepy little cabin, or a cute getaway hidden away from the world, tucked away in a beautiful, awe-inspiring landscape.
"WHY NOT ME!" I fight the urge to yell, in the middle of my favorite Starbucks in Philadelphia, battling for arm space next to several other people.
Here's the thing, you guys. Writing retreats don't have to be these extravagant, expensive outings. And while there are a lot of amazing opportunities out there for authors to getaway with other writers, it's also really easy to take yourself on a retreat. And not just any retreat, but a budget-friendly one.
Last month, while fussing over final manuscript edits for my upcoming YA novel, I decided I needed to get away from my favorite local coffee shops and go someplace new. But, with my wedding coming up this summer, I was (and still am, weddings you guys!) on a budget. So I took some tips from some friends, and whisked myself away for a mini-writing retreat. Total, including lodging and transportation, for a four-day trip? $300 a person.
Want to plan a budget-friendly writing retreat? Here are a few tips to held you get started.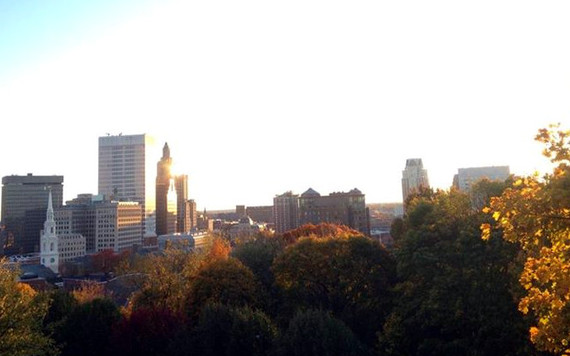 Our destination? Providence, a nice train ride away from Philadelphia.
1. FIND A BUDGET-FRIENDLY PLACE, OUT OF YOUR SPACE: The whole point of going on a writing retreat is to travel somewhere new that is out of your space, and forces you to focus. The surroundings should be inspiring, but not terribly distracting.
Now, it should be easy to think up places just like that. But when determining where to go and bearing in mind your budget, ask yourself how much it'll cost to get to where you want to go. Can you get there via a BoltBus ride? An insanely early (but affordable!) Amtrak trip? If you have to fly, that might take a huge chunk out of your budget. Look for places nearby, that are far enough to be a proper retreat, but close enough that it won't compromise what you want to spend.
Taking an Amtrak? See where your local station's routes will take you, without transfers. Hopping a BoltBus? See what the furthest destination is. Just watch the price, and don't be afraid to take that painfully early bus or train to save money. Remember, it'll get you there sooner, and the work can begin.
For my latest retreat, I went to Providence, Rhode Island, which is an Amtrak train away. Plus, if you take it in the Fall, you've got a seriously gorgeous landscape to watch roll by. Relax, push your seat back, and write the entire ride. Total per person? $150.
2. HOSTELS & AIRBNB ARE YOUR FRIEND: Unless you've managed to find a really great deal, booking a hotel or a traditional bed and breakfast might run you a little too much. Looking up local hostels and Airbnbs are a great way to save money, as well as meet people who will know the area well. Get some tips about coffee shops, cheap eats and bookstores from locals.
However, make sure you do your research when selecting your AirBNB. The place I had originally picked out turned out to be less than desirable (they were having people over during Rhode Island Comic Con), and we had to move to another place. Total per person? Less than $100.
3. BE MINDFUL, BUT ALSO TREAT YO SELF: Staying in a hostel? An AirBNB? Great! Save money by picking up groceries nearby. Make lunch and breakfast, to keep your spending low. Make coffee where you're staying, and go write outside someplace. But don't forget to...
This isn't just the best saying to come out of Parks & Recreation, but also an important thing for writers to keep in mind. You're saving money on your lodging, your transportation, and your food. You're working every single day, all day long. Getting the work done is important, yes. Saving money, also key. But keeping yourself happy? That's just as important.
Whether it's a nice dinner that evening to reward yourself for all the work you've done, a guilty pleasure movie rented online, or a trip to the local used bookstore... make sure you're rewarding your writer. It's a tip that my undergrad professor and poet Susanna Rich gave me, and it's one I've always remembered.
4. REMEMBER TO DO THE WORK: You're in a new place. You've found the local cafes and WiFi capable pubs. Great. Now do the work. Don't spend your entire trip fussing around on Facebook or Instagramming artfully-taken photos of yourself "writing" with a cup of coffee next to your keyboard.
The urge to put your laptop or notebook away and wander away from that park... it will be strong. Get your writing done, and then treat yo self to exploring the town later. Chances are, you're going to hit that diminishing returns point after writing all day. You'll have to stop at some point. When that point hits, and only that point, then go take in the sights.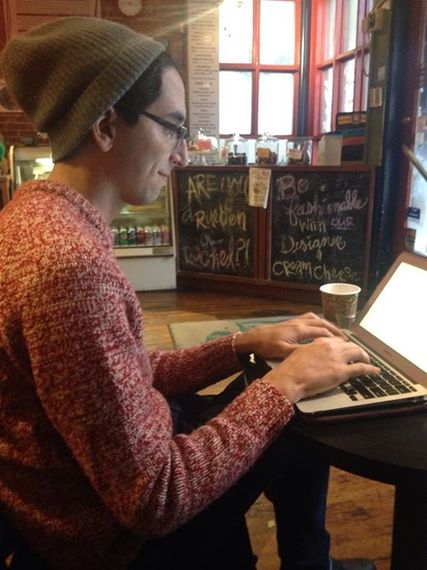 My pal Chris, writing and looking an awful lot like @guyinyourmfa
5. BRING PEOPLE WHO ARE DRIVEN: A great way to keep costs down when taking yourself on a writing retreat... is to bring people with you. Not only will it cut your lodging costs down, it'll make you more comfortable, and certainly make you feel a bit safer staying in new places by yourself. And when you're enroute, maybe taking an Amtrak or a BoltBus, you can sit comfortably together.
But ask yourself, are these people going to go and do the work? Make sure if you're inviting people, they are driven and looking to get stuff done. The urge to turn your writing retreat into a vacation will be way stronger, if your colleagues are busy sleeping in, watching Hulu, or getting caught up in tourist traps.
Me, I brought my best bud and my fiancee (though my fiancee is also one of my best buds), both of whom are writers.
6. PUSH YOUR COLLEAGUES: Even if your friends traveling with you are driven, remember to push them, and encourage them to do the same to you. Ask about word count, talk about your goals, ask how things are going with their story, essay, whatever. Be encouraging.
And there you have it. Now get to planning! You've got work to do!
Related
Popular in the Community