It would be cliché to start with a statement that speaks to the irony of yoga asana and competition -- if anything, it begs for a greater understanding of the matter at hand.
A yoga practitioner for over six years, I came away from a recent 2013 IYSF International Yoga Asana Championship* inspired by the strength, flexibility, dedication, and courageousness of its competitors. Ninety-nine of them had traveled to L.A. from all over the world, stepped onto the stage, and demonstrated their love for yoga as an art form. Some stumbled, some fell, others balanced on one leg for what seemed like an eternal second; every muscle quiver was on display, every facial expression indicative of the moment. It takes guts to show up and demonstrate a personal practice in front of a room full of spectators. To find out more about the competitors' motivations, I went to the source: four yoga asana champions. After my experience at the internationals, I wasn't surprised that their words spoke to personal growth and camaraderie, and not oneupmanship. You be the judge.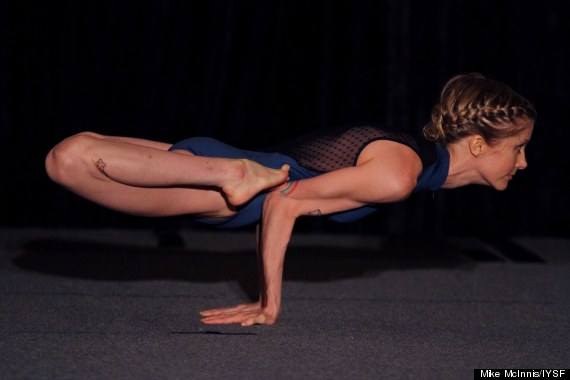 Afton is the 2012 US Yoga Asana Champion (Adult, Female). She placed third at the 2013 Internationals.
"I never thought I'd get up on stage to compete in yoga. When I first started yoga from my dancing career, the yoga room was a place that I didn't have to compete with anyone or anything. I was somehow drawn into the competition -- not reluctantly, but perhaps apathetically -- and it ended up filling a void of inspiration that I didn't know was missing in my life. As I started competing more, I started practicing more, and the more I practiced, the deeper my understanding of myself and postures became.
Over the course of the years, I got serious about competing and gained recognition as an elite practitioner. When the competition started to become taxing both mentally and physically, it forced me to step back and re-evaluate what my intentions were for competition. The conclusion I came to went right back to the beginning -- I had to be unattached to the results and understand I was demonstrating my yoga out of love for my practice and the positive development of my body. I decided that I didn't have anything to prove to anyone and that my practice was still my practice, no matter what I ended up ranking in the competition. When I keep this in mind, it's always a joy for me to get on stage and demonstrate. I want to do yoga for myself, but I also enjoy sharing my practice with others to let them know that they can do yoga for themselves as well -- no matter what the result."
Gloria won the 2012 World Yoga Asana Champion (Adult, Female) title a month before her 36th birthday.
"Yoga practice and yoga championships are a way for me to practice controlling my mind and being in the present moment. In daily life, we often let our thoughts take over. What I find is that before going on stage, we can tell ourselves all these stories about what could happen, which causes anxiety and fear, when in actuality we are demonstrating for three minutes in front of very supportive people. When I face a challenging situation in my day to day and my mind starts creating crazy stories, I think back to my experience on the yoga stage, take a step back, get back to my breath, and bring myself back to the present.
"Kids have many opportunities to express themselves in school plays, through dance. As an 'adult' who is not a dancer or professional performer, the opportunity to express myself physically and at the same time, artistically is quite limited. The championship is a unique opportunity to express myself on stage... I always told myself that as long as I had something new to share with people, I will compete. That is my motivation."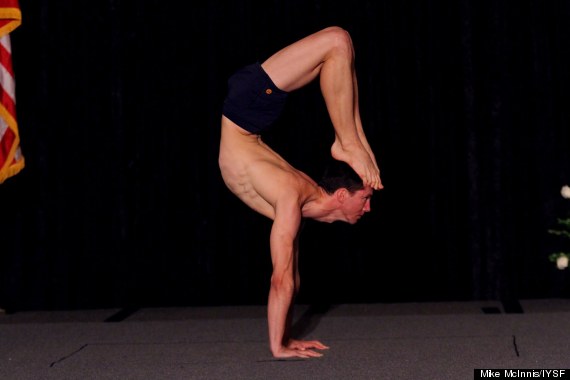 Jared McCann won the 2013 US Yoga Asana Championship in March, and in June was named the 2013 World Champion (Adult, Male).
"A yoga posture is a piece of art. It is a way of expression, like a painting, or a song. Within it, there is emotion, struggle, freedom, creative sensibility, and soul. Sometimes you see a perfect posture on stage but it doesn't move you or grab you. Sometimes you see a not-so-perfect posture on stage and it brings tears to your eyes. To fill your posture with feeling, emotion, love, fear, vulnerability, and everything in between -- that is when yoga really becomes beautiful. A person can be an amazing technician, but the best teachers have their own personal style and can connect to others by being connected to themselves.
I participate in yoga competition because I believe in yoga and the transformative positive impact it has on people's lives and the community at large ... Yoga is a sport that brings body, mind, emotion, and spirit into balance. Through this balance we become instruments of divine purpose and choose peace instead of war, love instead of hate, and become more aware of our impact."
CHAUKEI STEFANIE NGAI, China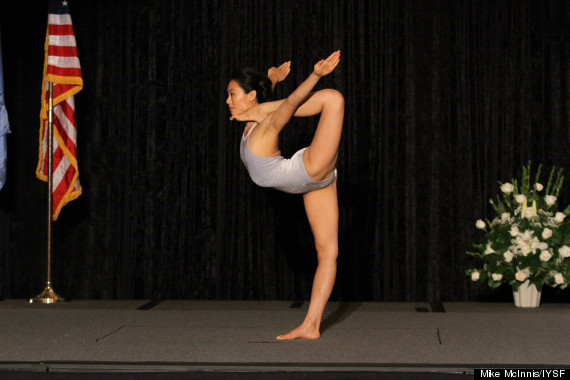 After six years of competing, ChauKei won the title of 2013 World Yoga Asana Champion (Adult, Female).
"I've created a relationship with the championship, with my yoga practice, just like a relationship with a spouse. When I view the championship, instead of looking for the external result, I always remind myself to look at it as a way to practice acceptance. Yoga competition helps me to go beyond my perceived limitations; to move to my edge with self respect. As an internal journey, it's a great opportunity for me to accept every moment of fear, doubt, excitement, vulnerability, self-criticism, joy, and faith.
The championship empowers my spiritual growth. In the preparation of a competition, we may naturally compare ourselves to others in order to feel worthy. My coach, Jim Kallett, helped me to find my self-worth instead of aiming for the Gold, which is a distraction. He helped me to focus on the moment of truth. To be able to control the body, we have to control the mind, and we learn how to use our body as a medium to control our mind. Free from mental distraction, we are able to find the stillness and relaxation in the postures, while realizing, accessing, using, and controlling the incredible strength inside all of us."
*The International Yoga Sports Federation (IYSF) sponsored the 10th international yoga asana championship over June 8-9 2013.
For more by Marina Chetner, click here.
For more on yoga, click here.
Support HuffPost
A No-B.S. Guide To Life
Related
Popular in the Community