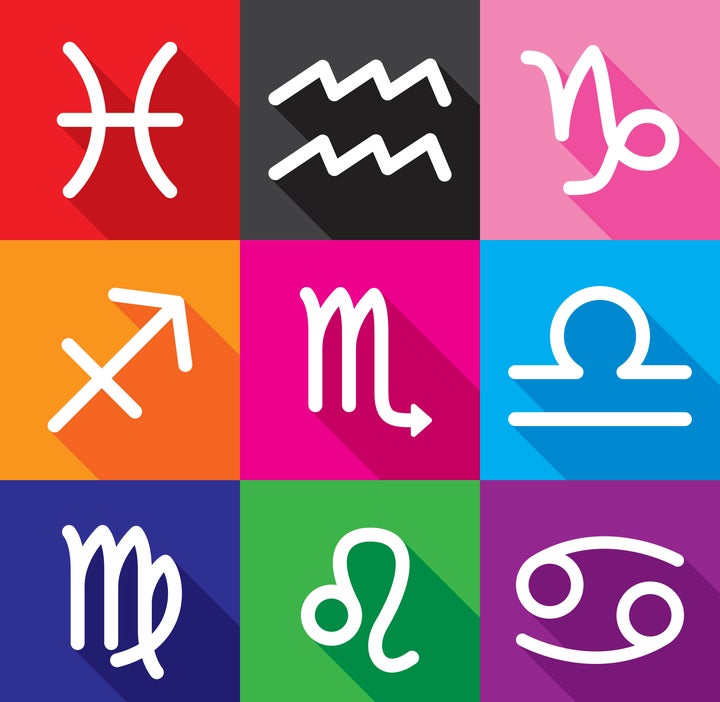 "Oh, I was born in early November, so I'm a Scorpio," or "I'm born in late June. I'm a Cancer so I'm kind of ruled by my emotions."
But those who follow astrology point out that it has a lot more nuance than that. Knowing your sun sign ― the sign most of us know that's determined by birthday ― is only part of the picture. If you want a little more depth out of your horoscope, you should also consider reading and getting to know your moon and rising signs.
Together, the three signs can paint a more well-rounded portrait of one's personality traits according to astrology. So if you ever felt like your sun sign didn't quite align with who you are, figuring out your other signs could help fill in the blanks.
"Plus, when you know your rising sign, you can better understand how and why people think of you in one way ― your rising ― while you may think of yourself ― the sun ― in another," she said.
Sound intriguing? Below, Lanyadoo and other astrology experts break down what your rising sign means and why it matters.
Your sun sign is your core identity. Your rising sign is what you project to others.
Astrologers consider your sun sign to be your true self, the most genuine expression of who you are. Think of your rising sign as your personality, or the representative that you send out to engage with other people. (Rising signs are also referred to as your ascending sign.)
"The sun is your identity; it's your will and your sense of self," Lanyadoo said. "The rising sign is the energies you throw into a room when you first enter it."
One's rising sign is related to appearance, attitude and the way you come across to others. Astrologers believe it's the "you" you consciously present to the world.
Take Beyoncé, for example: Bey has a Virgo sun sign, which makes perfect sense: Virgos tend to be perfectionists who value their privacy. Her ascending sign is Libra and that aligns with how she self-presents in public: Libras are charismatic, gracious, value their personal aesthetic and tend to be soft-spoken. All checks out for Bey, right?
Find your rising sign by figuring out your natal chart.
To figure out your rising sign (and your moon sign and other interesting details of your horoscope), first you have to map out your natal chart: basically a map of where the moon and planets were at the time of your birth.
You could consult an astrologer to get a reading, but you can also use sites like Astro.com to build out your natal chart. All you need to know is your date of birth and the place of time of your birth.
Rising signs change approximately every two hours, so you can't get that last part wrong. (Yep, that means you might have to call your parents to get the exact time you were born.)
Your rising sign is more about how you come across than what you feel inside.
"Your rising sign is how you act at weddings when you're meeting new people, or how you might act on a first date," she told HuffPost. "It's our Instagram profiles. It's how we want to be viewed and how we view ourselves. Some astrologers say that rising signs can even affect your appearance!"
Put another way, your rising sign is what you present from 9 to 5 at work. Once that clock hits 5 p.m., though, it's your sun sign's time to shine.
"Your sun sign is who you are after a couple cocktails at the happy hour or holiday party," said Julia Loken, one of the co-hosts on "What's Your Sign?" "Your co-workers say things like, 'I had no idea you were so funny! You're always so serious at the office.' It's like, 'Yeah, Brandy, of course I'm serious, I'm at work.'"
Our rising signs are most prominent in our childhood.
Your ascending sign is also often conditioned by childhood experience, whereas we tend to grow into our sun signs more and more as we age, according to Danielle Beinstein, an astrologer and meditation instructor in Los Angeles, California.
"Say a person has a Leo rising sign: Their presentation may be theatrical or dramatic and they may put on a bit of a show," she said. "Perhaps growing up, they felt the need to do so in order to garner their desired affection."
If that same person's sun sign is a Virgo, they may lean into Virgo characteristics as they age since that's who they are at their core.
"As a Virgo sun, they may in fact be more reserved and end up shining in a quieter role, an editorial writing job or service role," Beinstein said. "As they age, they may feel less and less of a need to 'put on a show' and more and more aligned with Virgoan shyness and humility."
Your rising sign is a gateway to understanding your horoscope.
Knowing your rising sign can give you a deeper understanding of your horoscope, Loken said.
"Besides the technical reasons ― it sets up your house system ― I think it's important to know your rising sign because it makes astrology more individualized."
Knowing your rising sign will also make you more self-aware: It might be empowering to know that, for example, people perceive you as aloof as an Aquarius rising, but you're actually a softie at heart thanks to your sun sign of Cancer.
"It's easy for people to write off astrology as broad generalizations when you only know about sun signs," Loken said. "Once you learn about rising signs and other placements, it starts to become more nuanced. Rising signs are the gateway drug of astrology."