U.S. Secretary of Health and Human Services Kathleen Sebelius said Monday that the Obama administration has Zach Galifianakis to thank for a "bump" in Obamacare enrollment.
Sebelius appeared on HuffPost Live to discuss the latest Obamacare enrollment numbers, the administration's enrollment strategies and detailed the upcoming midnight Obamacare enrollment deadline.
When asked about unconventional methods such as President Barack Obama's appearance on Galifianakis' web show "Between Two Ferns," Sebelius said that they "definitely saw the Galifianakis bump."
"The website traffic surged once the 'Between Two Ferns' interview went on," Sebelius said. "But more importantly, what we're trying to do is reach people in the language that they most understand. Certainly Zach reaches a certain audience."
"As a mother of two 30-something sons, I know they're more likely to get their information on 'Funny or Die' than they are on network TV," Sebelius continued.
When asked if she would have liked to have appeared on "Between Two Ferns," Sebelius said Obama's "name is on this bill, this is his signature policy issue, it's something that he was committed to when he ran for president, he was the first president in the history of the United States to be able to deliver on health reform, so he gets the chair with Zach."
Before You Go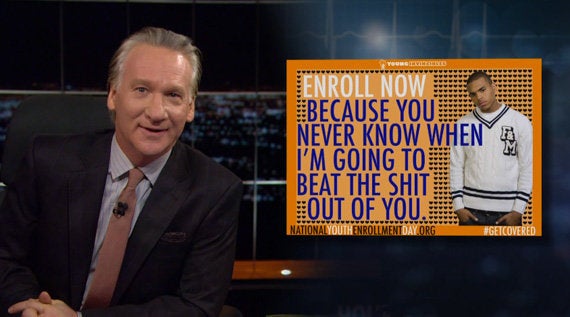 Bill Maher's Obamacare Ads
Popular in the Community