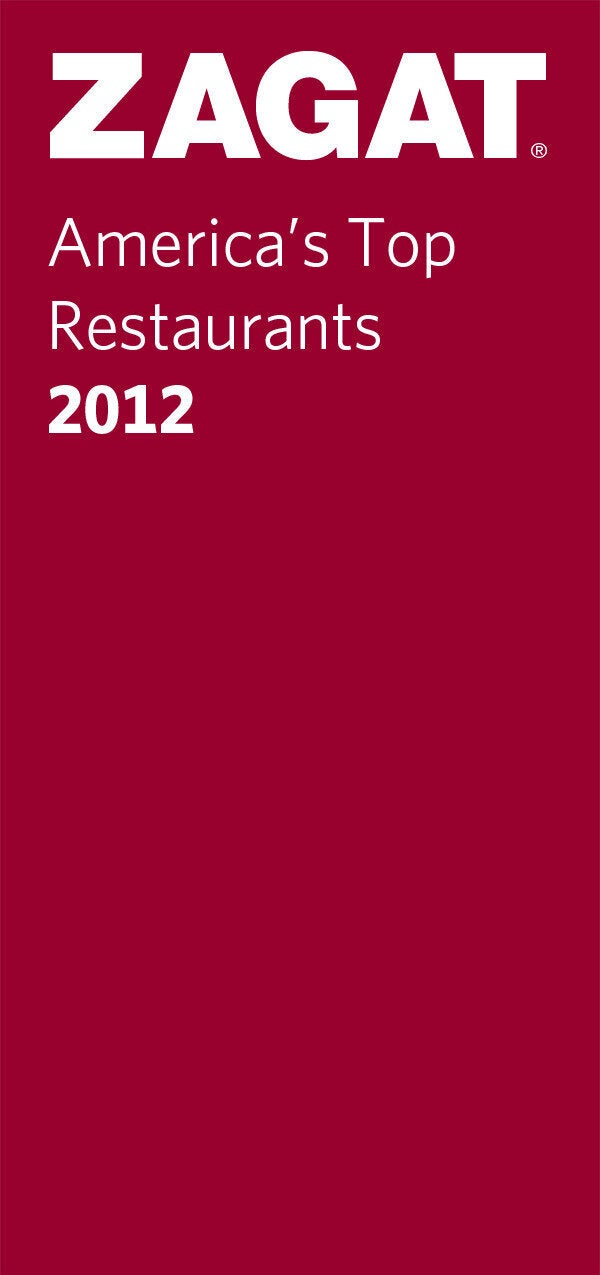 Zagat revealed today the results of its 2012 America's Top Restaurants survey, which, in addition to ranking America's finest restaurants, offers insight into dining habits across the country.
Eating at restaurants may be a luxury for many, but for those that participate in the Zagat survey, it is rather commonplace. While diners in East Coast cities such as Boston, Philadelphia, DC and Baltimore ate out about 2.5 or 2.6 times were week, residents of Florida's and Texas' major cities trumped the East Coast. Miami diners ate out an average of 3.4 meals per week and Houston residents had four meals per week out of the house. People nationwide ate out an average of 3.1 meals a week. From 2006-2008, the average was 3.3, an indication that the recession has curbed restaurant-going.
When take-out is included, the numbers change significantly. Chicago and New York residents eat 52% and 50%, respectively, of their meals either out of the house or take out. On the other end of the spectrum, two-fifths of Sacramento and Portland residents are getting a little more use out of their kitchens. Before the recession, the average American ate 52% of his meals out of the house, or from take out, in 2006. In 2011, the number dropped to 45%.
The majority of diners believe that restaurants should be required to post a letter grade in the window reflecting the results of Health Department inspections. A whopping 95% of Los Angeles residents want to see those grades. "Our surveyors' support for the display of health department letter grades has grown as fast as support for the smoking bans a few years ago," Tim Zagat, Co-Founder and Co-Chair of Zagat, said in a statement. "By requiring restaurants to maintain sanitary environments, these laws are benefitting the overall safety of the consumer." Nationwide, 81% of diners are pro-letter grade.
The top complaint for what irritates U.S. customers the most is service, with 66% of respondents citing it as the worst facet of their dining experience. However, in past years the number has been as high as 72%. Tim and Nina Zagat recently made a plea to revamp the service industry in America, advising more formal training for waitstaff. If their cries are heard, one can hope that the number will keep dropping.
The West Coast tips less than the rest of the country, with San Francisco tipping the lowest at 18.6% and New Orleans tipping the highest at 19.7%. The U.S. tipping average is 19.2%, a number that has grown steadily in the past ten years. In 2000, the average tip was 18%. Though the West Coast may have stingier purse strings for service, it dominates when it comes to being willing to pay more for "green" food. Residents of San Francisco (68%) and Portland (76%) were way more willing than Las Vegas and Long Island dwellers (40%) to fork over more money for sustainable food.
Nobody seems to be much of a fan of texting, emailing, tweeting or chatting on phones during dinner. Connecticut diners are particularly annoyed, with 71% saying it is rude and inappropriate. Half of New Orleans and 54% of Las Vegas residents feel the same way. People that take pictures of their companions, or food, are more acceptable, the survey reports.
Average meal costs continue to rise every year -- the average 2011 restaurant meal costs $35.65. With tipping and check costs going up while actual dining out numbers go down, it will be interesting to see how restaurants, and diners, respond to these trends. Perhaps both sides are wising up -- diners will pay top dollar when the food is worth it, and the restaurants that aren't bringing something interesting to the table will not be able to survive.

Popular in the Community