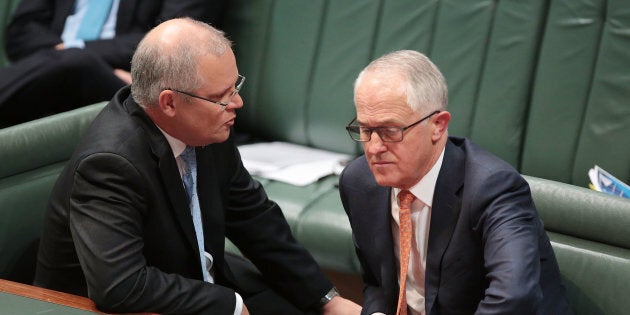 The latest 2016 Census results reveal that an increasing number of Australians are living in rental accommodation, rather than paying off or owning their own home.
This phenomenon appears within every state and territory in Australia and, as the table below shows, in just five short years an extra 261,740 homes are now being rented, rather than being bought or owned outright.
Rental property increases, 2011 to 2016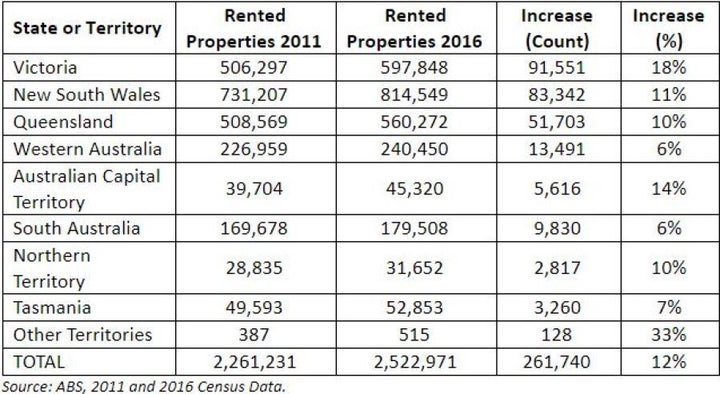 While the increasing reliance on rentals is disturbing, a deeper investigation into the Census data reveals that the number of people living in those households is also increasing. This suggests that families and non-related parties who can't afford to buy and pay off their home are being forced in sharing rental properties to keep a roof over their heads and make ends meet.
In the states that have the largest rental property increases, the Census data reveals that Victoria has a 43 percent increase in households with seven people and a whopping 46 percent increase in households with eight people or more over the past five years.
New South Wales isn't far behind. There has been a 30 percent increase in households with seven persons and a 35 percent increase with households with eight persons or more over the same period.
Nationally, the Census data also shows that the number of persons in a rental household is also on the rise, with the greatest percentage increases in seven and eight or more person households, as shown in the table below.
Rental property householders in Australia 2011 to 2016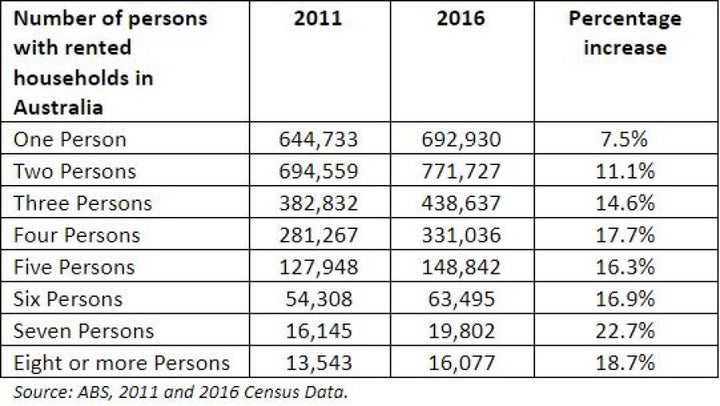 The Census data provides a much needed wake up call to all levels of government about the need to create an integrated approach to deal with housing affordability, and there's no hiding from the numbers.
The rising number of rented households is a major concern, given home ownership provides a basis for financial independence, especially later in life. The rising number of people per rented property is frankly alarming -- it shows that related and non-related parties are living together in an effort to keep a roof over their heads.
I find the lack of an integrated government policy on housing affordability to be a policy failure by all current governments. Their efforts are piecemeal and not one of them has set a housing affordability target: How many Australians should be able to afford to buy and pay off a home? The refusal to set a target shows they're just not serious about helping young Australians in particular buy and pay off a home.
We should collectively challenge policy makers at all levels of government to set housing affordability targets and implement policy from those targets. I doubt though that they currently have the political will, given topics like negative gearing having become political footballs rather than a policy setting for what's in the national interest.
Governments are robbing young Australians of a secure and independent financial future and that hurts every Australian, given the impacts it will create. I believe we're at the dawn of changing Australian society permanently, creating future generations of permanent renters.
That's why we need to create a non-political entity to advise the government on how to be improve housing affordability. I propose we create a National Housing Affordability Planning Organisation. NHAPO would have access to high-level economic analysis and could then work with existing city-based groups such as The Greater Sydney Commission, along with infrastructure bodies such as infrastructure Australia as well as Federal, State, Local Governments and their Departments.
NHAPO should be given the power to set interim and long-term housing affordability targets for each city with a focus on infrastructure to make the cities more liveable and more capable of dealing with immigration and population growth.
NHAPO would also need to have the authority to convert the planning into action. This process also needs to get greater consensus among local communities where change will occur and those who will need to build the developments.
So a very open and continuous process of consultation and communication will be required. I believe that having clearly articulated housing affordability goals will aid local communities in better understanding the reasons for change.
ALSO ON HUFFPOST AUSTRALIA