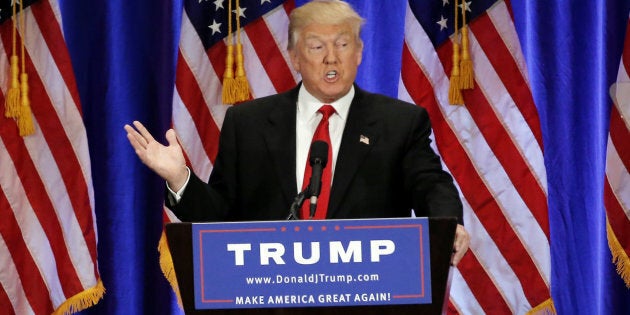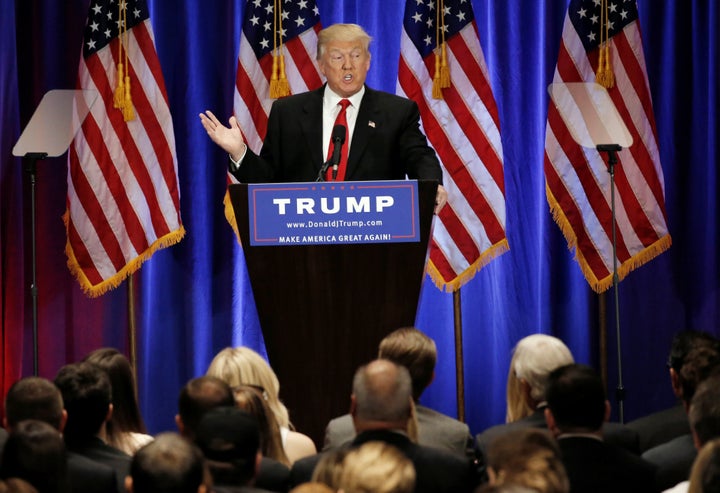 Presumptive Republican presidential nominee Donald Trump launched a new attack against Hillary Clinton on Wednesday, saying the former secretary of state "may be the most corrupt person ever to seek the presidency."
"Hillary Clinton has perfected the politics of personal profit and even theft," Trump told an invited group of supporters and journalists in New York. "She gets rich making you poor."
Speaking from a teleprompter, a move he's derided in the past, Trump sought to turn the page on his presidential campaign after a terrible few weeks that included a botched response to the Orlando massacre, intense backlash to his criticism of a federal judge based on the judge's Mexican heritage, the firing of his campaign manager and a disastrous fundraising report.
"This election will decide whether we are ruled by the people, or by the politicians," Trump said, before painting Clinton as a political insider beholden to special interests -- an accusation that Sen. Bernie Sanders (I-Vt.) frequently leveled against Clinton during the Democratic primary.
"We will never be able to fix a rigged system by counting on the same people who rigged it in the first place," Trump said, before appealing directly to Sanders supporters to "join our movement."
The speech contained few incendiary comments of the kind Trump's rallygoers have come to expect. There was no mention of building a wall on the U.S.-Mexico border and making Mexico pay for it, and Trump did not call for a ban on Muslim immigration to the United States. In fact, he spoke of "peaceful Muslims across the world who have been terribly victimized [by the Islamic State], and who only want to raise their kids in peace and safety."
He did, on the other hand, issue an ominous warning about Clinton wanting to admit "hundreds of thousands of refugees from the most dangerous countries on Earth -- with no way to screen who they are." In reality, refugees to the U.S. go through a rigorous vetting process.
Still, it was a marked shift in tone from Trump's usual explosive style. And if it wasn't quite the long-promised "pivot" toward civility that establishment Republicans have been anxiously awaiting, it did suggest that Trump's campaign chairman -- the experienced Beltway insider Paul Manafort -- is now firmly in charge of the candidate's message following the ouster of Trump's truculent former campaign manager, Corey Lewandowski.
For the content of the speech, Trump relied heavily on two negative books about Clinton. The first, Clinton Cash, by Peter Schweizer, delves into the perceived associations between Clinton's work as secretary of state and the Clinton Foundation, which counts foreign countries among its donors.
The second book, Crisis in Character, was written by a former Secret Service agent and questions Clinton's temperament. However, a number of current and former agents have denounced the book, saying the author, Gary Byrne, was never close enough to the former first lady or her husband, former President Bill Clinton, to have seen all the things he claims.
Clinton's campaign pushed back against the Trump speech, telling NPR, "While Hillary Clinton lays out her vision for an America that is stronger together with an economy that works for everyone and not just those at the top, Donald Trump can't help himself from rehashing and recycling more tired and old nonsense from books that already have been debunked."
Editor's note: Donald Trump regularly incites political violence and is a serial liar, rampant xenophobe, racist, misogynist and birther who has repeatedly pledged to ban all Muslims — 1.6 billion members of an entire religion — from entering the U.S.