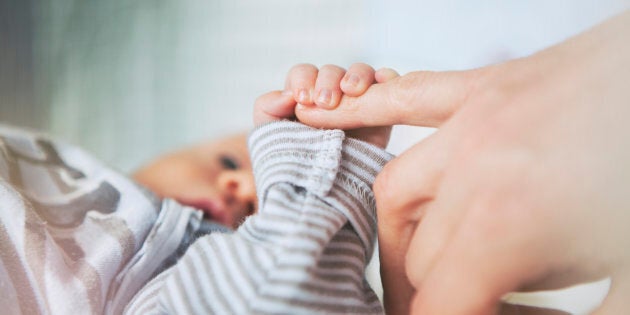 Two New South Wales teenagers' fight to get their baby daughter back has reignited debate over teenage pregnancy, and how young is too young to care for a child.
The teen parents, aged 14 and 15, were briefly reunited with their newborn named as AM late on Tuesday after not seeing her for five days.
The pair had sparked a huge search after they took baby AM out of Nepean Hospital in the NSW Blue Mountains, hiding her under a blanket, shortly after midnight last Wednesday night.
They were found the following afternoon camping out in a tent with their three-day-old baby in the western Sydney suburb of Willmot. Baby AM was returned to the hospital for medical assessment and has now been discharged into the care of Child Protection Services.
They are supposed to keep families together, not tear them apart."
Now, it has emerged that the pair ran away because they were told they would not be able to take their baby home from hospital. The teenagers say they were told by hospital staff they were too young to decide what would happen to baby AM, and that they did not know where she had been taken.
"All we wanted to do was spend Easter with her," the teenage dad told Seven News.
"Nothing that [the authorities] are doing is right. They are supposed to keep families together, not tear them apart."
"We're trying to remember that we're going to get her back," the mother said.
According to the Daily Telegraph, the pair had planned to marry last year when the mother found out that she was pregnant but couldn't because they were under 16.
"They made the mistake of being young," the father's mother said.
Health care workers are divided on what should happen to the baby.
NSW Health Minister Brad Hazzard used the case as an opportunity to warn against teenage pregnancy, urging parents to dissuade their teens from having children "too early".
"The evidence is pretty clear that it's much more challenging for very young people to become effective parents," he told the Daily Telegraph.
"The sad truth is that many young parents end up ill-equipped to bring up children.
"I would counsel the parents to do everything possible to dissuade their young teenagers from having children too early."
While experts may agree than teen pregnancies are less than ideal, there is disagreement about what should happen in the case of (the parents)-- some saying authorities made the right decision, while others argue that (the parents) should have been supported in caring for their daughter.
So how many young parents are there out there like these parents, and what are their legal rights?
Overall, the number of teenage girls giving birth is steadily declining in Australia. Nevertheless, the statistics make for concerning reading.
Fifteen girls aged 14 or younger gave birth in New South Wales alone in 2015 (the latest year for which statistics are available). Over 2,300 young women under 19 years of age gave birth, making up 2.5 per cent of all births for the year.
Nationwide, there were 8,574 births to teenage mothers that year -- or roughly 24 births each day.
Those figures are down from four years earlier, but also don't account for stillbirths, miscarriages or terminated pregnancies.

Authorities attribute the decline in teenage birth rates to both increased knowledge and access to contraception and easier access to abortion. But individual cases of girls as young as 12 becoming pregnant continue to emerge.
While the vast majority of teenage parents are aged 16 or older, there are individual cases of girls as young as 12 becoming pregnant -- sometimes to boyfriends or peers, sometimes to older men in instances of child abuse.
It took the girl a month to have the abortion approved. She had to deal with a GP, followed by a social worker, two specialist ­obstetricians and a psychiatrist. The psychiatrist who examined her told the court that she had run away from home, attempted self-harm and had suicidal thoughts.
In a 2008 Queensland case, a judge granted another 12-year-old girl who had the intellectual capacity of a 6-year-old, a late-term abortion.
In New South Wales, DoCS (now known as FACS) admitted it should have stepped in earlier in 2009 when it emerged that a 12-year-old girl had become pregnant after being allowed by her mother to live with her older boyfriend -- and share the same bed -- from the age of 11.
The girl carried through with the pregnancy, and the baby was subsequently cared for by her father and his partner, who had initially alerted FACS to the girl's case, according to the Sydney Morning Herald.
But there are also adolescents who actively choose parenthood.
In 2012, Adelaide teenager Caitlin Lehmann made headlines when she became one of Australia's youngest mothers at 13. The now-18-year-old had her third child last year, but says she's determined not to follow the stereotypes of the unemployed teenage mother. She finished high school in 2015, less than two weeks before giving birth to her third child, Benji, and says she wants to become a midwife or nurse, according to Nine News.
The law differs state by state, but generally there is no specific age at which young parents will have a child automatically removed from their care.
Young parents are generally assessed on a case-by-case basis, with the general rule being that a decision is made in the best interests of the child -- although it should be kept in mind that in case of young parents, they themselves are considered children under the eyes of the law.
The decision-making begins from the time a teenage girl finds out that she is pregnant. In New South Wales, a young person under the age of 16 may need parental consent to seek medical treatment for their pregnancy, if the doctor determines that they are not mature enough or not capable of fully understanding what is involved.
A young person under the age of 14 is generally not considered capable of making decisions about medical treatments.
The issue of consent becomes particularly pertinent if the young woman decides to terminate the pregnancy.
As the Queensland court cases mentioned above make clear, in some states it can be extremely difficult for very young pregnant girls to access abortion. In both Queensland and New South Wales, for example, multiple doctors have to determine that there is a risk of physical or mental harm to the mother in order for an abortion to go ahead.
For a child to be removed from the care of their parents, there generally needs to be evidence that the child has suffered, or is likely to suffer, abuse or neglect. This can take the form of physical, emotional or sexual abuse.
In New South Wales, laws were tightened in 2013 to allow babies born to drug-addicted parents or women who refuse to leave domestic violence situations to be removed at birth.
Removing a child from their biological parents is an "extreme" measure taken when other options have been exhausted for at-risk children, according to the federal government's Australian Institute of Family Studies.
While there is no law dictating the age at which a young person may parent a child, the reality is that the younger the parents, the more likely social services are to determine that they are incapable of adequately caring for a child.
Cases of teen parents are often resolved by an agreement from their parents or guardians to take on the responsibility of the child, or to help the teens to do so. The parents remain the legal guardians of their teenage children until they turn 18, regardless of whether the teens are parents themselves.
For young parents who do not have the support of parents or guardians, the difficulties become even more substantial -- particularly if they don't have access to secure housing or sufficient finances.
There are also other obstacles which make life difficult for very young parents.
Children under the age of consent cannot legally consent to sex, which opens the door for the older partner to be prosecuted for having sex with a minor -- particularly if there is a substantial age difference between the couple. In most states, the age of consent is 16, while in Tasmania and South Australia it is 17.
The issue of child marriage came under the spotlight in 2015 when a 12-year-old girl in NSW conceived to her 27-year-old "husband", whom she married in a backyard ceremony in 2015. The pregnancy was ectopic and she miscarried while he was sentenced to a maximum 10-year jail term.
EDITOR'S NOTE: This story has been updated to withdraw identifying features of the parents and baby AM, in accordance with a suppression order issued by the Children's Court of NSW.
ALSO ON HUFFPOST AUSTRALIA