What better place to begin your summer patio hopping than on 17th Avenue SW? Here are Calgaryism's top five "Red Mile" patios you just have to visit.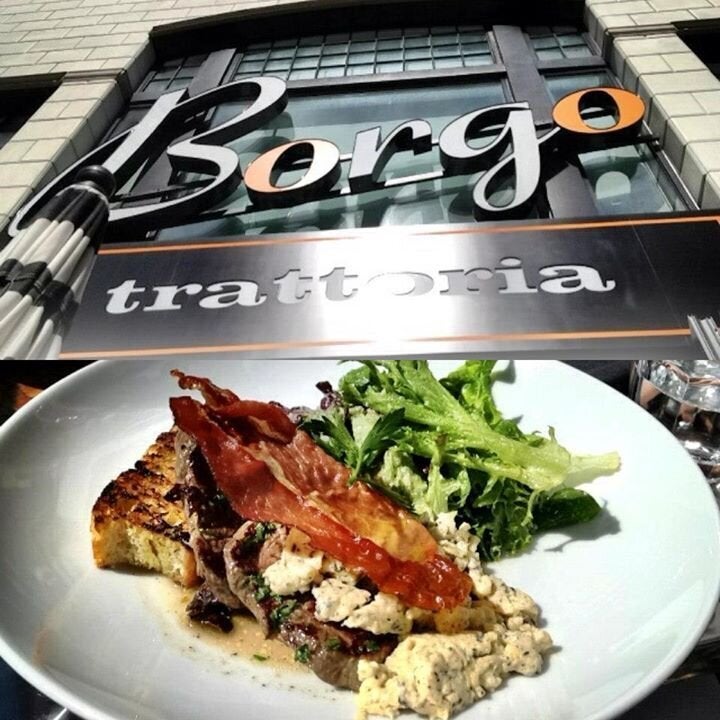 Address - 550 17th Avenue SW
Phone Number - 403-229-0226
National on 17th Avenue SW is not only one of Calgary's best beer halls, but is also one of the top adult playgrounds you'll find in our city.
It is where some of the friendliest and best dressed urbanites come on a daily basis to eat, drink, socialize and have some fun.
Part of its appeal is its curbside patio stretching along 4th Street and 17th Avenue SW opening right up to the walkable strip of the Red Mile which makes it a great place to enjoy the sights, sounds and culture of the big city.
A vibrant patio atmosphere, gourmet pub food, incredible daily specials and a massive selection of drafts (over 100 on tap) are just part of what you will find at this top-notch establishment.
Address - 818 16th Avenue SW
Phone Number - 403-245-2202
Passerby`s may just catch the pleasing aroma of fine Italian food wafting out of Borgo Trattoria`s foldable glass doors that open up the restaurants patio section onto 16th Avenue SW.
Between 16th and 17th Ave SW there is a small park area with benches, trees and other lush vegetation that create a very enjoyable ambiance as this much green in the midst of the inner city is always a welcome site.
Put the patio location aside and you still have one of the best restaurants in town known well for its assortment of finger-licking tapas, juicy meats and delectable pastas.
I also highly recommend heading to Borgo Trattoria for weekend brunch steak and egg - the best in town and best enjoyed on the patio on a beautiful summer morning!
Address - 338 17th Avenue SW
Phone Number - 403-229-1177
Cilantro`s patio truly is an escape from the hustle and bustle of 17th Ave SW, a place where you can unwind and enjoy yourself and your company over food and drink.
What makes this patio so awesome is the fact that it is separated from the Red Mile by a wooden barrier that blocks out most of the street noise and is decorated to the max with a variety of beautiful flowers and lush plants.
You'll quickly notice a cool rustic theme that makes you feel like you`ve found a little piece of serenity in the middle of the concrete jungle.
Enjoy some Californian inspired entrees or maybe a wood-oven baked pizza while sipping on a glass of wine from Cilantro's award winning list. Sound's great, doesn't it?!
Address - 1309 17th Avenue SW
Phone Number - 403-228-5528
One of the coolest things about Los Chilitos balcony patio is that its elevation, I'm guessing five to seven feet above street level, really gives you a sense of your surroundings.
During the summer heat, there really is nowhere else better to enjoy a cold Corona while eating some of the best, if not THEE best authentic Mexican cuisine in the city.
Try the tortilla soup, fish tacos or meat taco sampler that has five different meats on soft corn tortillas. You will be coming back soon enough to Los Chilitos after indulging in these magical dishes!
Address - 1410 17th Avenue SW
Phone Number - 403-229-1410
This rooftop patio is definitely more of a social venue compared to those above (except for National of course) where you can sit, stand, talk and have fun like at any other pub.
Summer sunsets and cool night light decorations create a truly unique patio experience at 1410's rooftop patio surpassed only by West's rooftop patio on Stephen Avenue.
1410 World Bier Haus has a little bit of something for everyone on its menu including soups and salads, tapas, sandwiches, pub-style appys and mains, not to mention a crazy long list of drafts and other alcoholic beverages for those drink enthusiasts.
What are your favourite patios on 17th Avenue SW? Drop us a line below and let us know, we will make sure to add them to our list of best Calgary patios!
Until next time, we invite you to join us at Calgaryism on Facebook, Instagram and Twitter - join thousands of locals on social media today and share your thoughts, photos and more! See you there!