A UBC student's simple but striking message to Canadian voters is making the rounds online, urging the public not to repeat its history of a dismal voter turnout.
A solemn voiceover recounts the numbers from Canada's last federal election in 2011, noting that only 61 per cent of eligible voters cast a ballot — one of the lowest turnouts the country has ever seen.
In other words, "39 per cent of eligible Canadians chose... no one." (Watch video above.)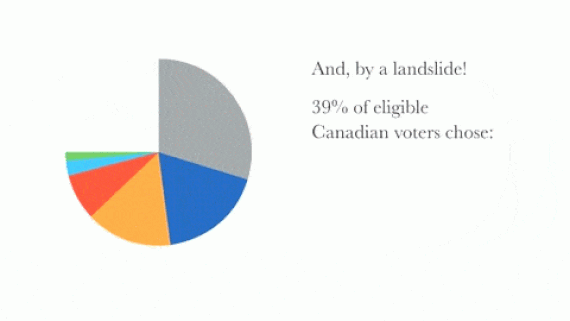 That means just a small fraction of the entire Canadian population chose the country's current government, the clip continues.
It ends with a plea for voters to hit the polls on election day, which is this Monday.
"I wanted to try and engage those who feel disengaged, and try to show them how their vote matters, especially when so many people are not voting," Kowalyk told The Huffington Post B.C. on Tuesday.
With all the public campaigns, things appear to be looking up for voter turnout so far.
Elections Canada estimated that 850,000 people cast their ballots on the first day of advance polls on Friday — a 90 per cent increase from 2011.
Another onslaught of voters on the weekend brought the total up to 2.4 million, which is a 16 per cent increase. Monday's numbers have yet to be released.
Social media was also bombarded with Canadian voters sharing photos of their trips to the ballot box, using the hashtag #GoVote.