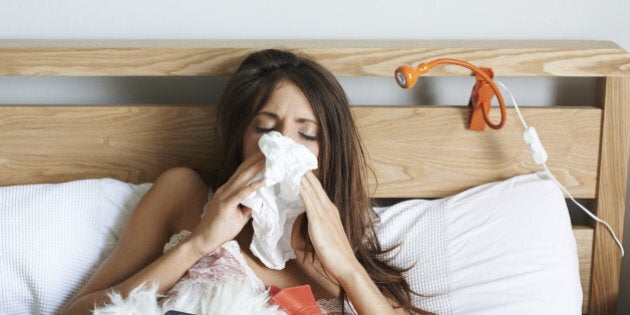 Cough, Cough, sniffle, sniffle... the sweet chorus of infection! Exposure to bacteria and viruses along with mental and physical stressors can take a toll on our bodies, making us susceptible to illness.
While we cannot always prevent the cold and flu, having a strong immune system is one of the best protections against these pathogens, and get us back to feeling ourselves quicker.
Whether you choose the flu shot or not, there are plenty of successful and natural ways to boost your immune system and treat cold and flu symptoms, creating better health now and all year round.
Here are the eight best natural cold and flu fighting strategies to help you stay well:
1. Clean hygiene:
Hygiene is the most important way to limit the spread of bacteria and viruses. Washing your hands often, sneezing into your elbow, and avoiding antibiotics for viral infections are essential to stop bacteria and viruses in their tracks.
2. Hydrate yourself:
Drinking water will help flush toxins and promote immune system efficiency. Water makes up 60 per cent of the human body and is critical for the lymphatic and circulatory systems [24]. Drinking six to eight glasses (2-2.5 L) daily is the foundation to health and keeping hydrated will ensure your body's immune fighting potential.
3. Rest and Sleep:
Have you ever noticed that when you're sick you feel tired? Sleep is crucial for your immune system and the fatigue experienced when we're sick tells us to rest to heal and recover [7]. So if you're under the weather make sure to go to bed early and let yourself sleep in!
4. Emergency Cupboard Supplements:
When you're sick you don't want to be running around the pharmacy or health food store, so be prepared ahead of time. Cupboard supplements, including zinc, vitamin C, and probiotics, are useful to keep on hand for the first signs of a cold or flu [5, 20, 25].
5. Immune boosting foods:
If you want to feel well you need to eat well! Unpasteurized honey, raw garlic, onions and foods containing vitamin C make great immune strengtheners [3, 9, 10, 12, 20]. Eat them all-year-round as preventative medicine.
6. Breathing meditation:
Deep breathing, meditation, and mind-body awareness allow your mind and body to rest while strengthening your immune system. Psychological stress impairs anti-viral responses and can activate inflammation pathways [15]. Taking deep breaths and meditating can defend against harmful microorganisms and reduce inflammation [15].
7. Steam Inhalation and saline pot therapy:
Steam inhalation or saline pot therapy are effective home-care treatments for any head or sinus congestion. Eucalyptus is one example of an antibacterial essential oil that can be added to these therapies to fight the cold and flu [4, 23].
8. Clean up your diet and avoid sugary foods:
Whether you're struggling with a cold, flu or just feeling exhausted, these 8 cold and flu fighting suggestions will help to strengthen your immune system, improve your response to stress, and boost your mood to have you back in good spirits in no time. And remember, it's not cold and flu season, it's the season to take better care of yourself!
Aloia JF, Li-Ng M. Re: epidemic influenza and vitamin D. Epidemiol Infect. 2007;135:1095-1096.
Bone K. Principles and Practice of Phytotherapy. Edinburgh: Churchill Livingstone, 2000.
Eick S, Schäfer G, Kwieciński J, Atrott J, Henle T, Pfister W. Honey - a potential agent against Porphyromonas gingivalis: an in vitro study. BMC Oral Health. 2014 Mar 25;14(1):24.
Elaissi A, Rouis Z, Salem NAB, et al. Chemical composition of 8 eucalyptus species' essential oils and the evaluation of their antibacterial, antifungal and antiviral activities. BMC Complementary and Alternative Medicine 2012;12:81.
Fijan S. Microorganisms and Claimed Probiotic Properties: An Overview of Recent Literature. International Journal of Environmental Research and Public Health 2014; 11(5); 4745-4767.
Hoffman D. Medical Herbalism. Rochester, Vermont: Healing Arts Press, 2003.
Imeri L, Opp MR. How (and why) the immune system makes us sleep. Nature reviews. Neuroscience 2009; 10(3): 199-210.
J.H. Kellogg. Rational hydrotherapy : a manual of the physiological and therapeutic effects of hydriatic procedures, and the technique of their application in the treatment of disease, Modern Medicine Pub., 1923.
L Hallberg, M Brune, and L Rossander. The role of vitamin C in iron absorption. International Journal for Vitamin and Nutrition Research. Supplement = Internationale Zeitschrift fur Vitamin- und Ernahrungsforschung. Supplement [1989, 30:103-108].
Lanzotti, V. The analysis of onion and garlic. J Chrom A. Vol 1112, Issues 1-2, 21 April 2006, Pages 3-22.
Li J, Jiang Y. Litchi flavonoids: isolation, identification and biological activity. Molecules. 2007 Apr 11;12(4):745-58.
Lu J, Turnbull L, Burke CM, Liu M, Carter DA, Schlothauer RC, Whitchurch CB, Harry EJ. Manuka-type honeys can eradicate biofilms produced by Staphylococcus aureus strains with different biofilm-forming abilities. PeerJ. 2014 Mar 25;2:e326.
Margaret C Sneddon, Melanie Lewis. Lymphoedema: a female health issue with implications for self care. British Journal of Nursing, Vol. 16, Iss. 2, 25 Jan 2007, pp 76 - 81
Matkovic Z, Zivkovic V, Korica M, Plavec D, Pecanic S, Tudoric N. Efficacy and safety of Astragalus membranaceus in the treatment of patients with seasonal allergic rhinitis. Phytother Res. 2010 Feb;24(2):175-81.
Morgan N, Irwin MR, Chung M, Wang C. The Effects of Mind-Body Therapies on the Immune System: Meta-Analysis. Bacurau RFP, ed. PLoS ONE 2014;9(7):e100903.
Noguchi M, Kakuma T, Tomiyasu K, Kurita Y, Kukihara H, Konishi F, Kumamoto S, Shimizu K, Kondo R, Matsuoka K. Effect of an extract of Ganoderma lucidum in men with lower urinary tract symptoms: a double-blind, placebo-controlled randomized and dose-ranging study. Asian J Androl. 2008 Jul;10(4):651-8.
Oka S, Tanaka S, Yoshida S, Hiyama T, Ueno Y, Ito M, Kitadai Y, Yoshihara M, Chayama K. A water-soluble extract from culture medium of Ganoderma lucidum mycelia suppresses the development of colorectal adenomas. Hiroshima J Med Sci. 2010 Mar;59(1):1-6.
Oliver, G and Detmar M. (2002) The rediscovery of the lymphatic system: old and new insights into the development and biological function of the lysmphatic vasculature. Gens and Dev 16:773-783.
Purev U, Chung MJ, Oh DH. Individual differences on immunostimulatory activity of raw and black garlic extract in human primary immune cells. Immunopharmacol Immunotoxicol. 2012 Aug;34(4):651-60.
S. Nadolsky, K. Frank, G, Lopez, B. Willis, K. Patel. Available at www.Examine.com, Accessed on March, 2014.
Shah SA, Sander S, White CM, Rinaldi M, Coleman CI. Evaluation of echinacea for the prevention and treatment of the common cold: a meta-analysis. Lancet Infect Dis. 2007 Jul;7(7):473-80. Review. Erratum in: Lancet Infect Dis. 2007 Sep;7(9):580.
Therapeutic Research Faculty, publishers of Natural Medicines Comprehensive Database, Prescriber's Letter, and Pharmacist's Letter.
Thosar N, Basak S, Bahadure RN, Rajurkar M. Antimicrobial efficacy of five essential oils against oral pathogens: An in vitro study. European Journal of Dentistry 2013;7(Suppl 1):S71-S77. doi:10.4103/1305-7456.119078.
United States Geological Survey. Available at http://water.usgs.gov/edu/propertyyyou.html on Feb 2, 2015
W. Al-Nakiba, P.G. Higginsa, I, Barrowa, G, Batstoneb and D.A.J. Tyrrella. Prophylaxis and treatment of rhinovirus colds with zinc gluconate lozenges. J. Antimicrob. Chemother. (1987) 20(6): 893-90158.
Wong C-M, Lai H-K, Ou C-Q, et al. Is Exercise Protective Against Influenza-Associated Mortality? Montgomery JM, ed. PLoS ONE 2008;3(5):e2108.
Zhao H, Zhang Q, Zhao L, Huang X, Wang J, Kang X. Spore Powder of Ganoderma lucidum Improves Cancer-Related Fatigue in Breast Cancer Patients Undergoing Endocrine Therapy: A Pilot Clinical Trial. Evid Based Complement Alternat Med. 2012;2012:809614
Zwickey H, Brush J, Iacullo CM, Connelly E, Gregory WL, Soumyanath A, Buresh R. The effect of Echinacea purpurea, Astragalus membranaceus and Glycyrrhiza glabra on CD25 expression in humans: a pilot study. Phytother Res. 2007 Nov;21(11):1109-12.
Follow HuffPost Canada Blogs on Facebook