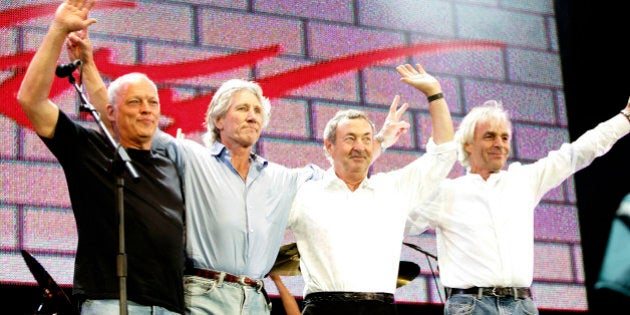 The Internet fairly exploded over the weekend with a single tweet from David Gilmour's wife Polly Sampson, revealing a new Pink Floyd album. Well, newish.
The Endless River is more of an unreleased Pink Floyd album, as it was originally recorded during the sessions for the last actually new Pink Floyd album, The Division Bell, which turned 20 in the spring and just last week received a six-disc deluxe box-set re-release.
Thing is, even that 1994 album is questionably "Pink Floyd" since by then founding member Roger Waters had long abandoned the band, leaving longtime guitarist Dave Gilmour to take leadership and vocals.
So this "new" album was originally recorded for an instrumental side-project known as The Big Spliff, and heavily features the influence of the group's keyboardist Rick Wright, who passed away in 2008. After a couple decades in the vault, they added vocals from touring back-up singer Durga McBroom-Hudson who confirmed the album on Facebook.
"David and Nick have gone in and done a lot more since then. It was originally to be a completely instrumental recording, but I came in last December and sang on a few tracks. David then expanded on my backing vocals and has done a lead on at least one of them."
Then on Monday, July 7, the band finally piped in on the Pink Floyd Facebook page:
Pink Floyd can confirm that they are releasing a new album "The Endless River" in October 2014. It is an album of mainly ambient and instrumental music based on the 1993/4 Division Bell sessions which feature David Gilmour, Nick Mason and Richard Wright. The album is produced by David Gilmour with Phil Manzanera, Youth and recording engineer Andy Jackson. Work is still in progress, but more details to come at the end of the Summer.
But, of course, the detail many fans care abut the most about is the absence of Roger Waters.
Now Pink Floyd, which will turn 50 next year, has gone through several line-up changes during that time. In fact, today is also the anniversary of the 2006 death of Syd Barret, the group's original lead singer and songwriter who went crazy and was booted from the group in the late '60s.
But for many, the subsequent era with bassist Waters taking the singing, lyrical and conceptual reigns with Gilmore on guitar was the "real" Pink Floyd. That was the period that saw the band's 40 million-selling Dark Side of the Moon, which stayed on the U.S. charts an unbelievable 14 years, arguably Pink Floyd's biggest artistic legacy, The Wall, and my personal favourite, Wish You Were Here, which was inspired by the rise and fall of Syd Barrett.
There was a subsequent falling out between Waters and Gilmour, which led to Floyd's The Final Cut being essentially a Waters solo album before he finally quit in 1985. That was followed by two Gilmour-led albums A Momentary Lapse of Reason and The Division Bell.
None of the three, nor any of their solo albums, have ever been as good as their work together. The whole of Pink Floyd is simply greater than the sum of its component parts.
And here's the thing, they don't even hate each other anymore. Waters joined Pink Floyd in 2005 for a Live 8 charity performance, though they subsequently turned down a £136 million contract for a reunion tour. Then in 2010, Waters and Gilmour performed together at another charity, raising money for Palenstinian children, albeit for a crowd of 200. Then in 2011, Gilmour joined Waters to perform "Comfortably Numb" at one of the London performances of his "The Wall" tour.
So it's great that there's "new" music coming out, but let's not kid ourselves that it's new Pink Floyd music.
The reason why the band has never faded away, and has sold about 250 million albums, is because every new generation of teenagers discover their holy triumvirate of albums. Sure, they may dig back to the Syd records or push forward to the Gilmour ones, but it's Waters and Gilmour together that make Pink Floyd legends rather than trivia questions.
So by all means let's look forward to The Endless River but unless the band's other living creative force gets invited into the studio to help finish it off, it might as well be called Wish Waters Was Here.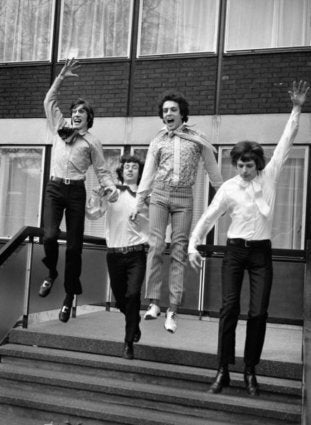 Rare vintage photos of Pink Floyd
Popular in the Community