SAN FRANCISCO — Facebook Inc said on Wednesday it had found that an influence operation likely based in Russia spent $100,000 on thousands of ads promoting divisive social and political messages in a two-year-period through May.
Facebook, the dominant social media network, said that many of the 3,000 ads promoted 470 "inauthentic" accounts and pages that it has now suspended. The ads spread polarizing views on topics including immigration, race and gay rights, rather than backing a particular political candidate, it said.
Another $50,000 went to about 2,200 "potentially politically related" ads and might have been bought by Russians in potential violation of U.S. election law.
Facebook announced the findings in a blog post by its chief security officer, Alex Stamos, and said that it was cooperating with federal inquiries into influence operations during the 2016 U.S. presidential election.
The company said it found no link to any presidential campaign. Three-fourths of the divisive issue ads were national in scope, and the rest did not appear to reflect targeting of political swing-states as voting neared.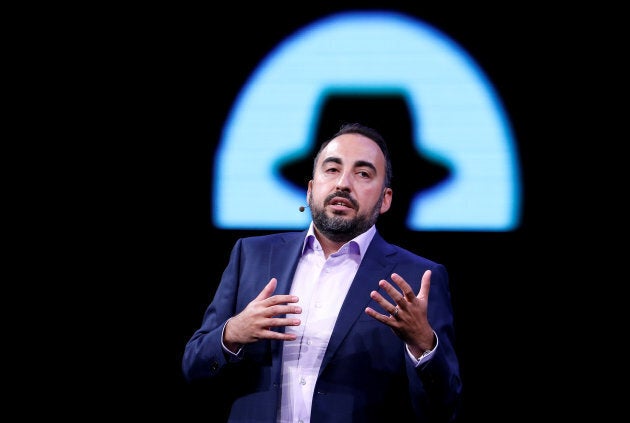 Facebook did not print the names of any of the suspended pages, but some of them included such words as "refugee" and "patriot." Many of the pages were connected to each other in some way.
Even if no laws were violated, the pages ran afoul of Facebook requirements for authenticity, setting up the suspensions.
More than $1 billion was spent on digital political ads during the 2016 presidential campaign, 10,000 times the presumed Russian spending identified by Facebook's security team.
But the findings buttress U.S. intelligence agency conclusions that Russia was actively involved in shaping the election.
Facebook previously published a white paper on influence operations, including what it said were fake "amplifier" accounts for propaganda, and said it was cracking down.
As recently as June, it told journalists that it had not found any evidence to date of Russian operatives buying election-related ads on its platform.
Russia connection
A Facebook employee said Wednesday that there were unspecified connections between the divisive ads and a well-known Russian "troll factory" in St. Petersburg that publishes comments on social media.
Beyond the issue ads, Facebook said it uncovered another $50,000 in political advertising that might have a link to Russia. Some of those ads were bought using computers with U.S. internet protocol addresses but set to the Russian language, though they were displayed to users in English.
Ellen Weintraub, a member of the U.S. Federal Election Commission, said U.S. voters deserve to know where election ads are coming from and that the money behind them is legal.
"It is unlawful for foreign nationals to be spending money in connection with any federal, state or local election, directly or indirectly," Weintraub said in a phone interview.
She declined to comment on the Facebook ads, saying she could not comment on subjects that could come before the agency.
Not all politically-related advertising by foreigners is illegal in America. Facebook did not give any examples of the ads at issue.
Weintraub said that campaign finance regulations, which require disclosure of spending and disclaimers on ads, may need to be revised to keep up with the evolution of online advertising.
Foreign money can't be spent on U.S. election campaigns
Facebook's disclosure may be the first time a private entity has pointed to receiving Russian money related to U.S. elections, said Brendan Fischer, a program director at the Campaign Legal Center, a Washington nonprofit that advocates for more transparency.
"Whoever may have provided assistance to Russia in buying these Facebook ads is very likely in violation of the law," he said.
Given the U.S. prohibition on foreign money being spent in elections, Facebook has a legal duty to act if it is aware of similar activity in the future, Fischer said.
Whoever may have provided assistance to Russia in buying these Facebook ads is very likely in violation of the law.Brendan Fischer
"I'm certain that the special counsel would be interested in this information, and I would presume that if Robert Mueller's team has not received this information from Facebook, they'll be asking for it soon," Fischer said.
Mueller is the special counsel who is investigating whether there was collusion between President Donald Trump's presidential campaign and Moscow.
Facebook said it was trying.
"We are looking at how we can apply the techniques we developed for detecting fake accounts to better detect inauthentic Pages and the ads they may run," Stamos said in the blog post.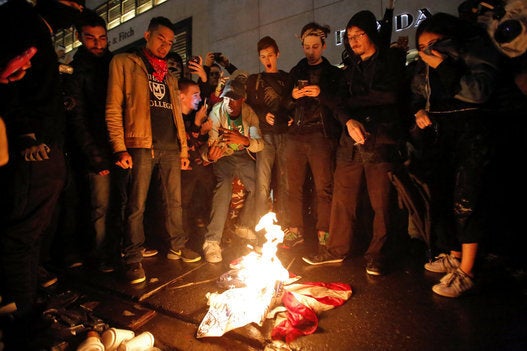 Donald Trump Win Sparks Protests Nationwide
Popular in the Community