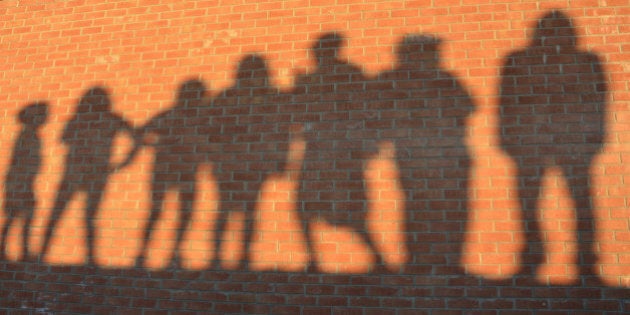 The toxic headlines, the comment sections, the conversations with "helpful" strangers, the radio call-ins...the environment that provokes racism and provides discourse that is potentially deadly; how does a young indigenous youth process and proceed?
It's hard enough just being a "native teen." When you're locked down in "Indian" designation, you have to cope with the confusion, fear, anger and anguish that you are exposed to every day.
The mental anguish caused by this is real.
This reality was exacerbated recently when tweets, Facebook groups, politicians and other forums began talking about a young indigenous man who was murdered on a farm in Saskatchewan. Some of the things written about this tragedy are beyond distressing. They are triggering, harmful and dangerous. They incite hateful behaviour, and the initial self-preserving response by indigenous individuals is either to lash out or hide from them.
A teen or child living in this toxic environment is already dealing with poor education, missed economic opportunities and generational trauma. In a time when we are all talking about Reconciliation and forgiveness, it's hard to raise your head when you read, "His only mistake was leaving three witnesses." And people are actually agreeing with him, saying things like, "It's open season on Indians."
The mental anguish caused by this is real. It's not just your imagination when you see the vitriolic discourse by people with real names, real email addresses and photos on their Facebook comments. It means that they don't care what people think. It's a full-on assault on every young indigenous person's well-being.
What kind of mechanisms and supports are there for young people?
The arts, along with cultural teachings do help. Here's how:
Give the kids a fighting chance by providing a forum in which to speak up about themselves to the general population. When DAREarts held workshops last June with Attawapiskat First Nation students and teachers about media attention, the youths turned the camera on their community and ended their music video with, "Hi Canada." They wrote a song -- Walking For Peace -- that voiced their concerns about their futures, their community and their mental health. They were honest with themselves by talking about suicide among their young friends, siblings, cousins and distant relations.
The resulting video was seen by 4,500 viewers in two months. They used their voices to celebrate their strength and reach out to the rest of us, to see the "good side of Atta, to be the good things that matta."
Kids Kill the Stereotypes.
The Internet has become the biggest community in history, hooking up Canadian indigenous kids through social media with kids all over the world. When someone uses racist language, youths can choose to organize their emotions and answer back in a positive, even humorous way.
We can learn from the kids about what they fear and desire.
Through poetry, music, art, video and theatre, they answer to and dispel the stereotypes that weigh them down and drain their potential for success. They learn how to use art to turn back the negative feelings and make art with it and provide real facts, real impressions of their lives, inner and out.
Art is the best, best, BEST way to put down a hater. It may not get through to the person who initiated the anger, but it will vent that anger in a positive way. People invent things, make positive historical decisions, cure diseases, save the planet by first becoming angry. Nothing wrong with being angry. But if that anger stays inside and doesn't have an outlet, it festers. And that kind of anger creates illnesses, both mental and physical, which can kill. Ask any indigenous artist, worldwide, if they were angry when they created their best works. Nothing is more powerful than an angry artist.
By being proactive, kids create the answers through art and when they need it, it's right there. In a picture. In a video. In a poem. In 2014, Grades 5 - 8 students in a DAREarts project collectively wrote about water, land and concerns about their First Nation home in a poem called, "The Land Speaks", which they turned into a music video using dioramas and their voices. Their message is disturbing in a good way. We can learn from the kids about what they fear and desire. This messaging comes from them, unprompted and looped back by their Elders. The confirmation of their inherent knowledge by their cultural Elders is invaluable. Vital. Especially when a comment comes up on a newspaper article about defending our planet and their way of life.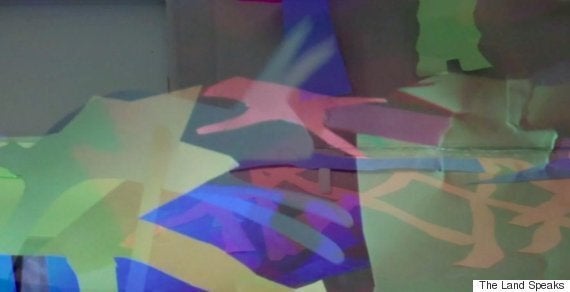 Screenshot from the film "The Land Speaks"
One of the saddest headlines I've read recently is that Northern Ontario First Nations students are afraid to go to school in Thunder Bay this fall. After the inquiry that examined the deaths of First Nations teens over the last several years there, the cloud of fear and mistrust floats heavily in the air. It's not going to be easy to disperse. But, for the anxiety and dark feelings that indigenous youth are experiencing, collaborative art with artists who have a deep understanding of the issues at hand, and Elders who use wisdom and traditional/non-traditional practices, there is a way to break it down a little.
And that in itself can save lives.
If you or someone you know is at risk please contact your nearest Crisis Centre or call Kids Help Phone at 1-800-668-6868 to speak to a counsellor.
Frame Of Mind is a new series inspired by The Maddie Project that focuses on teens and mental health. The series will aim to raise awareness and spark a conversation by speaking directly to teens who are going through a tough time, as well as their families, teachers and community leaders. We want to ensure that teens who are struggling with mental illness get the help, support and compassion they need. If you would like to contribute a blog to this series, please email cablogteam@huffingtonpost.com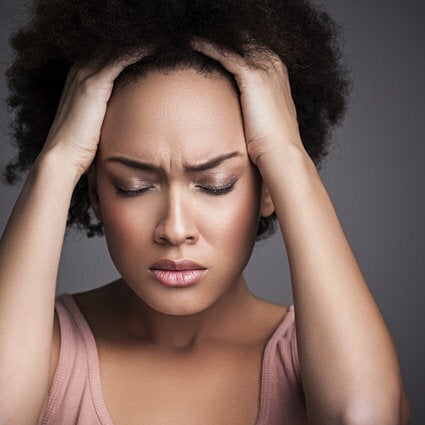 Frame of Mind: Youth Mental Health Issues And Suicide In Canada
Follow HuffPost Canada Blogs on Facebook