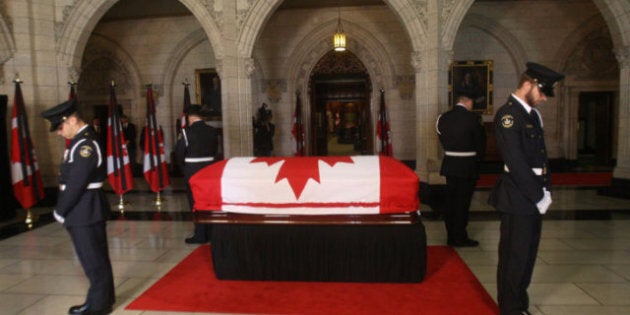 Nearly 7,000 people lined up for hours on Parliament Hill Wednesday under dark clouds and light rain to pay their respect to the man they knew as Jack.
NDP leader Jack Layton's flag draped casket arrived on the Hill shortly after 10:30 a.m. after a six-hour trip from Toronto. His coffin was unloaded from the hearse by eight RCMP pallbearers who brought his body into Parliament's centre block to the sound of a lone bagpiper.
The sheer number of people pushed the scheduled visiting hours from 8:30 pm to 9 pm. Even half an hour later, the line showed no signs of abating and people had to be turned away.
Layton's grieving wife NDP MP Olivia Chow, dressed in black, walked behind his casket, followed his children, Sarah and Michael and his grand-daughter Beatrice.
The family was given a few private minutes away from the television cameras before a special visitation for dignitaries began.
Governor General David Johnston and his wife, Sharon Johnston, were first to pay their respects followed by former governor general Michaelle Jean and her husband Jean-Daniel Lafond.
A handful of government ministers, including Labour Minister Lisa Raitt, International Trade Minister Ed Fast, House Leader Peter Van Loan, Foreign Affairs Minister John Baird, Democratic Reform Minister Tim Uppal joined Interim Liberal leader Bob Rae and his wife Arlene and many other current and former MPs, as well as House of Commons Speaker Andrew Scheer, Senate Speaker Noel Kinsella and Chief Justice Beverley McLachlin in paying their respects.
Interim NDP leader Nycole Turmel fought back tears as she was joined by former NDP leader Ed Broadbent as they bid goodbye to their friend and colleague. Many of the 67 NDP caucus members who made the trip to Ottawa trembled in sorrow as they approached Layton's casket – some such as MP Rathika Sitsabaiesan sobbed openly as she hugged Chow who wiped the tears from the 29-year-old's face.
Many party veterans also fought back their tears. NDP MP Charlie Angus reached out to the casket, his eyes red and watery. Thomas Mulcair, the party's first Quebec MP and an expected leadership contender was visibly shaken and at times appeared to be weeping. The overall mood was quiet and sombre and only at times disturbed by the blabbing of Layton's two-year-old granddaughter.
The public was invited into the building around 1 p.m., half an hour behind schedule because of the number of dignitaries who had shown up.
Wearing a bright orange golf shirt and an NDP pin, Philippe Trottier said he drove up from Kingston, Ont., and waited than three hours for a chance to say goodbye.
"[We came] to pay our respect to Jack Layton. To a honour a guy who has been fighting for all Canadians to make this country a better place," he said.
Ken Carnahan, a Conservative voter from Cambridge, Ont., happened to be in town visiting relatives but came to the hill at 10:30 a.m. to join the snaking long line to show his respect.
"It's just an important place to be today, just for democracy," he told The Huffington Post Canada.
"Certainly, it has been a few hours wait but it went by fast... it's nice to see all the people who have come out."
Murray Letts, a high school teacher from Ottawa, said he wasn't surprised by the turn out because Layton connected "very well" with people.
"Jack planted some amazing seeds of optimism and hope so I think it is a very important thing that we come here to commemorate him," he said.
As the raindrops fell, Angus, the MP for Timmins – James Bay, made his way through the public lines outside with other caucus members shaking hands and thanking Canadians for coming out to pay their respects.
"These people have come a long way, they have waited many hours. We are Jack's family and we have to say thanks to the people who are part of our family. That's why we are here today and we are so honoured that they are here too," he told The Huffington Post Canada.
Layton's body will lie in state in Ottawa and Toronto before his state funeral in that city on Saturday.
The public will be invited inside Parliament's Centre Block until 8 p.m. Wednesday and from 9 a.m. to 1:30 p.m. on Thursday. The departure of Layton's casket on Thursday will be accompanied by a 15-gun salute.
People will also have the chance to pay their respects, when his casket is displayed at Toronto City Hall on Friday 9 a.m. to 8 p.m. and Saturday 9 a.m. to 11 a.m.
Lying-in-state is the tradition where the remains of the deceased rest on view, with a vigil, to allow officials and the public to pay their final respects, according to the Department of Canadian Heritage.
Layton's funeral Saturday will be held at 2 p.m. ET at Roy Thomson Hall in the city's downtown and will be open to the public. The CN Tower will also be lit orange on Saturday in honour of Layton, Harper's communications director Dimitri Soudas tweeted on Wednesday.
Condolence books have also been made available at NDP constituency offices as well as MP offices from other parties across Canada.
One of the more striking public memorials for Layton has also emerged outside Toronto's City Hall. Hundreds of messages have been scrawled on the walls and on the concrete of Nathan Phillips Square.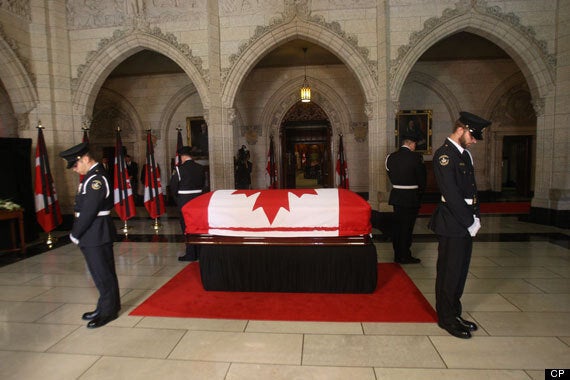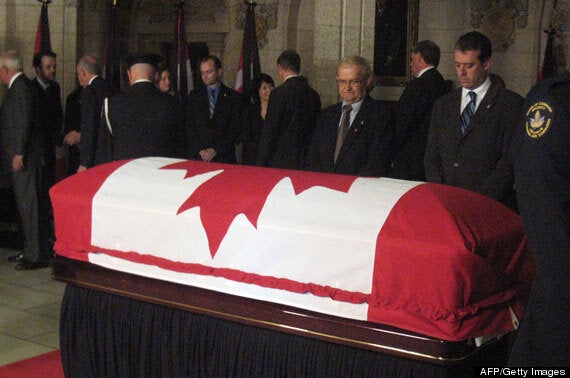 SLIDESHOW: Tributes to Jack Layton outside Toronto's City Hall