Dating isn't easy in the age of Tinder and Hinge and infinite distractions. Some people resign themselves to dating as a struggle while others rise to the occasion, trying every worldly possibility to make it work when they think they've found someone interesting.
Carlos Zetina, a student at the University of Calgary, is one of those people.
On Thursday, Zetina apparently hit it off with a woman named Nicole at a campus bar, and helped her and a friend get home from a night out. But because he didn't get her last name and she accidentally gave him the wrong phone number, he couldn't get in touch with her.
So he did the best thing he could think of: he emailed all 247 people in U of C's directory whose name included some variation of the name "Nicole." The message went out to hundreds of Nicoles, Nicolettes and Nikkis, and counted among its recipients several professors, including the associate graduate dean of the kinesiology department.
Zetina said he sent the email because he didn't want Nicole to think he was "a bad guy who didn't text back.''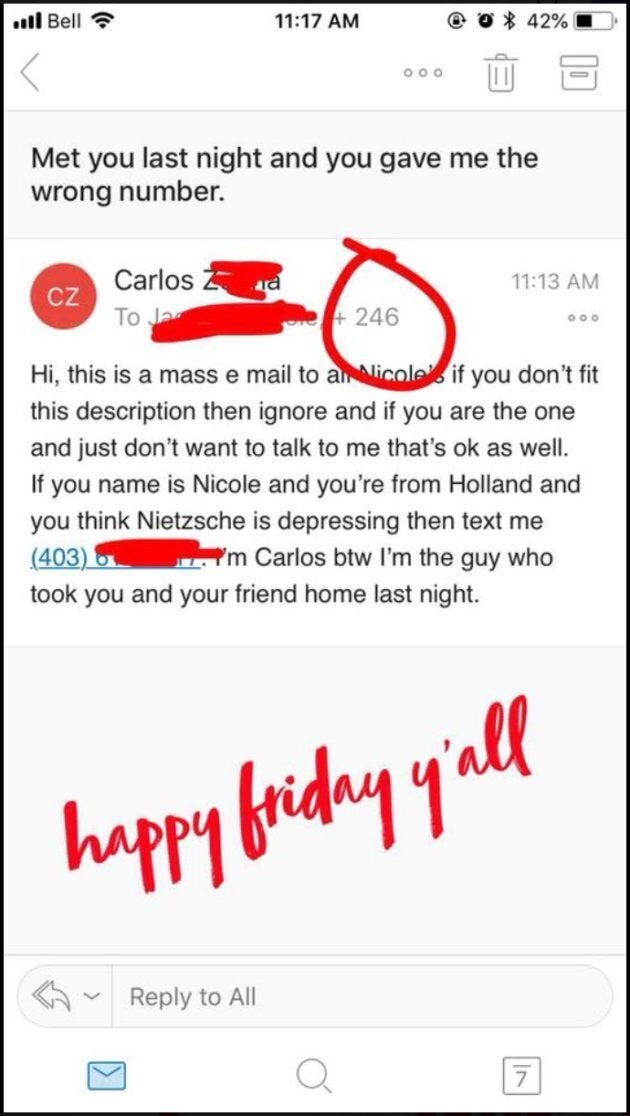 Almost immediately, the Nicoles started emailing each other.
"Somebody responded only to the Nicoles and the group and said, 'Should we all tell him that we're his Nicole, all 250 of us?,'" remembers Nicole Macmillan, a U of C Masters student in psychology. "And then it just blew up from there."
The conversation quickly moved to social media. One of the recipients, Nicole DuGraye, started a "Nicole From Last Night" Facebook group, which has nearly 80 members. The next day, they organized a Nicole meetup at a downtown bar.
No one knows for sure how Zetina had access to everyone's email addresses. "Our working theory as a Nicole team is that he must have gone into his email and typed in 'Nicole'," Macmillan said. The university's email system populates if you type in the beginning of a name, and so they think he must have just selected "all."
The Nicoles get together
Nicolette Little, a U of C PhD candidate in feminist media studies, said she woke up Friday morning with dozens of messages — texts from friends who had heard about the email after it went viral, a message from a U of C friend named Nicole who was in Spain at the time, and emails from the thread.
She saw messages including:
"Will the real Nicole please stand up?"
"I just want to say hi to my fellow Nicoles."
"I've never been so happy that my name is Nicole."
She went to the meetup and got to know about 15 other Nicoles and Nicolettes, she said. "It was so freaky because we showed up to have a drink and we all kind weirdly looked alike. It was really strange."
Nicole Macmillan says everyone at the bar loved their story — they told their server, who told the rest of the staff. Even the manager came out to talk to them about it.
The mystery Nicole identified
The story has another happy ending: due to the "powerful network of Nicoles," the original Nicole did find out about Carlos's crusade. And good thing the Nicoles mobilized: because OG Nicole was a Dutch exchange student, she didn't actually have a U of C email address.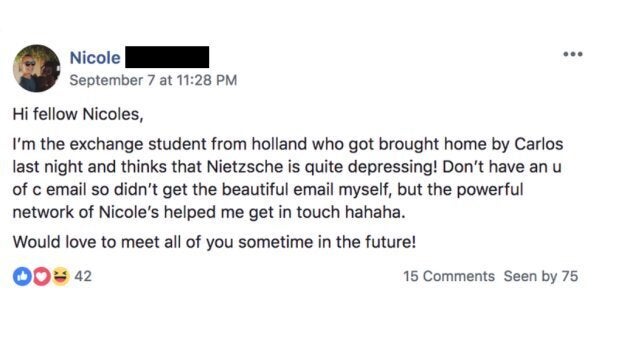 After Macmillan checked with the real Nicole and found out that it was in fact an honest mistake that Carlos got the wrong number, and not a deliberate brushoff, the Nicoles put the two in touch. (Real Nicole had a Canadian number for only about a week, apparently, and didn't remember it correctly.)
Macmillan says the group is planning another meetup with the original Nicole next week — they're all dying to meet her.
Many of the Nicoles are impressed with Zetina's bravery, even if some question his methods. "I think that this is the most ambitious effort to find a girl that I've ever heard," Macmillan said.
Another woman who received the email, Nicole Larsen, said she felt "happy to be a part of a love story.''
"I felt like this was Cinderella or something ... but I was just an ugly step-sister," she added.
Zetina says the original Nicole did finally text him back. "We're planning to hang out maybe next week,'' he said. "I really didn't expect this to become a big thing.''
Several of the Nicoles noted that it was a welcome change to have such a positive interaction on the internet, a place that can be notoriously hostile to women. Whether or not Carlos got his date, Macmillan said she's glad to have a new "girl gang."
Little echoes that comment: "It's nice to know so many nice, kind-hearted Nicoles out there."
With files from The Canadian Press