Olivia Chow's campaign for Toronto mayor has just begun but her opponents are wasting no time attacking her.
And it seems the toughest shots aren't coming from Rob Ford.
Chow resigned as the member of Parliament for Trinity-Spadina on Wednesday after months of speculation she would enter the race to unseat Ford.
While an agent officially registered her candidacy at City Hall later that afternoon, a kickoff event is planned Thursday in the inner city neighbourhood of St. James Town, where she grew up.
But before the ink was dry on her nomination papers, an attack website authorized by the John Tory campaign began to make the rounds on social media.
The site questions whether Chow can really understand "the value of a dollar" when she has been an "employee of the taxpayers" for more than 20 years. Chow was a Toronto school board trustee and city councillor before she was elected for the federal New Democrats in 2006.
The site also highlights Chow's recent decision to mail constituents a taxpayer-funded flyer highlighting her work in Ottawa, when she knew her entrance into the mayoral race was imminent.
Brian Kelcey, campaign manager for mayoral candidate David Soknacki, was quick to share a photo of the flyer on Twitter this week.
Tory campaign spokesperson Amanda Galbraith told The Toronto Star on Tuesday that people outside of Chow's riding may have received the flyers.
"What kind of an example is this setting for council and employees of the city, when it comes to expense accounts and their use?" she asked.
On Wednesday, Galbraith told reporters Chow has "never met a public dollar she couldn't spend."
But it wasn't just the Tory camp targeting the popular wife of late NDP leader Jack Layton.
Right-leaning mayoral candidate Karen Stintz released a statement suggesting Chow will be a "tax and spend" leader.
"Toronto can't afford to go back to the ways of an NDP mayor," Stintz said in the statement.
And, according to the National Post, a Stintz spokesperson also said Chow was a "double dipper," and claimed she lived in subsidized housing with Layton more than a decade ago.
Chow's campaign has called the statement inaccurate, as she and her late husband actually lived in a co-op apartment for a time while they were city councillors and paid "market rent."
Political strategist Lisa Kirbie, whose fiancé Warren Kinsella is running Chow's war room, wrote a blog Wednesday in which she called attacks on Chow's housing a smear.
"Olivia and Jack never received subsidized housing. They always paid their full share. Anything else you read or hear is a complete and total lie," Kirbe wrote.
And what about the infamous incumbent? Well, he joined in on the fun, even though he told reporters he welcomed Chow into the race.
Ford also had a good laugh when asked by The Sun's Don Peat whether or not he's "terrified" of Chow, who polls suggest is the frontrunner.
Toronto voters head to the polls on Oct. 27.
With a file from The Canadian Press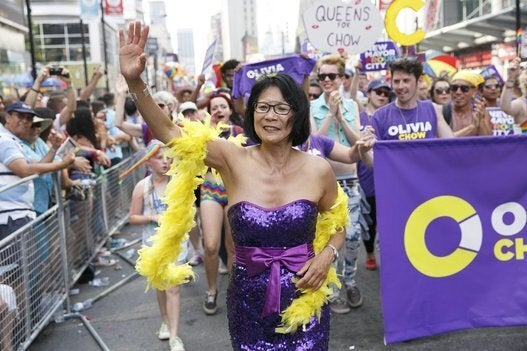 Olivia Chow Through The Years
Popular in the Community