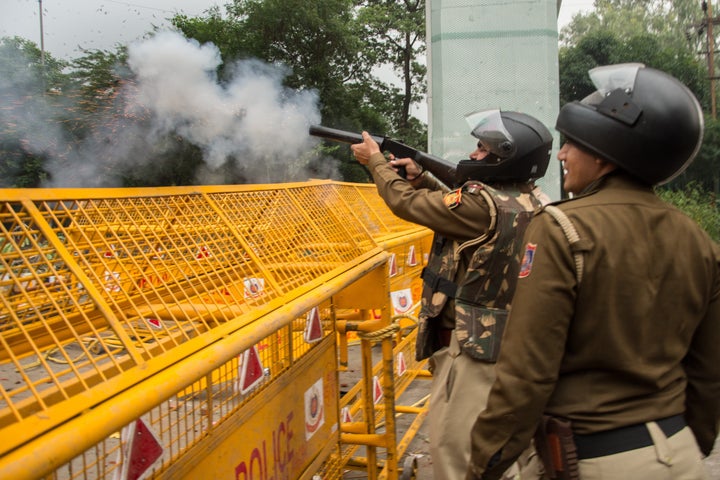 As the outrage over police crackdown on students at Jamia Millia Islamia University on Sunday grew and the protests spread to universities and colleges across the country, the police held a press conference on Monday to reiterate that it used "maximum restraint, minimum force".
"There was no firing, there have been no casualties in the Jamia violence. The crime branch will investigate the violence. Thorough investigation will be done and accountability will be fixed," Delhi Police's Public Relations Officer MS Randhawa said at the press conference.
NDTV, however, reported that three Jamia protesters received bullet wounds and the Medical Superintendent of Safdarjung Hospital was quoted in the report as saying two Jamia protesters were admitted with bullet injuries.
The family of one of the students, who was admitted in the general ward of the hospital, told NDTV that he was shot in the chest on Sunday and had no role in the protests. After multiple explanations, the report added, the police said these were caused by shrapnel injuries from tear-gas shells.
Delhi Police has now said it will probe claims that two students suffered bullet wounds. The Indian Express quoted police sources as saying, "prima facie, it appears that both suffered bullet wounds".
"It needs to be investigated whether the bullets were fired by police personnel or someone else," the said, while adding that the police are likely to approach ballistic experts for better clarity.
IPS officer Abdur Rahman, who announced his resignation as an act of civil disobedience after the Rajya Sabha passed the Citizenship (Amendment) Bill, told Huffpost India's Piyasree Dasgupta that most of what the Delhi Police did, and he saw on social media, seemed completely out of sync with what the police manual says about handling civilian protests.