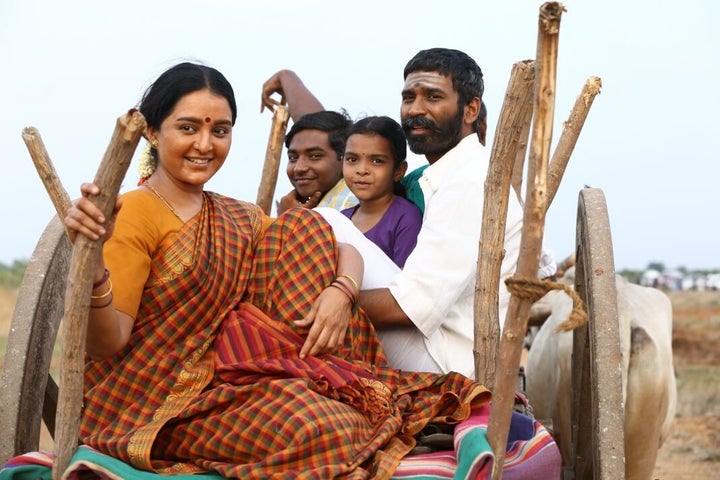 Described as a "glorious" and "thrilling" revenge drama and a "bloodied war against caste", the recently released Tamil film Asuran (Demon) is unequivocally a hit, having entered the so-called Rs 100-crore club. Directed by National Award holder Vetrimaaran, and starring Dhanush and Manju Warrier, the film is based on the novel Vekkai (Heat) by Sahitya Akademi-winning author Poomani.
Set in a village in Tamil Nadu's Tirunelveli district, it follows the life of a Dalit family and their struggle for survival and dignity. To avenge the death of his elder brother, Chidambaram (Ken Karunas) has killed a man belonging to a landed dominant caste. Chidambaram's father Sivasamy (Dhanush) takes his son into the forest in an attempt to protect him from not only the enraged dominant caste community but also the police force that sides with them.
The question now is, how did a film dealing with a marginalised community become such a mainstream hit? Earlier, when Pa Ranjith's Kabali (2016) and Kaala (2018) spoke politics from the point of view of a Dalit protagonist, they created discomfort and saw a major backlash against the filmmaker. However, Vetrimaaran's movie has been easily embraced despite its assertive Dalit hero. And that's likely because of the film's entertainment value: it is racy and engaging. Unfortunately, Asuran suffers from the same problems that Spike Lee saw in Quentin Tarantino's Django Unchained (2012).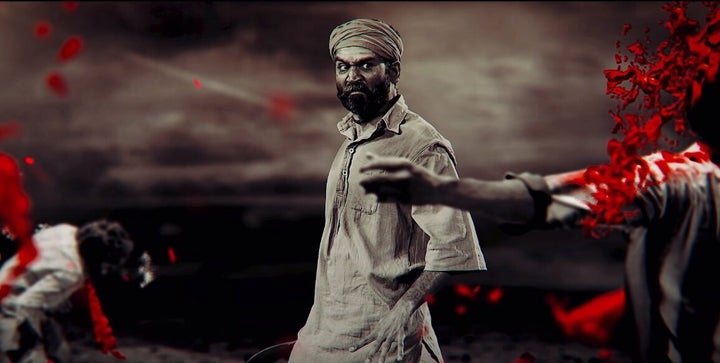 According to Lee, slavery in America "was a holocaust" and that it was "disrespectful" to frame it as a "spaghetti western". A similar criticism can be made of Asuran, where Vetrimaaran processes the lives and struggles of Dalits into a pulp-fictionalised revenge thriller.
The rise of the heroic Dalit
Until a few years ago, Tamil cinema very rarely had characters identified as Dalits. Even in those occasions, such characters were usually reduced to criminal rogues, helpless victims, submissive side-kicks or exoticised caricatures. More often than not, lead characters who could potentially be recognised as Dalit were rendered into impoverished but casteless identities. And even when a main protagonist was established clearly as Dalit, very rarely were they shown as assertive.
"More often than not, lead characters who could potentially be recognised as Dalit were rendered into impoverished but casteless identities."
For example, in Bharathiraja's En Uyir Thozhan (1990), the protagonist had almost no agency and was destined to get killed by the end of the movie. In Villadhi Villain (1995), actor Sathyaraj's authoritative character comes from Ambedkar Nagar. But the film takes pains to establish that he is actually an orphan who was adopted by the people of the locality. It was believed that Tamil cinema tactically employed these measures so as to not upset the sensibility of the mainstream audience, comprising mainly upper and intermediate castes. It was feared that they might shun a film if it had Dalit characters playing roles that were central, heroic or both.
However, in the last few years, there has been a marked change in this pattern. There is an increasing attempt to tell the stories of Dalits. This trend accelerated after the institutional death of Rohith Vemula and the debate that it sparked throughout the country. The growing interest in Dalits is evident not only in cinema, but also in academia, media and publishing. This curiosity about Dalits has created an unprecedented market demand for their stories.
While superficially, this might look like a welcome change, it is actually laden with several issues. Ideally, the public's engagement should have been with caste as a structural inequality that privileges the upper castes and oppresses the rest in varying degrees. Instead, what has resulted is the commodification of stories about Dalits.
"Caste has been reduced to a problem of only the Dalits. And even here, the market is only obsessed with three specific stories—manual scavenging, reservation and caste atrocities."
Caste has been reduced to a problem of only the Dalits. And even here, the market is only obsessed with three specific stories—manual scavenging, reservation and caste atrocities. This reflects in the movies that are made not only in Tamil cinema but in Bollywood as well. In Bollywood, if Chaitanya Tamhane's Court (2014) centred around the death of a manual scavenger, Anubhav Sinha's Article 15 (2019) lumped together every possible caste atrocity. Unsurprisingly, both films featured Brahmin-Savarna saviours.
Marketing caste atrocities
While Bollywood is still stuck with the "saviour" narrative, Tamil cinema seems to have progressed into embracing Dalit protagonists who are capable of fighting their oppressors. However, much like Bollywood, Tamil cinema seems unable to look beyond caste atrocities as story material.
Asuran is a classic example of this phenomenon. While Poomani's works have been rich in their sociological documentation of the various facets of Dalit-Bahujans lives, the writer has resisted labelling himself as a 'Dalit writer'. He has always positioned himself as a narrator of stories about his land and its people but with universal appeal. However, in the film, Vetrimaaran has taken a deliberate departure from this approach and has with a heavy hand identified the characters and their struggles as Dalit by placing markers signifying caste-based discrimination.
In doing so, he has essentially taken a nuanced and culturally rich novel and reduced it to a generic revenge tale of caste atrocities and retaliations. The movie could have worked just as well even if its protagonists weren't Dalits or if the issue wasn't about the usurping of Panchami lands.
However, having consciously identified its characters as Dalits, Asuran has been able to cash in on the market's demand for stories on caste atrocities. Even though the movie does very little justice to Poomani's Vekkai, the claim to have adapted from the novel has given Asuran a credibility that it could not have acquired on its own.
Also, Asuran uses the Kilvenmani massacre as a plot device (much in the way Article 15 used the Badaun rape case). There is a serious ethical problem in using actual caste atrocities to propel cinematic narrations that are fictionalised and over-simplified. To reduce these incidents to mere props or plot devices borders on callousness, and could also make for traumatic viewing for the affected community.
Caste sub-genres in Tamil cinema
Tamil cinema's engagement with caste can be classified into three sub-genres. In the first, stories unfolding from the point of view of Brahmin-Savarnas have criticised the policy of reservations. Ore Oru Gramathiley (1987), Vaaname Ellai (1992) and Gentleman (1993) have all critiqued reservations and portrayed Brahmin-Savarnas as victims of the policy.
In the next sub-genre, movies based on the intermediate castes have tried to establish the caste pride of a few dominant castes by claiming a glorious past. This is true of Chinna Gounder (1991), Thevar Magan (1992), Ejamaan (1993) and several similar movies that focused on the Madurai and Kongu belt. The commercial success of movies from both these categories have allowed filmmakers to repeatedly revisit these themes.
The third sub-genre is that of caste atrocities inflicted on Dalits. Asuran falls into this category, as perhaps does Leena Manimekalai's film Maadathy, An Unfairy Tale (which recently premiered at the Busan International Film Festival) that reportedly explores sexual violence against Dalit women in the Puthirai Vannar community.
If Vetrimaaran derived his credibility from Poomani's novel, Leena Manimekalai claims it by stating that the movie was created with the participation of the members from the community. Apart from this, it has also been reported that Netflix is coming up with an anthology on honour killing that is to be directed by Vetrimaaran, Vignesh Shivan, Gautham Menon, and Sudha Kongara. Going by this trend, it is very evident that the market has lapped up violence on Dalits as a sub-genre in cinema. However, we have to understand that restricting the stories of Dalits to mere violence and retribution is in itself a violent act.
Turning the lens inwards
Our society's engagement with caste—whether it's cinema or any other domain—has been very poor. We have reduced the narrative to caste as a problem that concerns only Dalits, and involves the perpetration of physical violence. In reality, caste in India works in a myriad of ways but most of our filmmakers do not seem to see the value in representing these aspects. As it stands, the only filmmakers who engage seriously with caste are those that have claimed their Dalit identity.
"Filmmakers from Brahmin-Savarna or intermediate castes have refused to engage with their own identity critically."
Filmmakers from Brahmin-Savarna or intermediate castes have refused to engage with their own identity critically. Instead, every one of them has been in a hurry to tell stories from the point of view of Dalits. Instead of obsessing over Dalits and their stories, if Tamil and Indian cinema can earnestly look at caste as a structural problem and throw more light on the oppressors, it would really be a welcome change.