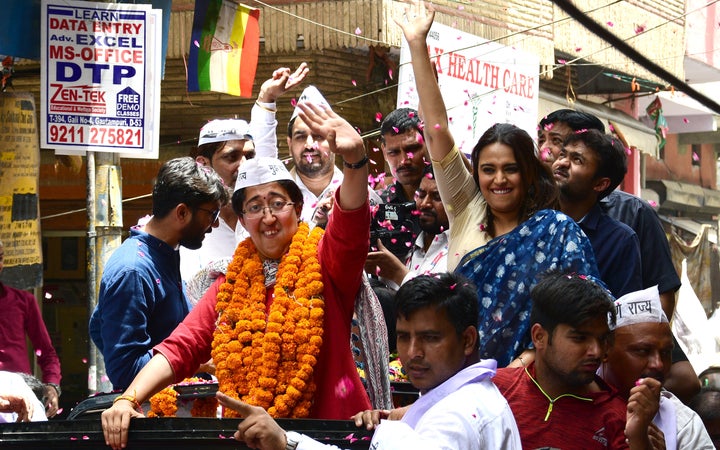 In an interview to PTI, Atishi said she believes the BJP is her main opponent and the Congress is number three in the electoral race.
A Rhodes Scholar, Atishi is making her electoral debut in the 2019 elections. She was the advisor to Delhi education minister Manish Sisodia till April 2018 when her appointment was cancelled by an order from the Centre.
She has been credited with improving government schools in Delhi and initiating education reforms in the capital. The AAP candidate also thinks that her biggest strength is the work she has done in the education sector.
She said, in an interview with The Quint, that she is looking forward to the day when all parties start competing over who can provide the best public health and education to their citizens.
Separate manifesto
AAP has released a separate manifesto for East Delhi. From starting women-only buses after 7 pm, to increasing the number of PCR vans and establishment of mahila thanas, Atishi focussed on women safety in the manifesto.
The manifesto said the first major step will be to increase the number of PCR vans in East Delhi, so that 24-hour police surveillance acts as a deterrent for anti-social elements.
She said the number of police officials working in East Delhi will be increased, keeping in mind the population density and high demand of the area. Recruitment will be made for all vacant posts she added.
In education sector, the manifesto promised to get the constituency its own university campus, so that students do not have to travel across Delhi in search of good colleges.
Swara and Jignesh lend support
Actress Swara Bhasker campaigned for Atishi on Wednesday and hailed the Aam Aadmi Party leader as a politician who banks on her work for the people and not fame.
Bhasker and Gujarat MLA Jignesh Mevani held a bike rally for Atishi in Shastri Park area of east Delhi.
"Atishi has proved herself by contributing in the education sector. She is a politician who does politics on the basis of her work and not name," the actor said.
Controversy over surname
Atishi has been targeted over her surname (Marlena), which she stopped using last year. After a Congress leader claimed she was a Jew, she and other AAP leaders have unfortunately been reminding voters that she is an upper-caste Hindu.
Delhi Deputy Chief Minister Manish Sisodia warned both the BJP and Congress to beware of her, saying "she is a Rajputani". He received a show-cause notice for his tweet on Atishi.
Atishi began facing allegations about her religion after she restored her surname 'Marlena' in her affidavit and nomination paper to the Election Commission. She had dropped her surname last year, saying she feared its misuse by political adversaries.
She told The Hindu, "That is my legal name. But I have decided to fight the election using my first name and the EVM would say 'Atishi'."