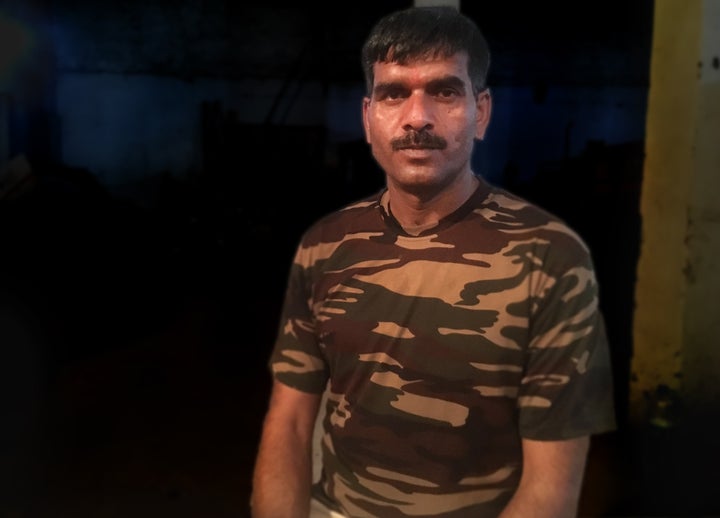 VARANASI, Uttar Pradesh — "Don't look at the toilets," Tej Bahadur Yadav said, while showing this reporter around the tin-roofed warehouse from where he is running his campaign against Prime Minister Narendra Modi in Varanasi.
It was past ten in the night, and the former Border Security Force (BSF) jawan had just returned from a long day of campaigning for Shalini Yadav, the Samajwadi Party (SP)-Bahujan Samaj Party (BSP) alliance candidate in the Bharatiya Janata Party (BJP) bastion.
He glanced at his dinner—potato curry, rotis and onions—walked past the thin pinstriped mattress where he sleeps, and headed for the plastic chairs at the far end of the warehouse.
If it weren't for the Election Commission (EC) rejecting his nomination papers at the last minute, this was the base camp from which Yadav had hoped to put up a spirited campaign against Modi as the SP-BSP alliance candidate. Instead, he is campaigning for the alliance in eastern UP, which heads to the polls over the next two weeks, while he waits for the Supreme Court to decide on his plea challenging the EC's decision.
The EC has said that Yadav did not furnish the required paperwork regarding his dismissal on grounds of indiscipline.
"If I was in the BJP, I would be running no matter what crime I had committed. If I had not challenged PM Modi, I would be running," said the soft-spoken man dressed in army fatigues, sitting ramrod straight on a chair.
The 43-year-old believes he was prevented from contesting the election because he had challenged Modi in his constituency, Varanasi, and posed a threat to the PM's image as an ally of the Army.
While the chances of Yadav winning against the BJP's biggest leader were slim to none, the optics of a former soldier challenging Modi would have reflected unfavourably on the image-conscious PM, who has projected himself as a strongman highly regarded by jawans hailing from India's poor families.
While the Election Commission has asked political parties not to use the achievements of defence forces in their campaign, Modi has been pretending that he didn't get the message. His speeches, which often operate as dog whistles to his Hindu nationalist support base, incorporate a mix of minority-baiting, Pakistan-bashing and fear-mongering. He has asked first-time voters to "dedicate" their vote to the Air force officers who carried out the Balakot air strikes, and often speaks of giving a "free hand" to security forces.
At a rally in Udaipur, he played upon a dialogue from the hypernationalist Uri to suggest that he would personally enter the enemy's stronghold to finish them. Uttar Pradesh CM Yogi Adityanath and BJP president Amit Shah have referred to "Modi ki Sena" and "his Air Force" in their speeches.
"How can the Prime Minister say these things? The security forces are not PM Modi's to give a 'free hand'," said Yadav, who claims that he decided to take on the PM after the attack in Pulwama that killed over 40 jawans.
"I do not like how PM Modi is speaking about the Army to score political points. The politics over the Pulwama attack is insulting to the Army and to the nation," he said. "That is why I decided to run against Modi."
Though Varanasi has been a BJP bastion since 1991, Yadav had still hoped for a miracle.
When his supporters cited the example of Raj Narain, who beat Indira Gandhi in her stronghold of Rae Bareilly in 1977, Yadav said, "Anything can happen."
Then, in a more muted tone, he added, "Win or lose, I wanted a chance to fight, to put up a tough fight, but even that was taken away from me."
"The politics over the Pulwama attack is insulting to the Army and to the nation."
'Nothing to lose'
Yadav first made headlines in January 2017 when he posted videos of the watery dal and "burnt" rotis served to the 29th Battalion of the BSF. He was dismissed three months later, a decision he tried to contest legally by claiming that his colleagues uploaded the video on Facebook.
The 14-15 hours that he spends campaigning, he said, doesn't affect him at all. He did, after all, spend his days standing knee-deep in snow when he was in the BSF. The only difference, he said matter-of-factly, is the "heat of Varanasi" versus the "cold of the mountains".
A cooler, which had arrived earlier that day, provided some respite from the 43 degrees Celsius heat convulsing the city.
A farmer, his supporters said, had dropped off the sack of potatoes which had been used to make dinner for the night.
"People know me here. They know my story. I was surprised, but people know that it is poor people like us who enlist as jawans, guard the border, not the sons and daughters of the rich and powerful," he said.
While announcing that he was going to Varanasi to fight the election as an independent candidate, Yadav, in a Facebook post, appealed for a place to stay, a vehicle and donations.
The Haryana native said that his dismissal from the BSF had left him with no money and no pension.
The class 12 graduate had tried to find a job as a security guard after he was dismissed, but failed. His small patch of land in Mahendragarh, where he grows wheat and mustard, fetches around Rs. 10,000-12,000, a year. His wife, who works in a private company in Rewari, earns around Rs. 20,000 a month.
In Varanasi, Mohan Prasad, who sells building material, offered Yadav a place to stay: his warehouse, used for storing cement and bricks.
When the former jawan arrived in Varanasi, he was joined by around 250 compatriots who were either retired or dismissed from service. Their collective demand was that the law governing "men in uniform" is a British legacy, dating back to 1911, and in urgent need of reform.
After the Congress announced that its candidate would be Alok Rai, not Priyanka Gandhi, the SP-BSP alliance announced that they would back Yadav.
While the SP has provided him with a vehicle and chips in with the groceries, Yadav is still living at the warehouse.
"Let me tell you about myself. I was sacked from my job for pointing out corruption in the armed forces. I have no money and no pension. I'm very poor. My wife works as an operator in a private company and that is our only source of income. We have lost our only son," he said.
Then, after a pause, Yadav said, "You see, I have nothing else to lose."
In a bizarre tragedy, the circumstances of which are not entirely clear, Yadav says that his 20-year-old son shot himself with a pistol while he and his wife were away at the Kumbh Mela, earlier this year. The Haryana police, he said, have found this to be a case of accidental shooting.
"You see, I have nothing else to lose."
When Yadav's nomination papers were canceled, the troupe of former jawans around him dwindled from around 250 to 15-20, but he is still upbeat.
His supporters share stories of the crowds which come to see the "rebel soldier," and how everyone wants a selfie with him.
Yadav was set to be the Kejriwal of 2019. In 2014, Modi beat Arvind Kejriwal by 3.37 lakh votes, but the Aam Aadmi Party chief is widely regarded to have given a "good fight."
The EC shocker
Before heading to Varanasi, Yadav said that he wrote to many political parties about his plan to challenge Modi.
Kejriwal, who had challenged Modi in 2014, was the first political leader to back him.
The Election Commission's move came as a rude shock.
"It was totally ill-intentioned and malafide," said Prashant Bhushan, senior Supreme Court lawyer, who is representing Yadav. "It is obvious that the Prime Minister does not want a jawan, especially a jawan who was a whistleblower and who was unfairly dismissed, to be his main challenger."
When it was pointed out that it would have been difficult for Yadav to beat Modi, Bhushan said, "Who knows? Who knows how the campaign would have panned out? Even if he had not won, all these issues, the poor quality of food given to the jawans and corruption in the army, would have come to the fore. So much for fake nationalism."
"It was totally ill-intentioned and malafide."
The Returning Officer, the official who signs off on a candidate's nomination papers, rejected the application because Yadav had failed to furnish the required paperwork related to his dismissal from the BSF.
Under Article 9 of the Representation of the People Act 1951, a person dismissed from government service for corruption or disloyalty to the state is disqualified from contesting elections for five years from the date of dismissal. Article 33(3) of the Act requires a clearance certificate that the dismissed employee was neither corrupt nor disloyal to the state.
Yadav, who was dismissed on 19 April, 2017, says that he had provided his dismissal letter which proved that he was sacked for indiscipline, not for corruption or disloyalty to the state. He also says that Article 33 (3) does not apply to him.
Yadav says that the Returning Officer asked him for a clearance certificate at 6:15 pm on 30 April, and he was given till 11:00 am on 1 May to get the document from the EC's office in Delhi.
"The last flight for Delhi had already left. I'm not a rich man. I'm neither a minister nor an MP who can take a chartered plane. I had my lawyer go to the EC's office that very evening, but it takes time," he said.
Yadav said that his representative was in the process of getting the clearance certificate from the EC's office on May 1, when his nomination was rejected in Varanasi.
"My nomination was rejected due to the pressure of the BJP government. This is my specific accusation," Yadav said.
"BJP thought that I would run away after my nomination papers were cancelled, but now I'm re-energised. This just makes me want to fight even harder," he said.
What kind of country allows a woman on trial for terrorism — Pragya Singh Thakur, BJP's Bhopal candidate — to stand for election, but bars a jawan who had exposed the poor quality of food served to the soldiers manning the India-Pakistan border in freezing conditions, he wondered out loud.
"It is the death of right and wrong. It is the death of the Constitution. They want people like her in Parliament. They will keep raising Hindu-Muslim issues and the BJP will keep riding its cycle of communal politics," he said.
"It is the death of right and wrong."
From admirer to challenger
In the 2017 video, Yadav accused his superior officers of illegally selling off the essential supplies which the government provided.
The video, with shots of watery dal, which Yadav said was made from haldi and salt, and burnt rotis, was viewed over seven million times.
"I will show you the morning breakfast. We get one paratha, there is nothing in it, no achaar, no vegetables, just tea," he said in the video.
Public outrage prompted the Prime Minister's Officer to ask for a report.
While casting Yadav as a troublemaker with multiple complaints of indiscipline against him, the Indian Army was forced to set up an inquiry into the quality of food being served to the BSF personnel.
Eventually, in April 2017, Yadav was dismissed from the BSF on the grounds of indiscipline for posting the video. It is unclear whether the food at the 29th Battalion of the BSF, where Yadav was posted, has improved.
Singh does not regret speaking out.
"I did not steal anything. I just raised my voice saying that if the government is giving Rs. 100 for a soldier then just spend Rs. 100 — or least Rs. 50 — on that soldier," he said. "Did you know that we are supposed to get dry fruits as well, but we never got them?"
"Did you know that we are supposed to get dry fruits as well, but we never got them."
Yadav said that before going public, he had sent a letter about the quality of food and alleged corruption to the PMO, the Home Ministry and the National Human Rights Commission, but he never heard back.
Yadav knew he was taking a risk in posting the video, but he was confident that Modi, whom he had thought as a true ally of the jawans, and an anti-corruption crusader, would have his back.
"I thought that the country has finally got a truly honest prime minister, who really wants to finish off corruption. I trusted him completely to ensure that jawans would get good food and punish the culprits."
In 2014, Yadav and his entire family had voted for Modi in the Lok Sabha election. In 2019, he said, with the exception of one of his five brothers, they will all vote against him.
Anger and injustice, Yadav said, had propelled him into politics, and this time it was personal.
"People can see the difference between a real chowkidar and a fake one," he said.
"People can see the difference between a real chowkidar and a fake one."