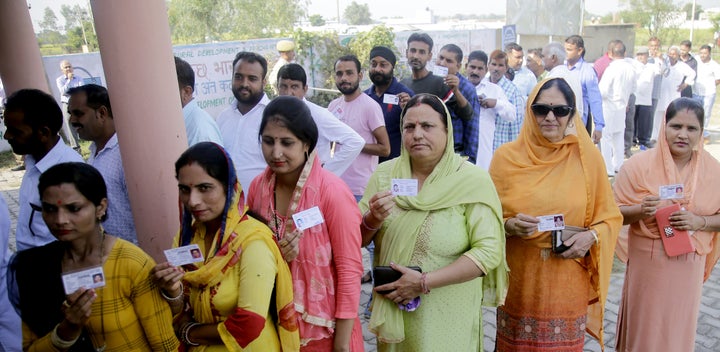 SRINAGAR, Jammu and Kashmir — A day after the Block Development Council (BDC) election in Jammu and Kashmir, local BJP leaders sounded disappointed and evasive.
"Unsatisfactory," was how Vibodh Gupta, a senior BJP leader in the Muslim-dominated Rajouri district of Jammu division, put it when asked how he viewed the party's performance.
Gupta has good reason for his dissatisfaction.
The BJP won only 81 out of the 307 blocks in the first electoral exercise conducted in Jammu and Kashmir after the Narendra Modi government revoked its special constitutional status. It's also the last election to be held in India's only Muslim majority state before it becomes a Union Territory on 31 October.
Of the remaining seats, independent candidates won 217 and the Jammu and Kashmir National Panthers Party won eight.
While the two main regional parties in J&K, the National Conference (NC) and the Peoples Democratic Party (PDP), as well as the Congress, claimed to have boycotted the election to protest against the revoking of Article 370 of the Indian Constitution, the BJP insists that all three parties supported independent candidates as their "proxies."
It is the village chiefs (panches and sarpanches), not the public, who vote in the BDC election. This led the BJP to believe that it would do well despite widespread anger and outrage at the changes made to the conflict-ridden region as well as the unilateral and high-handed manner in which was done.
Tens of thousands of fresh troops were deployed in Kashmir to suppress any kind of backlash. Mobile phone services and the internet were severed. There is still no mobile phone internet in either Jammu and Kashmir or Ladakh, which has been made into a separate UT. Thousands of people, including political activists, traders and lawyers, have been detained in Kashmir and incarcerated in prisons outside J&K.
The result is electorally disappointing for the BJP, which wants to dominate the three levels of grassroots governance in J&K. In other words, it wants BJP supporters to be the village chiefs, block council chairpersons, and district development chairpersons (for which an election is anticipated soon) across J&K.
The BDC result also counters the narrative that people in J&K are happy about the revoking of Article 370, which the Modi government has pushed aggressively in India and abroad.
It is routine for people in the Muslim-majority Kashmir Valley to boycott elections in order to defy the Indian state. Village chiefs who participate in panchayat-level elections run the risk of being targeted by militants, who call on people to boycott elections. At least three BJP party officials have been killed in the past three years by militants.
Village chiefs from militancy-hit areas such as Tral and Shopian have been in hiding in Srinagar ever since the panchayat election in December 2018.
The lack of public participation in Kashmir does not bother the BJP, which is focused on the number of elected representatives it can scoop up to further its grassroots expansion in J&K.
"Step-by-step," is how the Srinagar BJP district president Arif Raja put it to HuffPost India.
In Kashmir, given the tense situation and the non-participation claimed by other parties, the BJP had expected a walkover.
BJP candidates won 20 out of 131 blocks and supported 52 winning candidates in Kashmir, party officials told HuffPost India.
If the BJP's claims are true and the vast majority of independent candidates have been backed by the NC and PDP, then it might be too early to write off the regional parties, which have dominated the J&K's political landscape for decades.
The Jammu contest
Unlike Kashmir, elections are bitterly contested in the Hindu-majority Jammu Division.
Of the 148 blocks polled in Jammu Division, only 52 BJP candidates won, party officials said.
Vibodh Gupta, a senior party leader from Rajouri, who was a Member of Legislative Council (MLC), told HuffPost India that BJP would win all 19 blocks in Rajouri district, where BJP has made a push to woo Muslim Gujjars, a marginalised shepherd community.
The BJP has won eight of the 19 blocks in Rajouri.
However, Gupta pointed out that six of its winning candidates are Muslims from Muslim-dominated blocks, and two are Hindu.
In Ladakh, which the Modi government severed from J&K, and made a UT, the BJP candidates won 11 out of 31 blocks.
Unlike J&K, which has retained a legislature, Ladakh will no longer have representatives in the Assembly.
In Ladakh's Buddhist-dominated Leh district, which had demanded a UT, BJP candidates won seven out of 15 blocks.
In Ladakh's Kargil district, where BJP has made a push to woo its dominant Shia Muslim community, the BJP candidates have won four out of 15 blocks.
Popular in the Community