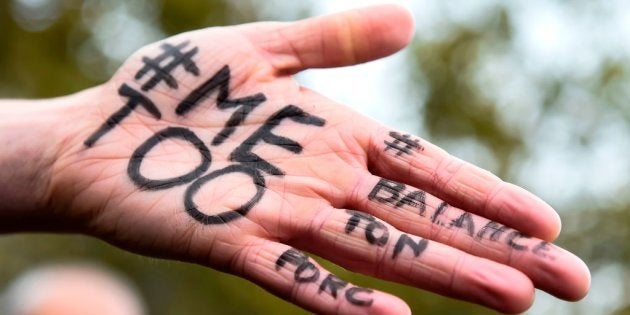 NEW DELHI —This past week, women from publishing, journalism, film, television and stand-up comedy, have shared accounts of assault and harassment by powerful and influential men.
A significant number of those named work as media persons—young reporters and influential editors.
Two former HuffPost India employees have also been accused of sexual misconduct by women on social media.
The allegations have been so widespread that the Editors Guild of India, an industry body, has issued a statement:
HuffPost India reached out to seven English media organisations whose journalists have been accused of inappropriate behaviour to ask what measures they have taken to address the allegations and what they are doing to improve the degree of sensitisation among journalists.
We sent a list of questions that asked for details of the nature of investigation—if at all—that has been instituted against the accused, if they have an Internal Complaints Committee (ICC) and whether it is in compliance to the anti-sexual harassment laws. We also asked if the organisations have held workshops or programmes to sensitise their employees on appropriate behaviour.
Here are the media houses whose journalists are facing these allegations and their response to our questions:
THE TIMES GROUP
Journalist Sandhya Menon first named TheTimes of India's Hyderabad resident editor KR Sreenivas in a series of tweets. Several other women—some of them anonymously—shared accounts of how Sreenivas had allegedly harassed them. Most of them accused Sreenivas of touching them without consent and inappropriately, exploiting his position of power over junior employees.
Earlier on Tuesday, Menon tweeted that a petition was submitted to the Times Group on 7 October, urging the organisation to take action against the editor. Later, TheNews Minute editor Dhanya Rajendran tweeted that Sreenivas has been asked to go on 'administrative leave pending enquiry'.
Amit Das, human resources director of the Times Group, told HuffPost India, "We have taken cognisance of the concerns posted on Twitter by ex-employees and asked the concerned Respondent to proceed on leave of absence to ensure a free and fair inquiry. A high level, independent committee has been set up to look into the matter. We are further inquiring if any current employees have been impacted by the alleged behaviour."
He also added that the organisation has an ICC in place that is headed by a woman and comprises mostly women.
Journalist Nasreen Khan, in an article, detailed the harassment she has allegedly faced from Satadru Ojha, the editor of Calcutta Times. Khan has alleged that when she refused to give into his demands to keep him 'pleased' and 'happy', Ohja tried to sabotage her work by mishandling her articles. On one occasion, she said in the piece, a sexist article not written by her was published under her byline, causing even international news organisations to call her out. She mentioned in her piece that HuffPost was among the publications which criticised the article which was published under her byline.
Ojha tweeted on Tuesday that the allegations against him are false and that Khan's charges were found to be false by TOI's ICC and then dismissed by 'police and court'.
HINDUSTAN TIMES
After a journalist accused Hindustan Times' politics editor and Delhi bureau chief Prashant Jha of sending inappropriate messages despite her warning him against it, it was reported that Jha has stepped down from both the positions. An investigation by the ICC is still underway, HuffPost India has learnt.
Earlier on Tuesday, a person tweeting from an anonymous Twitter handle accused the newspaper's executive editor Kunal Pradhan of harassing her and turning her into an "emotional wreck". Pradhan said on Twitter that the conversation was "fictitious" and that he had filed a complaint with the cyber cell of Delhi Police. R. Sukumar, editor-in-chief of Hindustan Times, tweeted that "we will assess all claims stringently and fairly if the accusers come forward — and not merely from the statutory perspective but from that of creating a safe and productive newsroom for everyone".
Hindustan Times' HR hasn't responded to the questions sent by HuffPost India yet. We will update this story if they respond.
THE EXPRESS GROUP
A person tweeting from an anonymous Twitter handle accused Saurabh Kumar, a journalist employed with the Financial Express, of harassing her when he worked with her in another media organisation. Not only has she accused Kumar of harassing and stalking her, she claims in her Twitter thread that she had informed the person who hired him at Financial Express of his misconduct, but the organisation still went ahead and employed him.
Later, another Twitter user claimed that Abhinav Rajput, a journalist employed with The Indian Express, had grabbed her several times during an office party and wouldn't relent even when she kept telling him off.
On 10 October, another journalist working with the Indian Express was accused of assault, though the survivor did not name the person in her account. She, however, specified that he is an assistant editor with the organisation.
We sent Sonika Shukla of the Express Group a detailed questionnaire, including the tweet thread about Kumar. We also sent a follow-up email about the latest allegations. They are yet to respond. We will update this story if they do.
BUSINESS STANDARD
Two journalists working with Business Standard have been accused of sexual harassment by multiple women.
According to sources, Mayank Jain, who was formerly employed with Scroll, had faced allegations of a similar nature there as well. Jain resigned from Business Standard on 9 October.
Another woman accused Siddhant Mishra, a Business Standard journalist, of assaulting her in 2015.
We sent a detailed questionnaire to Shyamal Majumdar, the editor of Business Standard. He responded as follows: "As of now, our official statement is as follows: A due process of inquiry has already been initiated and necessary action will be taken as and when the inquiry process is completed." He did not answer our question on if he was aware of any such allegations while hiring the two journalists, especially since Jain had faced allegations of misconduct earlier.
NETWORK 18
Two employees of the Network18 group have been accused of sexual misconduct. Anurag Verma, who was formerly employed with HuffPost India, has been accused of sending inappropriate social media messages and Snapchats to multiple women.
Another employee of the group, Uday Singh Rana, has been accused of touching women inappropriately. Both men have issued statements on social media, apologising for their behaviour.
We reached out to News18's editor-in-chief Praveen Thampi with questions about the procedures the organisation is following. Supriya Saxena from Network 18's corporate communications team responded: "All matters brought to our attention which are within the purview of the workplace have been forwarded to our Internal Committee for Prevention of Sexual Harassment at the workplace for appropriate action. The Internal Committee is independent and all recommendations made by it are followed through by Management action. Network18 Group has a zero tolerance policy when it comes to sexual harassment. The company complies fully with all legal provisions and seeks to ensure a speedy and effective Redressal on complaints."
THE QUINT
Meghnad Bose of The Quint has been accused of inappropriate behaviour and harassment by several batchmates from his journalism school. Bose has issued lengthy statements on Facebook.
The human resources team of The Quint told HuffPost: "We have conducted the IC proceedings with full quorum. The documents of the tweets published on social media have been collated. The victims who have tweeted are being contacted to come forth and give their statements/account before the ICC. Full assurance has been extended to them of our support, confidentiality and sensitivity in the matter.
An internal communication has been sent out to all employees at The Quint assuring them of zero tolerance to any forms of Sexual Harassment and our commitment to fostering a safe and secure workplace culture. A directive has been issued to Meghnad Bose to proceed on leave during the pendency of the inquiry. The recommendations of the IC will be implemented by the Management."
HuffPost India also enquired about the action The Quint had taken in the case of two other employees of the organisation who have been accused of harassment. The organisation told HuffPost India that when journalist Chandan Nandy had been accused of using a sexually-coloured abuse against a woman colleague, the complaint was not filed as one of harassment. Hence, they said, it was treated as misconduct and Nandy was made to apologise both verbally and in writing to the aggrieved party.
Another woman detailed a traumatic experience with a former Quint employee named Abhirup Dam. The Quint replied to her tweet saying that they had asked her to file an official complaint but she did not. HuffPost India asked the organisation if they had reached out to her in person again following her tweet. The HR team said: "No, we did not reach out because we saw no reason to."
THE WIRE
After some Twitter handles accused The Wire's co-founder Siddharth Bhatia of harassment, he released a statement rejecting the allegations and saying he was "prepared to face any independent inquiry into the allegations". HuffPost India reached out to Monobina Gupta, the managing editor of the organisation, who also heads its ICC. Gupta told HuffPost India that The Wire has not received any complaint since Bhatia issued his statement.
(This is a developing story and the list will be updated as and when more information is received.)
Popular in the Community