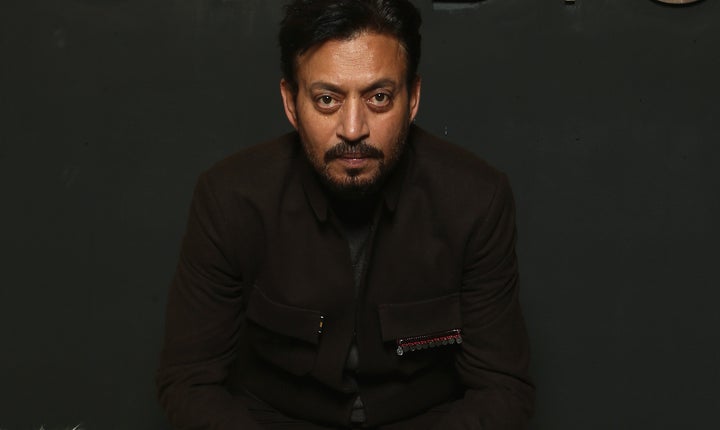 This story was originally published on 1 May 2019 and updated on 29 April 2020 after the news of Irrfan Khan's death.
UDAIPUR, Rajasthan — Irrfan Khan is reading. When he reads he mutters to himself, he plays out the scene in his head. When he reads, he looks like someone gently singing to themselves — not memorising lines, but internalising them, making them his.
It is well over 40 degrees in Ravla Khempur, a small hamlet two hours from Udaipur, where a dramatic haveli has been repurposed into a set for Angrezi Medium, the Homi Adajania film that marks Irrfan's return from a rare and life-threatening illness.
Young crew members mill about in the sun, brandishing walkie-talkies in one hand and nursing ice-cold jal-jeera in the other.
When he played the world-weary widower Saajan Fernandes in The Lunchbox, Irrfan read Murakami. Now, as he plays Champak, the proprietor of a sweetshop, Irrfan is lost in yet another tome.
When it is time to confront the camera, Irrfan will be ready as he has been for a little over 30 years as a professional actor. He will deliver his lines with his customary elan, his face will light up with that familiar haunting intensity.
But this time, on this film, on this set under Rajasthan's burning sun, Irrfan will perform with the wisdom that only comes from a close encounter with mortality, and with the knowledge that characters — like Roohdar, like Maqbool, like Saajan — may be immortal, but actors aren't.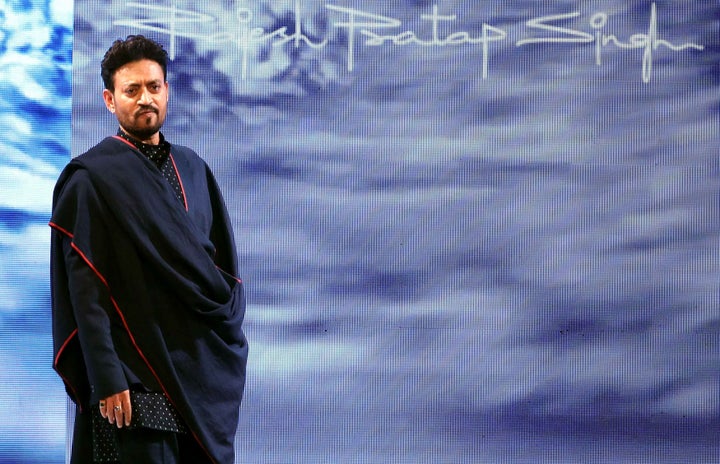 In March 2018, Irrfan was diagnosed with a neuroendocrine tumour, a rare form of cancer for which he sought treatment at a specialty hospital in London. For nearly a year, Irrfan and his wife Sutapa Sikdar moved to the UK to an apartment close to the hospital.
"We were completely by ourselves, not surrounded by movies or people from the industry. We wouldn't even know which film is releasing on which Friday," Sikdar said. "It was like discovering a new life together."
Now, after a long absence, Irrfan is back on set.
Soon Adajania will snap his fingers and say, "Ready".
An assistant will yell, "silence"
The buzzing of large air coolers will quieten.
And at the call of "action", Irrfan will step up.
But for now, there is still time to turn to the next page.
And so Irrfan Khan, the quiet haunting spirit — the Roohdar— of Bollywood, reads.
Perhaps it is fitting that Irrfan's resurrection is staged in Rajasthan, the land of his birth.
Irrfan Yaseen Khan was born in Jaipur in 1967 — the year Faye Dunaway and Warren Beatty played Bonnie and Clyde, Sharmila Tagore and Shammi Kapoor hung out in An Evening in Paris, and Dev Anand starred in a double role in Jewel Thief. Shah Rukh Khan was two years old.
Two years later, in 1969, Amitabh Bachchan would make his debut in Khwaja Ahmad Abbas's Saat Hindustani.
Growing up in Jaipur, Irrfan was clear that he wanted to be an actor. When he discovered that there was a school in Delhi that taught acting, he lied in his application form about doing theatre to get through.
"I became desperate to get into the National School of Drama," he told Mumbai Mirror. "I'd hardly worked in one or two plays but I lied shamelessly in the application form. I thought if it doesn't work out, my life is over. I'll either go mad or burn all of Jaipur."
He got in; no fires were reported in Jaipur.
He made his debut with a bit part as a letter writer in 1988 in Mira Nair's Salaam Bombay, followed by a series of roles in serials familiar to those fortunate enough to have a television in the early 1990s — Bharat Ek Khoj, Chanakya, Chandrakanta. In the late 1990s, when Irrfan was stuck doing films like Private Detective: Two Plus Two Plus One, which vanished without a trace, Shah Rukh Khan had already done Deewana, Darr, Baazigar and Dilwale Dulhaniya Le Jayenge.
In his long career, Irrfan has acted in a staggering 143 films and TV shows, to Shah Rukh's 100 odd, and Salman's 120.
At the turn of the millennium, Irrfan was still working his way through Bollywood's star-system before he broke through in 2001 with Asif Kapadia's The Warrior, a film that'd take him to the global market and then, Vishal Bhardwaj's Maqbool, the 2003 film that changed the life and career of both, the director and the actor.
From there on, Irrfan has appeared in a dizzying array of roles, including a reunion with Mira Nair in The Namesake and top Hollywood productions like A Mighty Heart, Jurassic World, The Amazing Spider-Man and Life of Pi.
Irrfan would produce some of his finest work in Bhardwaj's films, and perhaps none more unnerving, ethereal and outright strange as Roohdar in Haider.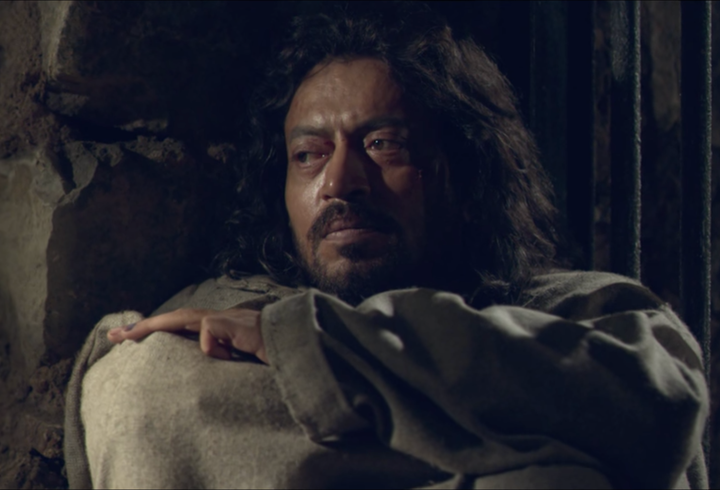 In the winter of 2014, the crew of Bhardwaj's Haider was setting up the shot. It was -14 degrees, Kashmir was freezing. The scene involved Irrfan's Roohdar lying awake in a torture chamber while other inmates sleep.
While everybody was busy setting up the frame, Vishal Bhardwaj recalled, Irrfan appeared, silent as the night. He chose a spot and sat down.
"We hadn't even decided where he's supposed to sit," Bhardwaj said. "Minutes after he'd settled in, a strange energy engulfed the torture chamber. We realised Irrfan is in the middle of the performance. Slowly, everybody took their spots without disturbing him from his element. We rolled the camera and got the shot and only then he came out of that trance-like state."
That's what sets Irrfan apart, Bhardwaj said. "It's his ability to understand the script as a whole and not just his part," Bhardwaj told HuffPost India. "I've seen actors who crib about their screen time, length of dialogues etc. Not him. For him, it doesn't matter how long or short the part is. He responds to the holistic grammar of the film, not just a part of it."
Bhardwaj said he discovered Irrfan in Tigmanshu Dhulia's Haasil and knew he wanted to cast him in Maqbool, his heartland-upgrade of Macbeth. "There's an effortlessness in his performance but let me tell you, he prepares a lot. He immerses himself in the character's world. When he comes on set, he's so casual, you'd be like, is he even ready? And once the camera rolls, god, it's magic."
Irrfan's free-floating magic is something that director Ang Lee, who has thrice won Oscars for Life of Pi, Brokeback Mountain and Crouching Tiger Hidden Dragon, noticed when he directed the actor in Life of Pi.
"I figured I needed a pretty brilliant actor. I was like, 'Who else?', Lee told the New York Times, adding that Irrfan's is not the kind of acting "you can plan for."
"I gave my direction and thought, 'O.K., there he goes.' It's like there's something floating in the air, and sometimes he catches it and sometimes not."
Homi Adajania's Angrezi Medium, a sequel to 2017's Hindi Medium, is a comedy with an emotional core. Irrfan plays Champak, the proprietor of a sweet shop in Udaipur and a single father going through the motions of raising his teenage daughter.
"He's a sweet-seller who's well-to-do but not like super well-to-do," Adajania says of Irrfan's part.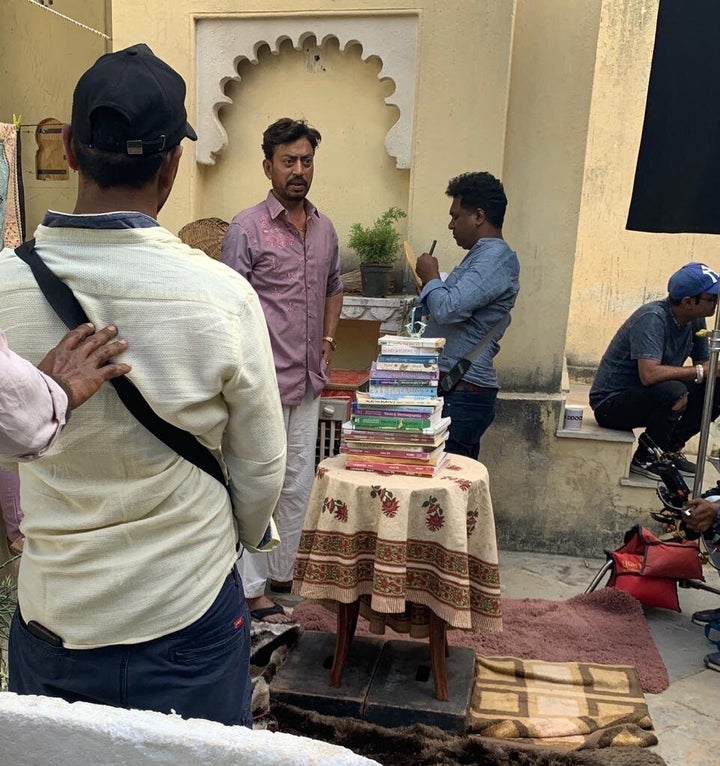 We are in the veranda of Champak's house, a corner which, I assume, doubles up as the study of his daughter Tarika, played by Radhika Madan.
A pile of books is perched on a side-table, plants rest on a ledge, and a cloth with a camel painting awkwardly adorns the wall.
Irrfan and Radhika rehearse the scene several times as Adajania and his director of photography, the legendary Anil Mehta, are lost in a conversation about framing the shot.
A moment later, Irrfan nods as if he has resolved the puzzle presented by this particular scene. The scene involves his daughter shooting a selfie-video where she's calling Udaipur a 'smol' city.
Irrfan is supposed to interrupt her video to say that it isn't all that small.
As Madan starts the clip, introducing herself and her background, Irrfan, who's watering the plants nearby, jumps in to teach her how it's done.
She speaks broken English with a hinterland accent. He speaks Hindi with a Rajasthani lilt.
"Udaipur not smol city," he interrupts, a smile full of small-town pride covering his face. "Chhota nahi hai Udaipur, bohot bada hai."
His daughter is upset; Irrfan's expression quickly shifts to concern. She asks him to leave. He goes back to watering his plants. The video starts again.
"I'm from Udaipur, a smol cee-tee in Rajasthan."
"Big city, Udaipur is big city," Irrfan jolts in.
The emphasis is on big and Irrfan's eyes pop every time he says the word to convey his conviction.
It's a simple scene that establishes the minor conflicts between a single father and a teenage daughter wanting to escape the small-town life. But Irrfan runs through several iterations — subtly altering the points of emphasis in the dialogue, quietly altering his body language, until he is satisfied with the scene.
In another scene, we move towards the bedroom of the house, a neat, understated space with basic bedsheets that signal a middle-class household.
Irrfan and Radhika Madan have an emotional sequence. Madan's character has locked herself in the bathroom.
Her father is cajoling her to come out.
After asking her in polite paternal tones, he gives up.
"Mother would've understood," she shouts from inside.
This breaks him. And us. His shoulders slump, he smiles, but he's in pain as if an old scar has turned into a fresh wound. The daughter's words have pierced through the door and cut through his soul. She comes out all regretful and they share a tender moment that encapsulates love, loss, and longing. Throughout the scene, it is impossible to look away from Irrfan's eyes as they move from luminous to playful to hurt to pained.
The scene is reminiscent of The Namesake, where Irrfan's wife, played by Tabu in the film, also locks herself in the bathroom and he sings to get her to come out.
"I remember being utterly transfixed. I hadn't seen anything like it," Marc Webb, who made 500 Days of Summer and who directed Irrfan in The Amazing Spider-Man, said in an interview about the same sequence.
Webb's right in his assessment. Irrfan's vulnerability is his biggest strength; when he exposes his frailty, you see his pain.
"And if he feels it, you feel it," Adajania tells me. "If he can't, you won't. He has a spectrum of expressions that he can summon at will. It's sheer joy to direct him."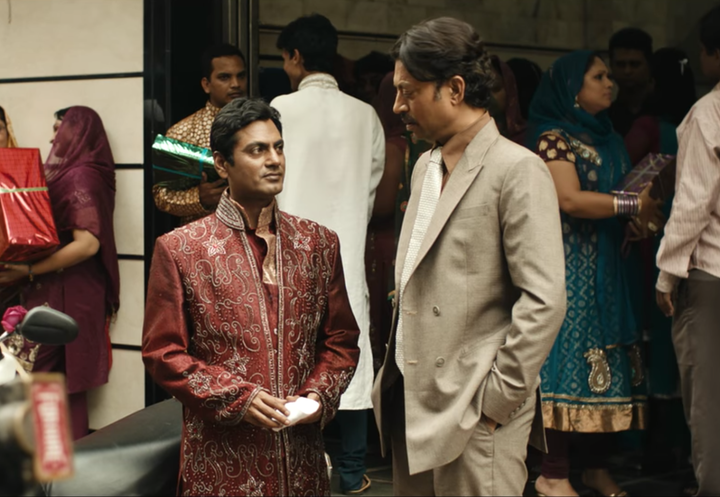 Directors who have worked with Irrfan often speak of his legendary focus.
Ritesh Batra, who worked with the actor on The Lunchbox (2014), recalls a shoot on Mumbai's bustling Mohammad Ali Road, where the crowd was getting unruly.
Batra and his crew had assembled to shoot the farewell scene between Irrfan's and Nawazuddin Siddiqui's characters. The crew was anxious, given that some 5,000-odd people had gathered to watch the two actors.
"Everything drowned out when we began rolling, such was his focus. He was unaffected by the distractions. It's because he has this extraordinary ability to reflect life. It's a gift which he's developed into a craft," Batra said, adding that he counts Irrfan along with Robert Redford and Charlotte Rampling (both of whom he has also directed) among the best actors around.
It was on the set of the same film that Batra noticed Irrfan's reading habits.
"During the shooting of The Lunchbox, Irrfan would often be seen reading books before and after the shoot," recalled Batra over a phone conversation from New York.
On probing a little, Batra found out that Irrfan was reading a bunch of Murakami titles. "Norwegian Wood, if I remember correctly." Irrfan's literary interest during the shoot, it soon emerged, was intended to immerse him in Murakami's world of love and longing, also the underlying theme of The Lunchbox, Batra explained.
"I was astonished. They (Murakami's books) were all tonally similar to the world of our movie. That's the kind of actor he is. I don't think he'll agree to do a film unless he can find his way into the role."
Crew members say that illness hasn't dimmed Irrfan's intensity, but it has chipped away at his stamina.
In the span of a fortnight, he's shifted three hotels. The Radisson Blu near Udaipur's Fateh Sagar lake was convenient but a wedding celebration was causing him disturbance.
"He likes quiet. He wanted to stay in a place where he could see the stars in the night and hear the sounds of nature," a crew member said.
After a few calls, they found a quiet homestay run by a local family, where Irrfan felt at home. "That's the priority. Though he's shooting as and when required, we're extremely sensitive to his needs."
Right from the oil in his food to the spices and the flour used in his meals, everything is being sourced from Mumbai.
"It's all organic and specific to his needs. His food is cooked accordingly and he has to have them at particular hours," the person added.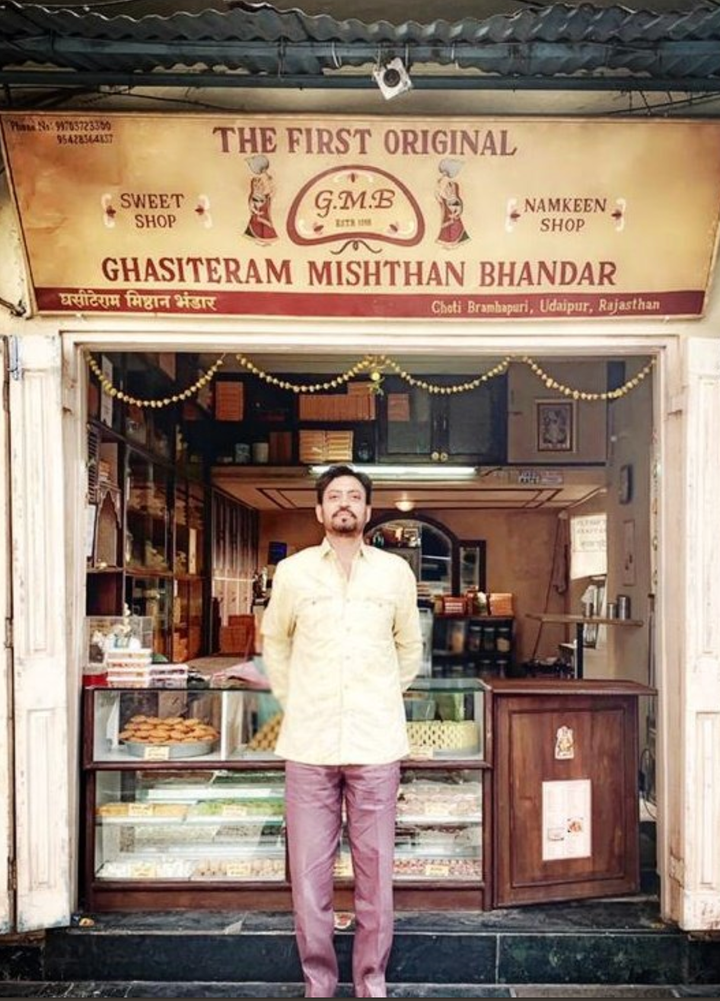 Interviews with assistant directors on the film revealed that the shoot is designed in a way that's convenient for the actor.
"For example, we avoid shooting between 12 and 3 when the sun is at its peak. Evenings are lighter," a crew member said. "There have been occasions where we wrapped up the scenes and he was like, what's next? There was nothing - we were done for the day. But he's always ready for more."
In between takes, Irrfan takes breaks, which is how he's able to finish large chunks of the filming. "He gets tired if he talks for too long. So we space it out," a crew member said.
At Khempur, Irrfan, after giving takes, would walk off towards a room set aside for him to rest. A giant air cooler was installed right at the doorway. He'd be spotted lying on his back on the bed, script in hand, lost in the world of fiction.
When he'd sit with Adajania and Sikdar, in between breaks, he'd ruminate nonchalantly about the current political climate, mulling over the rise of right-wing outfits across the world, from America to Brazil to Poland and ponder over the arrest of Julian Assange and the Russian exile of Edward Snowden.
But not everything is serious. Adajania and Irrfan would also goof around a lot, as has been evident from their Twitter feeds. The vibe of the set was calm and cheerful.
"It's a light vibe, that's how it should be. Light, fun, easy," Irrfan told a smiling Adajania. "That's the first thing I look for, how much fun can be had," the director responded, smilingly.
"Other things in life are just so unpredictable," Irrfan said.
While Irrfan's channelled all his energy into getting back on sets, his return hasn't been without hiccups. His medication has side-effects and one of them is irritability.
Between takes, Irfan chewed on a stalk of sugarcane.
"What I love about the sugarcane is that the juice seeps in slowly as you chew on the cane," Irrfan says to nobody in particular. "It's fulfilling."
After he's chewed on the cane for a while, he puts the residue in a cup. As flies gather, a spot boy appeared with an electric racquet of the sort used to kill mosquitoes.
"Don't kill them," Irrfan said. "Get a cloth and wipe the floor off. They'll go."
When the cloth doesn't arrive, Irrfan was visibly annoyed and strode off to ask why such a simple task was taking so long.
"He's usually not hot-tempered but this happens now and then. He hates it later on," said Sikdar, his wife.
As dusk settles in the arid north, the sky turns into its darkest shade of light orange, the kind you see in silhouetted camel pictures. The haveli, a magnificent structure full of dramatic arches and antique lighting, comes alive gently as the pace of the crew also eases in.
"So much of acting is about personal investment of emotions," Adajania says, as his crew prepared for the next shot. "What you see now is the character, not the actor. He disappears into his role." Adajania says, adding that Angrezi Medium is a mad script with a lot of mad situations that look unbelievable on paper.
"But when Irrfan acts these situations out, you believe it. Sometimes, I feel, it's like watching magic happen. When I see him act, I'm like, wait, what did you just do, how did you just do it?"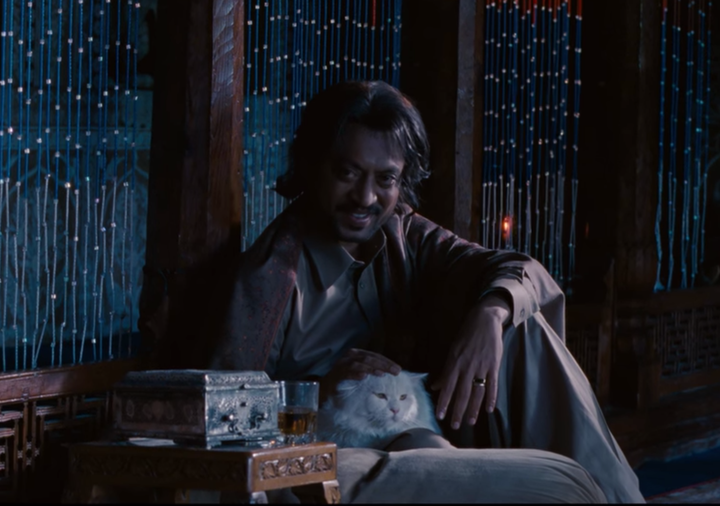 Wasiullah Khan was a poet by the day, a sadomasochist to his wife, Susanna, by the night. But he wasn't an effete.
Until Irrfan decide to make him one during the shooting of Saat Khoon Maaf.
"He said it will make the impending violence more shocking. It worked," Bhardwaj, who directed Saat Khoon Maaf, told HuffPost India. "He said, let's try and make him feminine and see what we get out of it. The results are for all to see. Such is his contribution to a film."
If he's extremely committed and serious towards his craft, he also has a wicked sense of humour. One of the many ways Irrfan has coped with the neuroendocrine tumour is by breaking it with humour. When folks visited him in the UK, he'd regale them by describing the medical procedure with hilarious detail and funny twists.
"Right now, my life is a thriller, a comedy, satire, and an emotional drama," he told Bhardwaj.
"That's how he'd rationalised it. By turning his illness into a movie. Then he proceeded to describe in great and graphic detail all the stuff the doctors were upto. We intended to spend an hour, ended up spending five. That's him. You never get tired," Bhardwaj said.
As the final shot of the day is canned, Irrfan walks slowly back to his room, what crew members describe as his 'meditative space.'
A rider is sent to collect some medicines from Udaipur.
The next day's plans are discussed as the crew breaks for dinner.
Another day of shooting has passed without incident. Irrfan is back where he belongs.
Popular in the Community