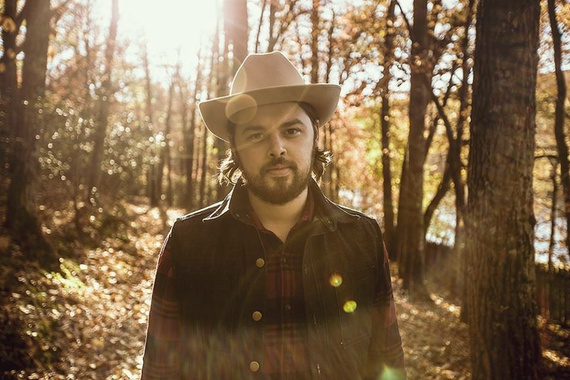 After country sensation Chris Stapleton won Best New Artist and Male Vocalist of the Year at the 49th CMA Awards, Caleb Caudle wrote on his Facebook page that the success of artists like Stapleton, Sturgill Simpson and Jason Isbell give him hope. Speaking of Isbell, you may recall that last summer I wrote a post about why I thought Caudle is the next Isbell. Turns out, I am not alone. With the release of his upcoming album, Carolina Ghost, later this month on This Is American Music, the North Carolina born and bred alt country/singer/songwriter has caught the attention of Yahoo Music, which named him a rising artist and debuted the track, "Broken Hallelujah," here.
Caudle's also featured on the Country Fried Rock podcast here, Saving Country Music named "Carolina Ghost" an album to look forward to in 2016 and both American Songwriter and Paste Magazine have debuted tracks.
I caught up with Caudle recently to ask him about the inspiration for his newest album (due out Feb. 26), his musical heroes, how country music is changing for the better and to allow you to be one of the first to hear the premiere track, "Uphill Battle" here.
Q: You've mentioned this album is much more country than your previous albums. Why do you say that?
A: I think this one feels more country to me in production. The way we chose to paint it with pedal steel, dobro and wurlitzer. I read this John Prine interview where he talks about how for a certain amount of time in the '80s he listened to nothing but Merle Haggard records. I got way into about a six-record stretch of his and I just really loved the way his band played off of each other and sounded loose while at the same time totally respecting the songs. There was something so pure and simple about it all. After that I really started hearing it shape up in my head and went from there. The band killed it. Jon Ashley (engineer) dialed up everything perfect and we finished with exactly what I was hearing in my head.
Q: Why did you choose "Uphill Battle" as the premiere track to feature on the album?
A: I feel like at this point I'm not gonna put something on a record unless at some point it was my favorite song. It all depends on the day I suppose. "Uphill Battle" has this emptiness about it. It's really vulnerable. I really like Jack Foster (drums) and Jordan Powers (bass) pocket on this one. Brett Resnick (pedal steel) and Tommy Scifres (electric guitar) are really tasteful through that second verse playing off the lyrics and Greg Herndon (keys) is the icing on the cake during that outro. Bonnie Whitmore's harmony on the chorus is perfect.
Q: What were your major inspirations for this album?
A: A lot of this record deals with coming home a sober man with a changed perspective on life. All these people, places and things that I remembered just started looking different. It was me who had changed though. You start learning how to forgive yourself, or at the very least, trying to. There is a lot of imagery from across the South. You can't really help not writing about it. The beauty, the subtle sadness. I almost use it as a comma in my songs at this point. The details provide a setting and something to connect to.
Q: You have mentioned that artists like Chris Stapleton, Sturgill Simpson and Jason Isbell are paving the way for artists like yourself. Can you elaborate?
A: I just see the hours they've put in. I've put a decade in myself. The landscape of country music is changing. I look at Stapleton, Simpson and Isbell and those guys are just doing their thing. Nobody is trying to change them. They are charting and winning awards while still writing killer songs. That was unheard of five years ago in country music. I think everyone is ready for some down to earth songs and they are tired of hearing the same old pick-up truck party song. I feel absolutely nothing for those songs. I certainly don't feel like partying upon hearing them.
Q: Why should people listen to your new album? What do you think sets it apart?
A: We didn't cut any corners and that comes across in a big way. From the first note to the last. If you like those golden years of country music, this one's for you.
Pre-order "Carolina Ghost" at http://calebcaudle.bandcamp.com/ and learn more at http://calebcaudle.com/
Want to hear Caudle perform live? Following are some upcoming tour dates including the album release party:
Feb 19 Eddie's Attic - Atlanta, GAFeb 24 The Cave Chapel Hill, NCFeb 25 The Garage - Winston-Salem, NC (*Carolina Ghost Release Party*)Feb 26 Slim's - Raleigh, NCFeb 27 The Evening Muse - Charlotte, NCMar 02 House Show - Richmond, VAMar 03 Club 603 - Baltimore, MDMar 04 Rockwood Music Hall - New York, NYMar 05 Maybelle's - Washington, D.C.Mar 10 Venkman's - Atlanta, GAMar 12 Standard Deluxe - Waverly, ALMar 13 Callaghan's - Mobile, ALMar 14 House Show - Baton Rouge, LAMar 15 The Mucky Duck - Houston, TXMar 20 The Basement - Nashville, TNApr 01 Jammin' Java - Washington, DCApr 09 The V club - Huntington, WV (*W.B. Walker's Old Soul Radio Show: 3 Year Anniversary*)
Support HuffPost
The Stakes Have Never Been Higher
Popular in the Community