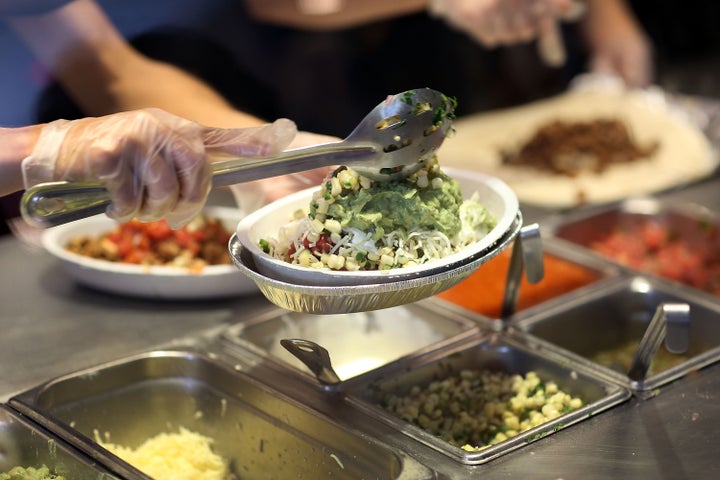 If you think variety is the spice of life, you're obviously not eating Mexican take-out every day.
Two individuals on a quest to indefinitely go where nobody ever wanted to go before -- a months-long diet of eating Chipotle, daily --  are finally getting some well-earned recognition.
Mark Rantal, a 30-year-old graphic designer in Colorado, recently celebrated his 100th consecutive Chipotle day by hosting a Reddit AMA, clearing up questions about the toll -- or lack there of -- that the diet takes on his stomach.
On Monday he hit day 106.
But 106 days is pinto beans compared to what Andrew Hawryluk has accomplished.
The 23-year-old animator in Los Angeles has bravely consumed Chipotle for the past 153 consecutive days, spending a total of $1,567, according to his website "Chipotlife." He started the streak when he decided to "give up not eating Chipotle at least once per day" for Lent and was recently recognized by Business Insider.
When it comes to ordering, both gentleman are nothing if not consistent.
Rantal sticks to "a burrito bowl with white rice, pinto beans, fajitas, sofritas, mild salsa, corn, medium salsa, cheese and lettuce," ABC News reports.
Hawryluk is partial to "a burrito bowl consisting of white rice, chicken, guacamole, and lettuce with Tabasco chipotle sauce on top," according to his website.
This, of course, begs the question: Who ordered it better?
One thing is for sure: Both of these guys have made Chipotle such a habit, it's hard to say if they will ever call it quits.
Rantal says he's thought about trying to keep the diet up for a year, but isn't sure he'd want to be "that guy."
Hawryluk addresses the question in the "Chipotlife" FAQ:

Calling all HuffPost superfans!
Sign up for membership to become a founding member and help shape HuffPost's next chapter