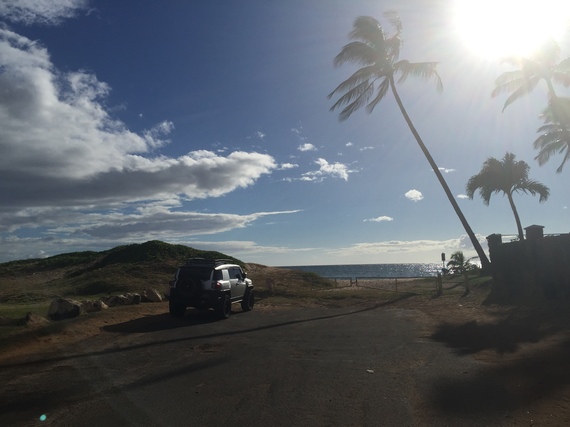 The first thought, as we got off the plane, was how Maui perfectly earned the nickname "Paradise." The weather was perfect in the indoor-outdoor airport, and we could feel something we couldn't describe in words. It was like electricity flowing through our bodies as we left the airport and absorbed the fresh Maui air.
It was April of 2010, and that little trip to Maui for a belated honeymoon changed our life. We met the most friendly and amazing people; we ate fresh and healthy food, and we experienced what perfect year-round weather was like. Being born and raised in Milwaukee, Wisconsin meant staying in the house for six months out of the year for us.
We got on the flight back to Wisconsin determined to make Maui the home for our family "someday." It would take the death of my father, leaving a toxic work situation, and dealing with doubtful friends/family members to make the dream a reality. We made the move to Maui on April 8th of 2014. We have been here for 21 months and know we made the right decision for our family of five. Here are three reasons why you should consider a move like this.
1. The idea/goal/dream behind a move like this goes far beyond the location.
I know there are locals who are reading this and fuming because of the title. Every time I write one of these articles, I get my fair share of hate from people. If you live here, it's not cool to encourage people to move here -- I get it. However, this post goes far beyond moving to Hawaii or any one location.
This is bigger and more important than where you move. This post is about WHY it's important to make a move like this. You only get one chance to live your life. You won't get a redo, so the choices you make today are important. Your choices should include the ones that scare the life out of you because they're big crazy dreams. They are in your mind and heart for a reason. The motivation behind any big dream is WHY -- not where, when or how. Those come after you've accepted the WHY.
2. Life is too short to die with regret on your mind and in heart.
When you think about your life, it feels like just yesterday you were experiencing a certain memory. Time moves fast. Life is short even though it feels -- at times -- that it's not. At the end of your life, you're not going to remember all the stuff you accumulated, you'll cherish your experiences.
Regret is something too many people come to the end of their life with. You regret not taking chances and risks. You regret not going after the things you wanted in your life. Right now is the chance to avoid living a life of regret. If you want to make a move to a dream destination like Hawaii, do it. If you want to tell the love of your life how you feel about them, do it. If you want a better job, to start a business, or to travel the world, DO IT! This is YOUR life -- LIVE it.
3. We live in a time filled with possibility.
If you spend any amount of time watching the news, you'll start to believe life is doomed. Story after story that highlights the worst parts of humanity -- don't let it affect you. We live in an exciting time. The Internet and social media have opened many new and exciting doors. They have also created opportunity.
Whether it's researching your dream life or getting a connection that could make that dream life your reality, the possibilities exist through the Internet and our modern technology. Look around you. Use what is available to us to create a life of no regrets.
I was a high school dropout who wanted more for my life. I let an abusive past and my situation keep me from believing in myself and what was possible for my life. I lived a life of regret for 12 years. The death of my father was my wake-up call.
Today, I live out my dream life every day. I write for some of the coolest websites in the world, I speak all over the world, and my books have sold over 100,000 copies. I didn't win the lottery. I didn't catch any lucky breaks. I woke up and spent four years putting in the work. You can do this, too.
You may not want to move to Hawaii, and that's fine. But, you do have dreams that you need to do something about. What happens next is up to you.
What is one dream you want to make a reality?

The photo is the author's own.