You guys ... Lindsay Lohan is a spy, and you all need to be made aware of it.
Now, I know what you're thinking: "How could you possibly know that? Spies are SPIES! They're excellent at keeping their goings-on on the down-low!"
Well, let me tell you, LiLo is not the best spy. She has left a trail of breadcrumbs behind and now I'm going to share 'em with you.
Here are some reasons why I know Miss Lohan is a spy:
Lohan has always been known for her raspy voice. She's been living in London for some time, but the accent she sported in a recent video was distinctly not European. She grew up in Merrick, New York. That's about 10 minutes from where this reporter lives on Long Island, so I can tell you with full authority ― people from Merrick do not often sound like this:
So where did this new accent come from?! Lohan claimed that "it's a mixture of most of the languages I can understand or am trying to learn" and suggested that the accent should be called #LILOHAN.
She also claimed to be fluent in English and French, "can understand Russian" and is learning Turkish, Italian and Arabic.
Lindsay Lohan: Polyglot or SPY?! Obviously, she's an international spy traversing the globe. Has her Merrick upbringing been a ruse all along? Probably!
2. There's already one account on record of her pretending to be two people at once.
Remember the iconic cinematic treat "The Parent Trap"? Yup, spies start YOUNG. LiLo plays twins in the film — an American girl AND her British twin. That's the epitome of being a double agent. Have we honestly learned nothing from Sydney Bristow?!
Lohan was once part of a team that located a missing teacher in Manhattan. The teacher was involved in an extortion scam from which Lohan subsequently helped him escape to clear his name.
So, if nothing else, odds are high that Lohan is a good-natured spy.
4. Lohan has told us she's a spy via Twitter.
Still not sure she's a spy? Look what this tweet spells out: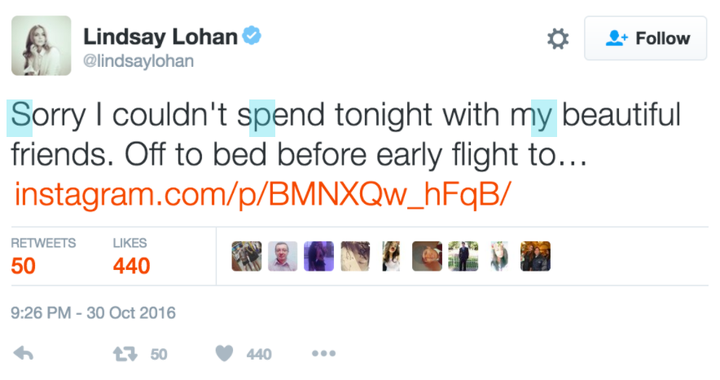 I rest my case. Lindsay Lohan is a spy, the Illuminati is real and the world is ending on Nov. 8.
Calling all HuffPost superfans!
Sign up for membership to become a founding member and help shape HuffPost's next chapter
BEFORE YOU GO
PHOTO GALLERY
Lindsay Lohan's Style Evolution