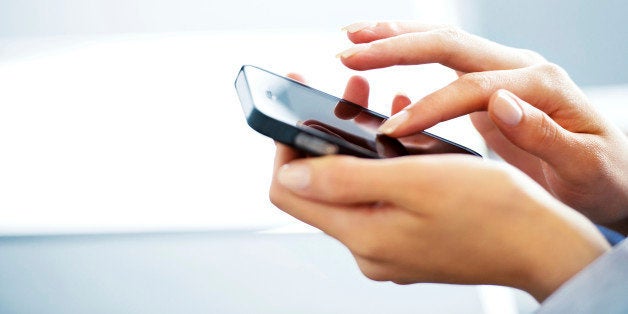 As a celebrity-weddings obsessed blogger, I have quick-draw access to my cell phone 24/7. I also have kids, so if you ask me to turn off my phone off at your wedding -- or, worse, turn it over -- it's not gonna happen. I'll gladly turn off my ringer out of respect for your nuptials, but knowing that my kids are safe is more important to me than your cake-cutting. #sorrynotsorry
Still, I think that cell phones at weddings have gotten out of hand -- and I'm not alone. Writes Save the Date reader Olivia: "The more I go to weddings, the more one thing in particular stands out: guests whipping their cellphones out during big moments! Whether it's the bride walking down the aisle, the first kiss, the cutting of the cake or the father- daugther dance, everyone has their phone in front of their faces! Agh! Am I being too uptight, or is this incredibly rude? And how can I avoid this at my own wedding?"
Like I said, I think banning cell phones from your wedding is obnoxious -- Who are you? Kimye? -- and it's probably not going to happen if you have, say, celebrity-weddings bloggers or doctors or parents on your guest list. But there are some steps you can take to keep people's cell phone usage to a minimum during your ceremony:
Put a note in your wedding program. "We ask you to kindly turn off your ringers during the wedding ceremony and refrain from taking photos. We have professional photographers on hand to capture all the special moments, and are excited to share their photos with you."
Ask your officiant to make an announcement. "The bride and groom have asked me to ask you to put your phones and cameras away. Sit back and enjoy the ceremony!"
I also think it makes sense to ask people to chill with the cell phone usage during the "big" reception moments -- cake-cutting, father-daughter dance, etc. For one, if they're snapping pics at the same time as your pro photographer, the background of your wedding photos are going to look like this:
And that doesn't make for pretty pictures. Plus, the flashes from the cell phone cameras -- AND the people jumping in front of your photographer -- can ruin your pro pics. With that in mind, during your reception:
Ask your DJ or band leader to make an announcement. I think you can ask him (or her) to be a little bit humorous with this. "Ladies and gentlemen, please put down your cell phones and join the bride and groom for their first dance. Let's leave the picture-taking to the professionals! Also, Words With Friends will still be there when you get back!"
Put a sign on the reception tables. These can also be a little bit funny while getting your point across. "We encourage you to share your selfies with #kimandrorywedding. (We are not responsible for any alcohol-induced duck faces, however.) Please refrain from posting photos of the bride and groom on social media."
Do you care about people using their cell phones at your wedding? Do you thing wedding guests have gotten out of hand with their cell phones?
I really do. And I feel like when guests are constantly uploading pics or tweeting, they're missing out on the wedding itself. And that sucks, since the bride and groom put SO much effort into it.
Related