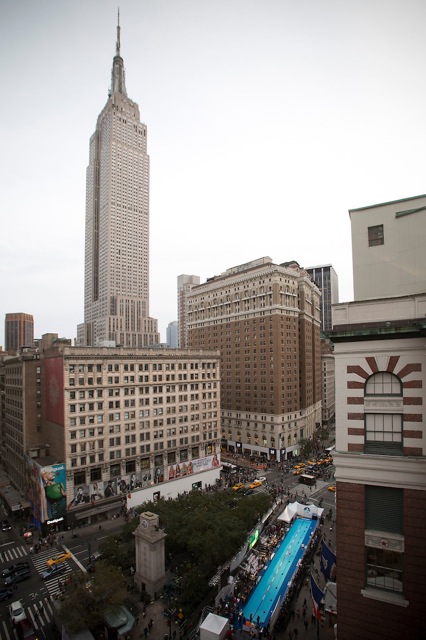 Long distance swimmer Diana Nyad undertakes her 48 hour "Swim for Relief" to help victims of Hurricane Sandy in Herald Square, New York October 9, 2013. Insider Images/Andrew Kelly (UNITED STATES)
By all accounts, the NYADSwimforRelief event center-stage NYC last Tues-Thurs was a smash success.
That second night, throwing in a few laps just easy backstroke kicking for some relief, I would look up to see the Empire State Building towering into the clouds. That was the ultimate metaphor of how grand the experience was for all who participated, in the pool and out.
From early conception just post Hurricane Sandy last November to fantastic innovations in installing the Myrtha pool in Herald Square, right in front of Macy's, last Monday night, I was so darn proud to see months of hustle and planning by dozens of intelligent people culminate in a whopping, first-class extravaganza.
Myrtha, the Olympic pool designers, arrived on site on Sunday night, Oct. 6. Their trucks started crating in the plates of the stainless steel pool and their welders started putting the structure together. They deserve a gold medal for making this event pool so beautiful, work so perfectly.
Stuart Weissman Productions, far and away top echelon of producing events in NYC public spaces, built the decks, the bleachers, the safety rails, installed the 22-foot plasma screen for the deck, all kinds of welcome and changing tents, and then took fire hydrant water from 48 to 83 degrees for the start.
My managers, 15 Minutes Inc, along with our stupendous sponsor, Procter & Gamble (specifically their brands that have earned a long-standing reputation in the work of disaster relief -- Duracell, TIDE, and Secret) were impressive in all their creative efforts, especially in making sure there was a guest swimmer in the lane next to me the entire 48 hours!
And it was the people, from every vantage point, who made the event soar.
The guest swimmers ranged from Richard Simmons to Olympic champs such as Ryan Lochte to Twilight star Nikki Reed to Today host Natalie Morales to a 3-year-old named Harrison, to a canine Sandy survivor named Roscoe to Teams of NYPD and Air Force and NY Fire Dept buff bodies to a dozen disabled individuals who put their hearts into a couple of laps each and made everybody cry to many random and diverse individuals... all of whom wanted sincerely to help the cause of Sandy relief, and many of whom evidently wanted to swim next to me after the "Never Give Up" message I carried with me all the way across from Cuba to Florida Labor Day weekend.
I was told by our Ops Chiefs Mark Sollinger and John Berry that many of these swimmers who gamely joined me in the next lane cried when they exited the water. It was evidently an emotional moment, to swim with me.
Well, it was all quite emotional for me, too. I was more Ambassador to the cause than pure athlete, on this one.
I stopped to meet and greet and hear a quick story from every single swimmer... and then again stopped to hug every single one when they finished their minutes alongside me. That was perhaps draining but it was the right thing to do.
We had declared from the start that this was at the same time a display of endurance, swimming for 48 hours, in honor of the endurance shown by the Sandy victims a year past the devastating wreckage of the storm -- but it was above all a fundraiser, a community gathering.
Wonderfully vocal and enthusiastic crowds filled our 200-seat bleachers and lined up on the other side of the pool the entire 48 hours, even deep into the chilly evenings. They cheered, they chanted both my name and my phrase "Find A Way" and, especially those last couple of hours, they were strong in their voices of appreciation.
I had intentions of not standing on the bottom of the pool. But it became clear that the spectators deserved a connection. I occasionally went to the middle of the pool, stood up and "embraced" them with thank you's of waves and a few words. Again, it was the right thing to do.
Swimming long hours in a flat, fresh water pool can never present the duress of swimming two-plus days in the ocean. But I will tell you that these 48 hours were tough.
One, I probably was not 100 percent recovered from the Cuba Swim. That was only 5 weeks prior and I probably needed two full months for all the tissue and system to be back to full strength.
Two, although Myrtha heated the pool from a start of 83 to temps over 90 by the end, the breezy air, wind chill down around 40 degrees at night, arms lifting above water every second, head exposed, I think threw me into early hypothermia. That not only weakened me physically but took my brain down, too.
Thursday early morning hours were a strain of hallucinations and an inability to understand where I was, what I was doing.
Bonnie Stoll, my Head Handler, and her Team of Pauline, Allison and Jesse worked all through those morning hours to keep me awake and urge me to press on.
Bonnie had an idea. She remembered from the second night of the Cuba swim, when I was having similar mental problems, Niko the shark diver would swim in front of me for a bit, holding a neon green light and coax me to swim toward him. Well, Bonnie asked our friend from California Jacki Pennoyer, who had flown in to swim with me during the first night, to get her suit on.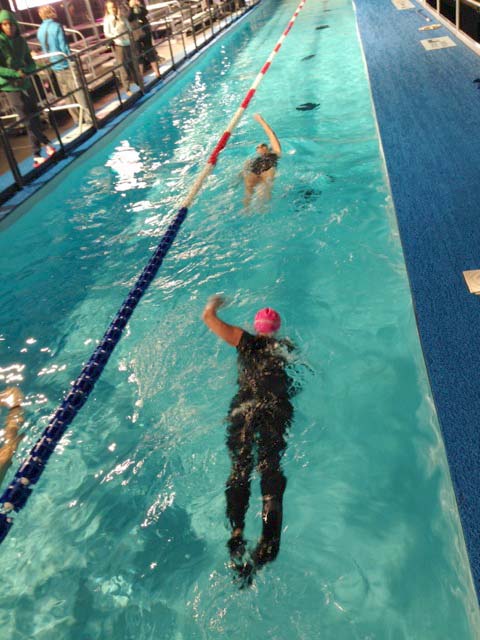 For THREE hours, from about 1 to 4 a.m., Jacki swam a steady backstroke in my same lane, right in front of me. Jacki became my beacon. I became more alert in having the goal of keeping her in my sites, stroking steadily in her wake. Thank you, Jacki. Thank you, Bonnie, Pauline, Allison and Jesse. Truth is these 48 hours were much more grueling than I had anticipated. Four days later I am still quite low in vitality.
But what a meaningful experience, to focus on these thousands of innocent people who lost their homes to Sandy. A minimum 25,000 of them are still not back in their homes... or never will be.
On Friday, the day after the event, two of the firemen who swam with me, took Bonnie and me on a tour of a couple of the areas hit hardest. Breezy Point, for example. We heard the stories of the black-top buckling with the tidal surge. People frightened and stranded... and then hauled away, not to return for many months, if ever.
It's true that we live in a world of information overload these days. Tragedies come and go. We take notice for a few days. We tune in to the details and perhaps write whatever check to Relief we can afford. But literally a week later we're on.
Sandy hit a year ago. This Swim in Herald Square is the kick-off to a month-long effort to raise funds for at least some slight relief to these victims' hardship.
We finished the 48 hours with about $105,000 in our Americares Relief coffers. OK, I am grateful to all who have donated, believe me.
But now we press hard for the rest of October, until the true anniversary of the storm.
I am honored to announce that A&E Networks/Lifetime will kick off our October drive with a generous donation of $10,000. Let's show these Sandy survivors, a year later, that we have not forgotten what they have suffered.