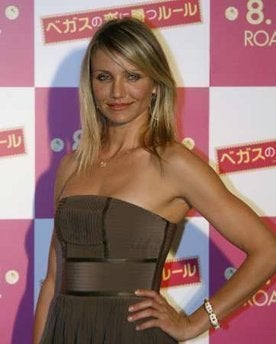 Eva Mendez walks an alley in Vancouver searching for dirty needles. Joaquin Phoenix receives a ceremonial whacking by a heavy reed from a member of the Yawanawa tribe in the Amazon. Cameron Diaz celebrates the winter solstice in the mountains of Peru. Red Hot Chili Peppers' bassist, Flea, weighs babies and mashes bread fruit in Haiti. M.I.A paints playground equipment in Liberia. Mos Def skateboards through the dodgy streets of City of God, Brazil. These aren't your typical celebrity activities, but in the new CW Network show, 4REAL, performers are joining some incredible activists to shine the light on how every day people are changing the world.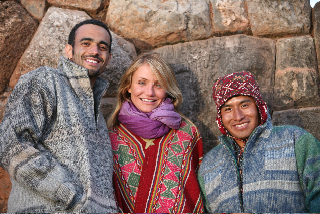 Passion is at the core of everything you see on the half-hour doc-series 4REAL. Co-creators Sol Guy, a music producer/manager, and Josh Thome, a social entrepreneur, wondered what it would take to answer the question, "How can you fuse entertainment with social change in a way that would affect a community, a nation or even the world?" They looked to what they loved for the answer and created 4REAL by fusing their talents. "There's a disconnect between art and activism and our idea was to help give the social change community a platform usually reserved for celebrities and pop culture, because these community leaders shouldn't have to work as hard as they do to be recognized. Using celebrity in a positive way encourages viewers to find a cause or a social issue with which they can connect and get involved. "I'm not really interested in simply talking about the issues anymore, I want to make the world a better place through action," says Sal. Involvement and the passion to act are what make the series so intriguing. The artists who participate in 4REAL are not paid monetarily, rather they sign on purely because they are passionate about the trip and the idea of having a the life-changing experience. There are also some celebrity rules: "They can bring one person, but not an entourage," Sol explains. "No hair or make-up, and accommodations can range from a great hotel to a tent or even a hammock, we don't always know what we'll get."
The 4REAL team works hard at matching an artist with a country and community leader in the hopes of spurring a connection between the two parties. "We offer the artist three or four countries and community leaders based on their interests and then they choose based on their interests," says Sol. But sometimes the production team is approached with a locale request, as was the case with Flea of the Red Hot Chili Peppers. "Flea had read one of Paul Farmers' books and really connected with Haiti," Guy explains. "So we researched it out and found the Haitian Health Foundation and we were on our way."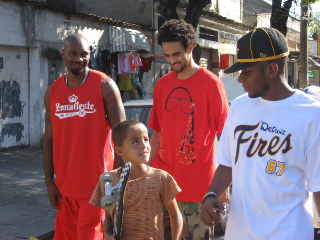 The connection to location and leader is vital, but when watching 4REAL, you see first-hand how easy it is for people passionate about their respective careers and initiatives to connect on the universal level of wanting to help others. Celebrities are stripped down to their essence, leaving them exposed to the experience. As a viewer, you join them on their journey because you may think you know who they are, but what you see over the course of the show is a person, just like you and me, they maybe a little fearful about what they are experiencing, as was the case with Eva Mendes when she picked up used needles in a dark alley in Vancouver or learning Joaquin Phoenix isn't so fond of air travel. You also get to witness how everyday people are transforming the lives of individuals, families, communities, and even reviving a nearly lost civilization. 4REAL makes you want to get up off the couch and do because you want to, not because anyone is saying you have to. As Guy says, "we want you to realize that making a difference can happen right in your living room, at your computer, in your every day life. We're not asking you to stop playing Grand Theft Auto or give up buying those sneakers." They're merely suggesting ways you can find your passion -- and it's infectious, especially when you see everyone having a life-changing experience. At Machu Picchu Cameron Diaz expressed her feelings about the future of a Peruvian civilization: "Seeing this gives me hope. I have a lot of hope." Her sentiments were echoed by Puma Singona, a medicine man and the leader featured in 4REAL Peru, "My hope is for this planet; so that us as humanity can become a family, and as a family we can heal ourselves. That is the only process we need to go through in order to heal our planet."
4REAL airs on Sundays at 5pm ET/4 Central the CW Network and globally on the National Geographic channel.
Each extraordinary community leader and organization featured on the series also serves as a co-producer, receiving 50 percent of the profits of television, DVD and merchandising sales that go back into building their community or organization. Episode leaders and their affiliations include:
Liz Evans appeared with Eva Mendez in 4REAL Vancouver. Liz is the Executive Director and Founder of the Portland Hotel Society, an organization aimed at providing housing, advocacy and support to people in Vancouver's Downtown Eastside community.
Puma Singona connected with Cameron Diaz in 4REAL Peru. Puma sits on his community's council of elders, runs Cusi Huayna -- a cultural organization that teaches tradition to Quechua youth. Puma is also the founder of WILLCA, a cultural and healing center for youth in Chinchero, Peru.
Salim Mohamed led K'naan through 4REAL Kenya. Salim is the co-founder and Executive Director of Carolina for Kibera. His organization, which helps the people of Kenya's Kibera, was made possible through a $26 donation from a University of North Carolina student back in 2001. Salim also helped found Carolina for Kibera (CFK).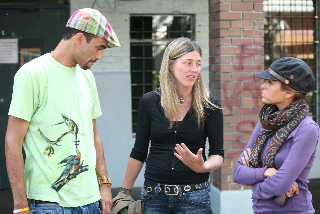 MV Bill rapped with Mos Def in 4REAL City of God. MV Bill founded CUFA, Central Unica das Favelas, a non-governmental organization. CUFA's main form of expression is hip-hop. CUFA's aim is to promote a cultural production of the Brazilian favelas, through activities in the fields of education, sports, culture, and citizenship.
Camseuze Moise trekked with Flea in 4REAL Haiti. Camseuze is a rural health care worker for the Haitian Health Foundation caring for the well-being of 3,000 people. She also manages 300 volunteers and has emerged as one of Haitian Health Foundation's most tenacious and effective leaders.
Kimmie Weeks toured M.I.A. through the playground, schools and even to the President's office in 4REAL Liberia. In December 1998, Kimmie published a report on the training of children by the Liberian military. Several attempts were made to assassinate him and Weeks fled to the U.S. In 2002,he founded Youth Action International, a Philadelphia-based organization dedicated to rebuilding war-torn communities in Liberia and beyond.
Crystal Echo Hawk escorted Casey Affleck through the Pawnee reservation in 4REAL Pawnee. She is the founder and President of NVision, a collective of some of the top young Native artists, performers, filmmakers and multi-media professionals in the U.S. For the last 10 years, Crystal has served as a front-line advocate, educator, fundraiser, and organizer for Indigenous rights, and Native youth and communities.
Chief Tashka Yawanawa taught Joaquin Phoenix a few things about Amazon tribal life in 4REAL Yawanawa. At age 26, Tashka became responsible for 600 people and 90,000 hectares of Amazon rainforest in Brazil as Chief of the Yawanawa. Tashka and his wife, Laura, have led the remote Yawanawa people in the Brazilian Amazon back from the brink of ethnocide.