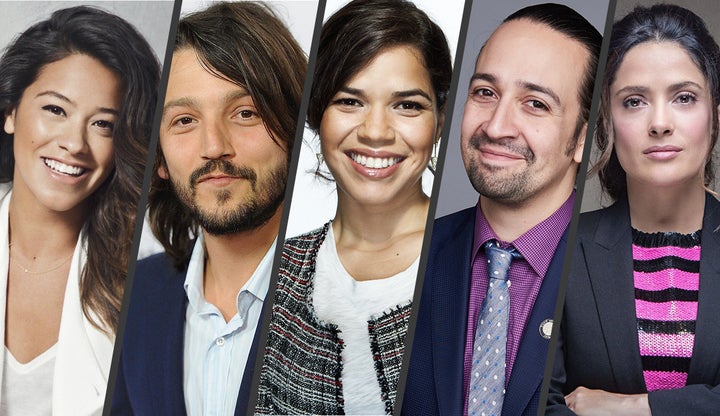 By Maria O Alvarez, Common Sense Media
Fighting Hollywood stereotypes has been tough enough for Latino and Hispanic artists. But it's nothing compared with the negative political rhetoric aimed at them. Ongoing attacks and detrimental comments  ― often couched in language that stirs up fear of "the other" ― puts a special burden on actors with Latin American and Spanish roots. They know that their faces and images represent millions of unfairly tarnished men, women and children across the United States and beyond. While it isn't the kind of spotlight anyone would choose, some have used it as a platform to celebrate Latin culture, prove the critics wrong, and inspire kids to be more than what they hear on the news.
The influence that celebrities have on kids can't be underestimated. And when they double down on their heritage ― by playing roles with heavily accented English, supporting Latino and Hispanic causes on social media, and fighting for diversity ― they show their pride and engender respect. For all kids growing up in a less-than-friendly political climate, it's important to see folks championing their culture because it shows them that they, too, can be who they are without compromising.
Learn more about the amazing artists who have become Latino ambassadors, showing through their achievements that while talent matters, persistence, hard work and commitment can change the world.
An actor ("The Book of Life") and director ("Cesar Chavez"), Luna's major crossover role in "Rogue One: A Star Wars Story"was a huge achievement for anyone. Playing veteran Rebel pilot Cassian Andor with a strong accent, Luna added depth and diversity to the part. His involvement with the "Desfronterizate" ("ignore the borders") campaign shows that he's aligned himself with immigration causes.
Through her prolific career ("Puss in Boots," "The Pirates! Band of Misfits"), Hayek has demonstrated her talents and capacity not only as an actress but also as a businesswoman. In her latest film "Beatriz at Dinner," she plays a Mexican immigrant healer who meets a racist wealthy businessman. Hayek's social activism work includes anti-domestic violence and female empowerment efforts.
The force behind the Broadway musical sensation "Hamilton," Miranda came to national prominence by telling part of America's history from a very diverse point of view. He uses his influence by supporting Latinos, immigrants, and Puerto Rico (where his family is from) on social media. His new video "Immigrants (We Get the Job Done)" highlights immigrants' multiple contributions to the United States.
Through stellar performances in "Real Women Have Curves" and "Ugly Betty," Ferrera has gained an international following. An outspoken activist, she launched Harness to encourage young people to get involved in social and political issues.
Common Sense Media is an independent nonprofit organization offering unbiased ratings and trusted advice to help families make smart media and technology choices. Check out our ratings and recommendations at www.commonsense.org and sign up for our newsletter to read more articles like this.