While we all love summer and its days filled with sunshine and ice cream, we can't be sad for long--fall is on its way with all its usual bright colors and beautiful views. Here's where to find the best ones.
1. The longest season: New Hampshire's Lakes Region
When to go: Late September through late October
Why go: The secret to finding a lingering foliage season is steering clear of the weather that knocks leaves from their branches. "I would choose those locations away from the wind of the coast and at higher elevations," says Jerry Monkman, co-author of The Colors of Fall Road Trip Guide. This New Hampshire region--which encompasses Lake Winnipesaukee, Squam Lake, Lake Ossipee, Mirror Lake, Newfound Lake and Lake Winnisquam--is protected from the harsh winds of the coast and doesn't rise more than 600 feet above sea level, giving you the best chance for a long leaf season.
Where to get the best view: Obviously, from the middle of a lake (pick one). Bring a kayak and tone your paddling arms. "You can see red maples along the waterways showing their bright colors on the trees, and then reflected down into the water as well," says Tai Freligh, communications manager for New Hampshire's Division of Travel and Tourism Development.
Insider tip: If boating and hiking feels like too much exertion for a good view, tour the lakes region from a fall foliage train. The Winnipesaukee Scenic Railroad (603-745-2135, foliagetrains.com) runs train trips through October 26, and you can choose from one of four tours, from a quick, 80-minute trip alongside the Pemi River to a four-hour tour up Ashland Hill that includes a lunch stop at the Common Man Inn.
2. The latest season to start: Southeast New Jersey
Why go: A good rule of thumb is that the leaves change later the more south you go and the closer you stick to the coast. "This is because these areas are lower in elevation and tend to stay a bit warmer than inland," says Marek D. Rzonca of the Foliage Network. If the weather cooperates, leaf season in southeast New Jersey--near Wildwood and Cape May, for example--can continue through early November.
When to go: Late October through early November
Where to get the best view: Belleplain State Forest, home to Lake Nummy, a 26-acre lake that was once a cranberry bog. These days, you'll see oak, cranberry, sweet gum, red maple and black gum, with a backdrop of evergreens.
"The forest comprises colorful deciduous species such as oak, cranberry, sweet gum, red maple and black gum set against a backdrop of lush evergreens, which makes for a spectacular variety of colors," says Abbie Tang-Smith, communications associate for the New Jersey Department of Environmental Protection. "Belleplain's proximity to the bay and ocean also helps moderate the temperature, providing a longer leaf season."
Insider tip: Though the Jersey Shore is best known as a summertime destination, it's almost more pleasant to visit its coastal towns once the crowds have departed for the season. Cape May's historic past gets put on full display during its Victorian Weekend (October 10-13), where you can attend events such as tea luncheons, historic homes tours, and antiques shows.
3. The most variety: New York's Adirondack Mountains
When to go: Late September through mid October
Why go: To get the most variety, you need to go where there is geographic diversity, and contained within the Adirondacks you'll find marshes, river valleys, hardwood forests and high-elevation alpine environments. "These areas have a good population of sugar maple trees which, in my opinion, are the most attractive in the fall," Rzonca says. "Other popular species include birch, aspen, oak and silver maple, all of which turn yellow. These trees are then complimented with the brilliant crimson of the red maple. When you put all these trees together, it provides a fantastic contrast and variety of color."
Where to get the best view: "One of my favorite locations is John Boyd Thacher State Park, located on the Helderberg escarpment in Voorheesville," says Eric Scheffel, Senior Public Information Specialist for Empire State Development. "It not only has great fall foliage, but also offers amazing views of the Hudson-Mohawk lowlands--including the City of Albany--and the southern Adirondacks. While it's known to many Albany-area residents, I've found that most visitors from outside the area have never heard of it."
Insider tip: If you want to make a weekend of it, you can watch the foliage show unfold from your window at the Point (518-891-5674; thepointresort.com). The Relais & Châteaux property is styled to feel like a throwback to the Adirondack camps of old.
4. The least crowded: Western Maine
When to go: Late September through early October
Why go: The season here might be short, the weather chilled and the location remote, but if it were easy, everybody would be doing it. Secondary bonus: Lodging is often not as expensive as it might be in showier areas better known for their leaf season.
Where to get the best view: Most Maine visitors are familiar with Acadia National Park, but Grafton Notch State Park, one of Maine's biggest, is where you should go for day hikes that won't put you in the path of other tourists. See the leaves as you hike your way to Screw Auger Falls, which was impressively carved out by a glacier.
Insider tip: For up-to-date foliage reports all around the state visit mainefoliage.com.
5. The longest season: Leavenworth, Washington
When to go: Through late November
Why to go: Several leafy routes start from Central Washington's Bavarian-themed town: Trees line Tumwater Canyon on Highway 2, which stretches to the Puget Sound area, while south on winding Highway 97, the forests of Blewett Pass sport red huckleberry bushes, aspens, and cottonwoods. Electric-yellow trees reflect in Lake Wenatchee north of the town.
Where to get the best view: From Waterfront Park downtown, the steep walls of the valley rise in every direction.
Insider tip: Leavenworth's Autumn Leaf Festival falls in September 26-28, Oktoberfest is Fridays and Saturdays October 3-18 (and the town is basically a year-round beer garden anyway).
More from Condé Nast Traveler:
Related
Before You Go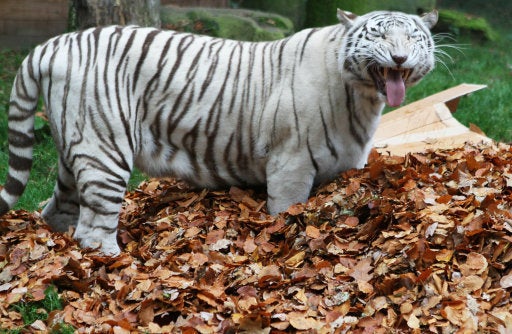 23 Animals Enjoying Autumn