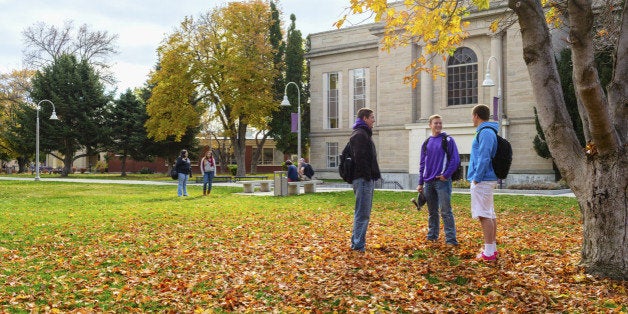 After three years of leading college campus tours, I like to think I've seen it all. From the fratty dads to the nervous-but-trying-to-look-super-cool prospective students to the moms who talk about their kids as though I'll have some say in the admissions decision, I've encountered an extensive list of tropes.
I've had tour groups who hung onto my every word like I was reciting a new Bible, and I've had families who were more interested in the pattern of the bricks on the wall than my anecdotes about studying abroad. I've seen parents bring lists of questions and I've had students ad-lib things like "can I bring my snake if I come here?" I've even been shown test scores by curious parents trying to see if I think their kid will get in.
Every tour is different, but the one thing that stays the same is: there are no stupid questions. Tour guides love questions, that's what we are here for. My college's admissions office doesn't give us a script, so I'm encouraged to gear tours to specific students; that leaves me with a full 50-60 minutes to talk to families about what they actually want to know, not just about our cool iBike system or how many books we have in the library. As students who have been through the whole college selection process, tour guides are valuable resources. The questions you ask during a campus tour make all the difference, and it's important to try to get to know the guides.
What I've noticed, though, is that a lot of people don't know what to ask. They want to find out about the school, and the tour guide wants to talk about the school, but I feel like sometimes there's a boundary between what I'm saying and what my tours want to hear. Here are five thought-provoking questions that can actually reveal a lot about a place:
1) What makes this college stand out?
It may be a pretty basic question, but this format is way better than the often asked, "why did you choose to come here?" Often, the latter will get more generic or vague answers, like "I picked this school because I had a great tour and liked the people!" On the contrary, asking how a school stands out is asking what unique things the campus has that other schools don't. At my college, I'd answer by talking about our unconventional academic calendar that allows for a January interterm, or I'll say something specific about a club or organization that has shaped my undergrad experience.
Make your guides identify things that stand out, otherwise it'll be easy for all of the schools you tour to start blending together.
2) What do you do here on weekends?
This will tell you a lot about the social life of the college. If prospective students are city people, they'll hope that the answer to this question is "I often explore (insert college's location) and go into all of the cool spots in town, I love studying at the local coffee shop."
Answers like "most weekends, I go to campus dances or concerts and study in the library," are signs that the social life is self contained on the campus. Some may have a large sense of relief that everything is so easily accessible right on campus whereas others may find this stifling.
From my experience, a college's relation to its surroundings is the most crucial defining point when students gage whether it's a good fit. Most of the prospective transfer students I've given tours to wanted to come to my college because they wanted to be on a secluded campus where they'd interact with students and professors and not go downtown as frequently. Students that transfer out of my school often want to be in big cities, as that is a huge determinant in college social life.
3) What's been your favorite class?
As a tour guide, I feel I often get caught up in numbers. I can list our student to faculty ratio, our median class size, and the capped numbers of most introductory courses, but these statistics often say very little about the academic life at the school.
Asking a specific question like this will often provoke more personal anecdotes, and will give a better sense of how big the classes are, how well the students and their professors interact, and whether or not there are unique courses that really stand out. It's also a great way to sense passion in the tour guide: I could rant about my Film Theory 321 and Creative Non-Fiction 289 courses for hours because of my love for them, and I often tell stories about professors going out of their way to help me. If a tour guide gives a generic answer to this question, it might mean that they still haven't found something they truly love yet, which could potentially be a red flag for the college.
4) How many people on campus do you recognize?
I borrowed this idea from another tour guide, but when I'm asked this question, I'll say "If I walk by 5 people, I'll know 3 of them, I'll recognize the 4th one enough to tell you their name, and I won't know the 5th." Just telling you that my school has 1800 students isn't the same as saying how many of them I actually know.
Students looking for a school where they are constantly meeting new people might want to hear that their guides know one or two of every five people they see. If you want a college that's so intimate you know everyone in your graduating class's major, you're obviously looking for a different answer.
5) What don't you like about your school?
Families: call us out if we are being too euphemistic. No school is perfect, and if your guide is telling you that their college is the perfect choice for every prospective student, they're not being completely truthful. There are flaws in every school, it's just a matter of how they're dealt with and whether those flaws conflict with what the student really wants. If you're looking for a spirit-filled sports culture and your guide responds saying that they wish more kids went to the games, then obviously it's not the school for you. But if your top requirement is small class sizes and the guide is critiquing the dining hall food, then you'll know there are flaws you can overlook.
I've been on tours where this question was asked, and I've seen student guides critique their schools while still maintaining a sense of pride and love for the college. That's what you want to see.
Even though these five questions will spark conversation and provoke thought, it's always important to personalize your tours as much as possible. The highlight of my job is connecting with a family and giving them advice that I would have wanted to hear as a high school student.
Though it's nice to see all of the buildings and classrooms on a campus, the college catalogue and pamphlets can pretty much tell you all of that. The true purpose of a student-led tour is to ask the right questions so you can differentiate what is unique about the school. Asking more insightful questions and getting a student's personal anecdotes may give you a better idea as to where you want to spend the next four years of your life.
Calling all HuffPost superfans!
Sign up for membership to become a founding member and help shape HuffPost's next chapter