 On Tuesday, the Senate will vote on a bill forcing President Obama to green light the Keystone XL pipeline for dirty tar sands oil. Keystone threatens our air and water and would intensify the climate change already pounding our communities. The bill is a gift to the oil and gas industry, but if it passes, the American people will be stuck paying the price.
This bill would bypass essential reviews, skip safety assessments, and fast track a dangerous project. This has sweeping implications for future generations. And yet it is entangled in the politics of the moment.
In its first major vote after the midterm elections, the House passed a bill forcing the approval of the tar sands oil pipeline. Now Democratic Senator Mary Landrieu, caught in a runoff election, is pushing a similar bill in the Senate.
When we take the politics out of the equation and ask the single question before the president--is this in the national interest of the United States--the answer is a resounding no.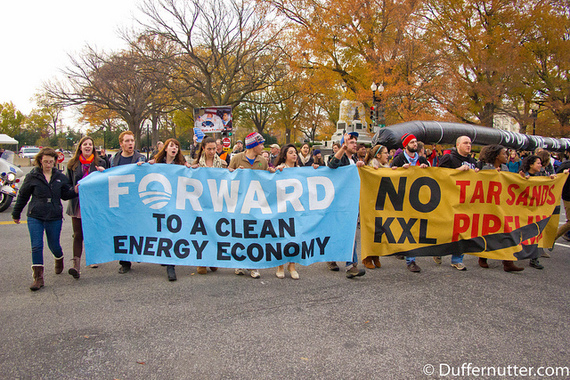 The President himself outlined some of the problems with the project on Friday, saying, "Understand what this project is: It is providing the ability of Canada to pump their oil, send it through our land, down to the Gulf, where it will be sold everywhere else. It doesn't have an impact on US gas prices."
Here are some of the other reasons to reject the Keystone XL pipeline.
Total Jobs: 35
TransCanada, the company behind the pipeline, told the U.S. State Department the pipeline would create 35 permanent jobs. There will be temporary jobs for 1,950 construction workers for the two years. Then they'll be gone. Clean energy companies, meanwhile, announced more than 18,000 new jobs in more than 20 states in just the past three months.
17 Percent More Carbon Pollution
Tar sands oil is the dirtiest fuel on earth. Because producing it consumes so much energy, a gallon of tar sands crude generates 17 percent more carbon pollution than conventional crude oil. The State Department calculated that the incremental carbon pollution from the tar sands pipeline would be as much as putting up to 5.7 million additional cars on the road.
Without Keystone, Less Tar Sands Oil and Less Pollution
Industry analysts and energy executives say that without Keystone, they have few options for getting their landlocked product to port. Other pipeline proposals have failed to make headway, and investors are pulling back on expansion plans. Statoil announced in September it was postponing an enormous tar sands project due to rising costs and a lack of pipeline space. That's the third major cancellation this year, preventing significant amounts of pollution from entering the environment, at least temporarily.
Major Threat to America's Breadbasket and Water
The pipeline would cut through Montana, South Dakota, and Nebraska--states where ranches and farms produced $41.6 billion worth of food in 2012. The pipeline would cross 1,073 rivers, lakes and streams and national recognized water resources, such as the Ogallala aquifer, threatening them with a spill of tar sands crude, which has proven more difficult to clean up than conventional oil.
Tar Sands Oil Spills Harder to Clean Up
Much of Michigan's Kalamazoo River is still suffering from a tar sands pipeline blowout that contaminated 38 miles of water in 2010. In Mayflower, Arkansas, more than 200,000 gallons of tar sands crude polluted backyards and neighborhoods when a pipeline blew in 2013. Rare accidents? Hardly. TransCanada's Keystone I pipeline through the Midwest had 14 leaks in its first year of operation.
The Keystone XL pipeline is a threat to our nation. It would increase pollution and intensify climate change for generations to come. We must raise our voices and demand our leaders reject this dirty scheme. Tell your Senator to oppose this bill now.
Related