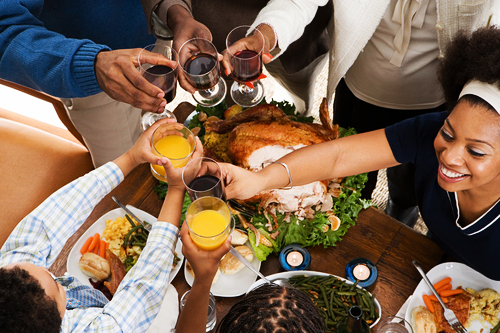 It's that time of year again. Everyone's favorite holiday of the year, when family members, friends and loved ones gather over delicious food, drinks, music and fun. The only question is, "Who's Hosting?" So you've decided to open up your home to the people nearest and dearest to your heart and you're wondering how to make it a success! Here are a few tips to help you host an AWESOME Thanksgiving Dinner that everyone will enjoy!
Have a excellent selection of food. Once the word gets out that you're hosting Thanksgiving Day Dinner, a huge sigh of relief will fall upon countless people in your inner circle who will all so gladly take advantage of the offering to dine in with you. Rest assured that they will have saved up their appetites just for your special occasion and will be looking forward to a smorgasbord of food to devour. So be prepared with some of your favorite dishes and also the traditional favorites (i.e. Turkey, Ham, Stuffing, Mac N' Cheese, Cranberry Sauce, Gravy, you get the picture). Don't worry about having the food ready when guests arrive. This leaves lots of room for conversation and catching up among your guests.
Have a great music playlist. Keep your guests entertained with a nice selection of music to listen and sing along to while you prepare the food and make sure everything is in order. Often times the people arrive before the food is ready. Having a nice selection of music will keep their mind off the hunger and also keep them in a good mood while they wait. Holiday music and perhaps some soft jazz or R&B will keep the mood calm and mellow.
Have a fun and engaging game to play. So you've got a room full of people, there's music, food and conversations going on, and everyone seems to be happy. Seal the deal by introducing a fun game that will get everyone excited and engaged with one another. Often times there are age differences, personal differences and even cultural differences among family and friends, but a fun game will bring everyone together. I recommend a game called "Catch Phrase." My family loves it!
Invite the right people. Thanksgiving is a time of peace, joy and gratitude. Inviting the wrong people to your Thanksgiving Day Dinner can bring about the opposite affect. As tempted as you may be, it's best to avoid inviting individuals who don't get along well with others, don't have a positive attitude and most importantly avoid inviting anyone you've had past romantic relations with. For three reasons: 1) Your past relationships don't belong in your present or your future. 2) His/Her presence may cause conflict with your current relationship (if applicable). 3) He/She may want to connect with someone else at your gathering who is in your inner circle (which may cause a conflict of interest).
Involve guests by asking them to bring something. Encourage guests to bring their favorite dish or drink concoction to the dinner. Not only will it help with feeding all of the attendees, but it's also a great conversation starter which can lead to ideas for new recipes, collaborative efforts and even business ideas.
Did you enjoy this blog? If so, I would love for you to comment below and share it with your family and friends.
Need help cultivating healthier relationships? Contact me today!