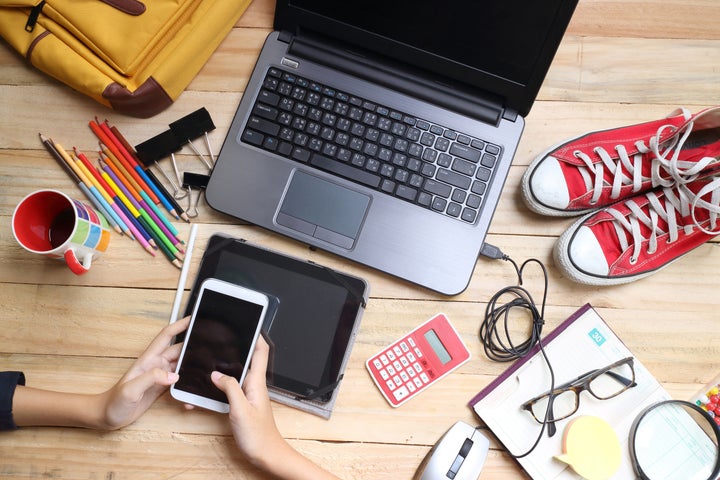 Back to school shopping is a yearly tradition for families around the country, and it can easily get expensive. In 2016, the National Retail Federation estimated that overall back to school spending for the year would total $75.8 billion. The average parent spends $488 on clothes, accessories, technology, and school supplies for each of their kids as the first day of school approaches.
We're spotlighting seven ways to save that will earn you an A+ on your savings report card, sponsored by the BuyPower Card from Capital One! With a little smart planning, you can make your back to school budget stretch even further while making sure your kids have everything they need for their best school year yet.
Buying in bulk doesn't have to mean a lifetime supply of #2 pencils crowding your closet. If teachers require certain materials like spiral notebooks, folders or red pens, consider coordinating with other parents and divvying up supplies from a single large package rather than having everyone buy individually. Or organize your pantry so your go-to supplies don't need to be repurchased every August. This is also a great savings strategy if you have multiple kids whose school supply needs often overlap—or will in the near future.
If you can, opt for the $50 backpack that will last rather than the $10 one that will fall apart before the lunch bell. Coupons.com savings expert Jeanette Pavini advises parents to purchase from retailers that offer generous warranties. Not only are their goods made to last, they can also be returned at anytime if they don't survive a school year or hold up to your child's needs.
Another way to look ahead is to skip beginner pieces of tech if you know your child will eventually need a higher quality version. "Oftentimes each math class requires a new calculator," says Pavini. "If you know your child will be continuing on to higher math classes, buy a more advanced calculator they will be able to use for all classes. It may be more expensive than the others, but it will save you a lot of money in the long run."
3. Look for educational discounts
Many companies, especially tech suppliers, offer specific discounts for students, parents, and faculty members. If you're in the market for a new computer, printer, or tablet, look for retailers who offer additional educational savings. Even some cloud software packages like Adobe Creative Suite or newspaper subscriptions like The New York Times have student-only packages for parents to take advantage of when September rolls around.
Doing research and asking for recommendations can save you time and money. According to Deloitte's 2016 Back to School Survey, 61% of consumers utilize online resources to learn about the best deals and the top products before making in-store purchases. Social media is a great spot for finding promotions and coupons through other savvy consumers in your friend circles. And check out coupon sites for deals and discounts for local and national retailers. While mailing lists can sometimes flood your inbox, they can often be worthwhile for scoring first time customer discounts, especially if you're buying a new back to school wardrobe or laptop.
According to the Krazy Coupon Lady, if an item is on sale but out of stock, you can ask the store for a rain check and get the sale price once it's restocked. This helpful tidbit comes in handy after huge holiday sales and liquidations. Though some stores can be slow in restocking the items you want, especially after blowouts like Black Friday, waiting is always better than overpaying. And if you combine this tip with thoughtful research ahead of the back to school rush, you'll be golden!
Buying gently used clothes, musical instruments, sporting goods, and books is a great way to cut down on costs, especially if your child is going through a growth spurt or only required to play a sport or instrument for a single semester. Check out resale options from stores like Music Go Around. There is also the option of renting rather than buying. Don't buy Bobby that Baby Grand if you're worried he'll only be interested in piano for a year! Instead, rent his instruments so you can support his orchestra-hopping interests over the years. After all, a mediocre freshman saxophonist may prove to be an award-winning sophomore drummer!
You might want to finish up your shopping before the school year begins, but that's not necessarily the best way to go about it. While some schools mail out a required materials checklist in advance, others hand them out on the first day of classes. So rather than buying everything your child might need and then having to return it all if it's not right, wait for the teacher's instructions. And if possible, consider holding off until the official back to school season comes to a close. That's often when stores offer even bigger price reductions.
Back to school shopping is a great time to teach your kids about the importance of implementing smart and savvy spending habits. It's all about figuring out what works best for your family and incorporating simple savings strategies so your kids can start the school year off on the right foot!
Smart back-to-school shopping will pay off big time over the years. The BuyPower Card from Capital One will pay off big time, too, by rewarding users with Earnings on every purchase. With no limit and no expiration, Earnings are redeemable towards a new Chevrolet, Buick, GMC or Cadillac vehicle. Learn about the rewards the BuyPower Card can afford you here.