The incident happened Friday evening at a GameStop in Silver Spring, Maryland.
The boy and his parents were shopping for a Yoshi doll when two men wearing hoodies and masks entered the store.
One of the suspects reached for the boy, who responded by punching the man in the stomach, according to surveillance video released by the Montgomery County Sheriff's Dept.
Neither the boy nor his parents have been identified, but the father was amazed at his son's reaction.
Despite the boy's best efforts, the assailant managed to force him to go to his parents in another part of the store.
The child then got on the floor and his father wrapped his arms around him and the boy's mother.
"I'm just grateful we were together, as a family, at that moment," the man said. "It was a terrifying situation. You just want to grab them and hold them tight to you, and you want it to end, quickly."
Two store clerks were also ordered on the ground. The robbers took an undisclosed amount of cash and some personal property before running out of the store's front door, according to NBC Washington.
Although the boy's actions were brave, they are not recommended by law enforcement officials.
Luckily, no one was physically hurt during the robbery, but the father is worried about the longterm effects the incident will have on his son.
"When it's a young child, it's especially upsetting and infuriating for us because there's some innocence that's lost there and there's some fear introduced into his life that, of course, he doesn't deserve," the father told the station.
Both robbers are described by police as black men in their 20s, approximately 5 feet 6 inches tall, and weighing 170 pounds, according to WJLA TV.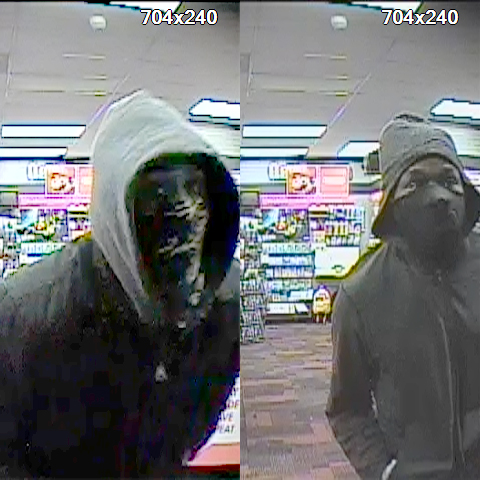 The family hopes arrests are made soon, but the boy's father is still amazed at his son's reaction to the incident.
"We didn't completely understand why," the father told FoxDC. "Of course, we think our son is brave and a strong kid. But we didn't exactly know why and when we saw the tape, we saw why. Because he saw somebody who was a stranger, who seemed most dangerous to him and he tried to defend himself. I think it was his natural instinct taking over there."
Anyone with information regarding the suspects or the crime is asked to call (240) 773-5070.
REAL LIFE. REAL NEWS. REAL VOICES.
Help us tell more of the stories that matter from voices that too often remain unheard.
BEFORE YOU GO
PHOTO GALLERY
Caught On Camera