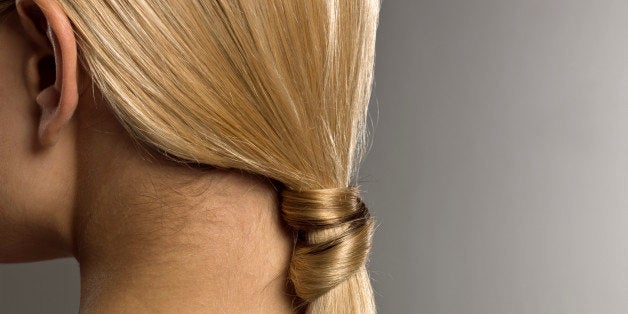 Did you know that your hair cells are the fastest growing cells in your body? This means that they are one of the first to be affected by poor diet and lifestyle. When our hair is in poor condition it often results in dry, dull and weak hair which can be due to dietary deficiencies, excessive chemical and heat exposure from products and styling as well as wear and tear and over washing. For healthy and shining locks try these 8 simple tips!
1.Eat More Healthy Fats! Healthy fats from coconut, avocado, nuts, seeds and oily fish are great for giving your hair strength and shine from the inside out! If you are deficient in these essential fatty acids you may notice that your hair is prone to breaking and is weak and dull. Get more fats into your diet!
2.Use Coconut Oil as a Hair Mask! - Not only is eating healthy fats important for your hair but using them directly on your hair is a wonderful way to add moisture and shine! Apply one tablespoon of extra virgin coconut oil to the lengths of dry hair, leave over night (protect your pillow from stains!) then wash out in the morning with shampoo. Coconut oil will leave your hair feeling smooth and soft!
3.Avoid Harsh Chemicals & Heat! - Excessive use of chemicals from products and heat from styling can strip your hair of natural oils and cause damage, leaving it dull, dry and brittle. Look for a natural shampoo and conditioner that is free from sulphates and other harsh chemicals. Avoid heat styling too often and always use a heat protective spray to prevent damage.
4.Eat more Oats! - Oats contain Silica, a trace mineral, which are is very important for strengthening your hair. Silica builds healthy and strong connective tissues and is responsible for long, thick and healthy locks. If you are deficiency in Silica you may find your hair is weak, fine and brittle. Other sources of Silica include Millet, Barley, Asparagus, Spinach and Rye.
5.Avoid Over Washing! - Washing your hair too often, and especially everyday, can remove natural oils from your hair, making it dull and dry. You may need to 'train' your hair to regulate its natural oils by slowly stretching out the length of time before washes. Ideally twice a week is a good amount of time and you can always use dry shampoo on the roots between washes if it starts to look and feel oily.
6.Get regular Trims! - Even if you like your hair long, you need to get regular trims to remove the split ends that weaken your hair. Let your hairdresser know you want as least off as possible. Every 12 weeks is a good time frame, however, depending on the condition of your hair you may need more or less frequent trims.
7.Add more Protein! - Amino Acids form to create Proteins which are the basic building blocks of our cells and tissue. For healthy and strong hair you need to ensure you are getting adequate daily protein. Sources include legumes, beans, nuts, seeds, fish, lean meats, yoghurt, cheese, tofu and tempeh.
8.Use a Wide Tooth Comb on Wet Hair - Wet hair is very delicate so make sure you use a wide tooth comb and be gentle. Never use a brush on wet hair as this can cause damage. Once your hair is dry then you can use a brush, but once again be gentle, hold your hair mid length while brushing the ends so that you don't pull on your hair too much.
There you have it! Some simple ways to nourish your hair from the inside out so that it is healthy and strong! Ensuring that your diet is rich in important nutrients as well as understanding how the external treatment of your hair affects its health are the keys to lovely locks!
Related