Now that spring is in full swing, it's time to start filling up on lighter, fresher foods. But that doesn't mean you have to settle for a plate of plain greens with barely anything on them. Here, we've rounded up nine salad recipes that include unique combinations of delicious, satisfying ingredients. Packed with vitamins, minerals and powerful antioxidants, you'll not only feel good about eating these nourishing recipes -- you'll crave them throughout the season!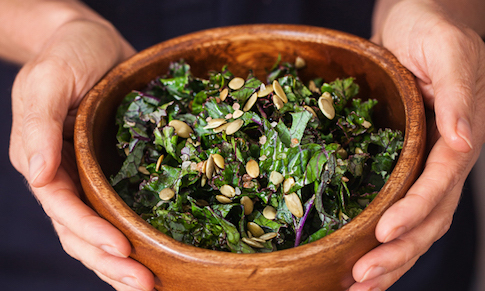 Five Minute Kale Salad with Citrus
This five-minute kale salad is made extra fresh and flavorful with lemons and/or limes. Citrus fruits are loaded with vitamin C, a powerful antioxidant that does wonders for rejuvenating the body. This recipe also lets you get creative with your greens -- opt for dark, leafy greens like kale, arugula, or fresh spinach for maximum nutrient density. And with a quick prep time, this unfussy, down-to-earth salad is sure to get the detox party started this spring.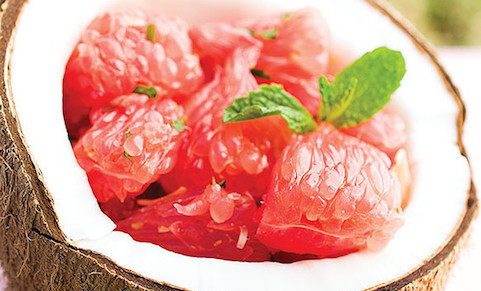 Pink Grapefruit Salad with Shrimp, Coconut and Cashews
You may just think of grapefruit as a light breakfast, but this beautiful, often overlooked fruit packed with vitamin C is the star of this mix. Combined with mint, dried shrimp, jalapeño and sweet coconut, grapefruit isn't the only bold flavor making this salad surprising yet satisfying.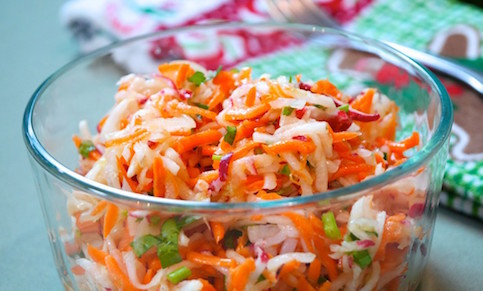 Pickled Daikon Radish and Carrot Salad
This one's definitely unique -- and talk about colorful! Sea salt, apple cider vinegar and honey all add to the overall deliciousness of this dish. What's more, one medium sized Daikon radish (low in calories, high in fiber) provides over 100% of the daily recommended vitamin C levels. Winner!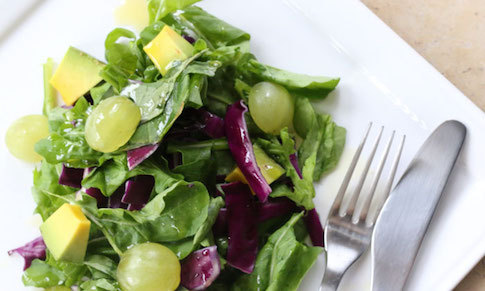 Arugula, Cabbage, Avocado Salad with Grapes
Five supremely fresh and flavorful ingredients come together in perfect harmony in this simple, cleansing salad. Crunchy, colorful cabbage boosts this recipe's antioxidant power, while arugula adds a peppery bite. Vitamin C, anyone? This salad also contains tangy, zesty lemon. And, of course, there's the smooth and rich avocado and the sweet and fruity grapes. Packed with all of these health supportive ingredients and refreshing flavors...what else is there?!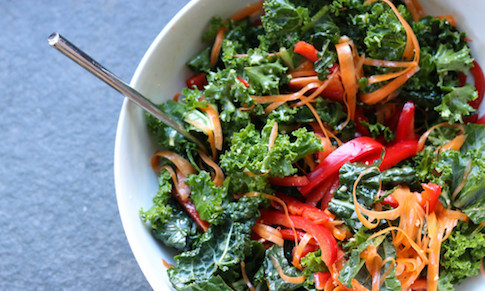 Chopped Kale Salad with Thai Sesame Dressing
Carrots and almonds give this salad a fresh crunch, and the Asian-inspired dressing turns up the volume on flavor. Plus, this toss features both lemon and ginger, a powerful dynamic duo when it comes to detoxification. Let's get choppin'!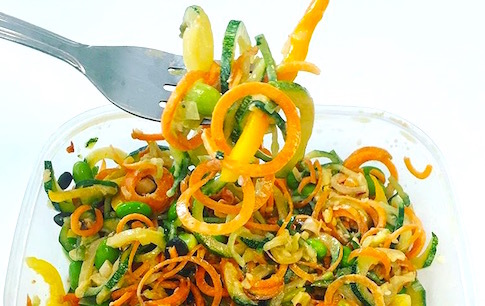 Thai Zucchini Salad
No need to fire up the stove or the oven for this zucchini dish! A trifecta of "courgettes," including zucchini, cucumber and carrots, show their true, raw colors in this Thai salad. Aside from being naturally hydrating, these vegetables are packed with vitamins A and C, essential for eye health, immunity, and combatting harmful oxidation in the body! Furthermore, the super flavorful dressing utilizes tahini, a rich sesame seed paste full of phosphorus, potassium and iron. Get out those spiralizers -- you won't be sorry!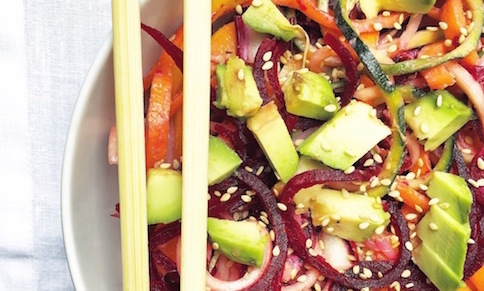 Rainbow Veggie Noodles Salad with Asian Sauce
If you're looking for a fresh spin on your favorite noodle dish, zucchini noodles ("zoodles") are a fantastic alternative. Rich in antioxidants, folate, and potassium (and extremely low in calories), zucchini noodles are truly a prime example of nutrient density. This recipe also features beetroot, which packs a punch with folate, fiber, manganese and calcium. Let's not forget the creamy avocado that tops this healthful twist on regular old spaghetti.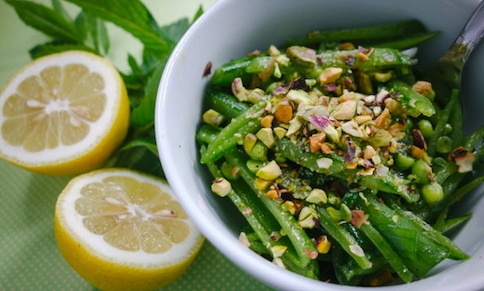 Mint Citrus Snap Peas with Pistachios
Definitely not your traditional salad, this recipe offers a crisp and refreshing bite by mixing low-calorie, high-fiber snap peas with a minty, lemony dressing. The pistachios add an unexpected crunch, but you can substitute whatever nuts you prefer!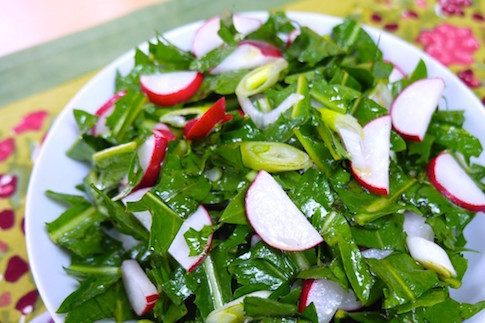 Fresh Dandelion and Radish Salad with Apple Cider Vinaigrette
Dandelions are no longer just a pretty yellow flower that blossoms in grassy fields in the spring and summer. Chock full of calcium, iron, and vitamins A and C, dandelion greens offer some fierce competition when it comes to salad greens selection. Toss them with radishes and a gut-supportive apple cider vinaigrette for a unique, tasty lunch!
Want More? You Might Also Like: