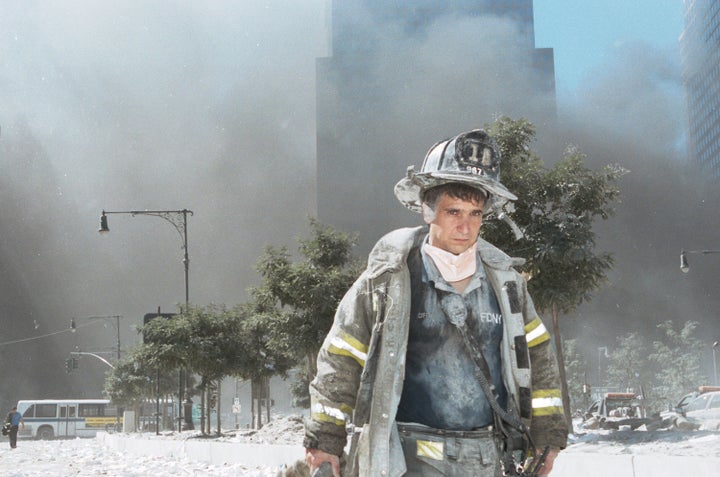 "The study clearly shows that World Trade Center exposure in these firefighters led to an increase in all types of cancer," said David Prezant, FDNY chief medical officer and one of the co-authors of the study published Thursday in The Lancet. "But this is not an epidemic -- thank God."
Cancer is not currently among the conditions covered by the James Zadroga 9/11 Health and Compensation Act, which was signed into law in January to provide health care and compensation for New Yorkers sickened by the dust from the World Trade Center attacks. Over 50,000 workers were exposed while responding to the incident as they rescued survivors, recovered victims, and cleaned or cleared the site and surrounding buildings.
The findings from the largest post-9/11 study of cancer don't come as news to many people who have been closely following the issue, including Rep. Carolyn Maloney (D-N.Y.), who co-sponsored the Zadroga Act. "Sadly, I'm not surprised by the Lancet study," Rep. Maloney told The Huffington Post in an email. "The doctors who have been treating 9/11 responders and survivors have told me for years that they expect to see cancers caused by Ground Zero toxins."
Researchers have long known that the cloud of dust and debris included a myriad of recognized carcinogens, including dioxins and polycyclic aromatic hydrocarbons. But to establish a link between such exposures and cancer requires actually observing more documented cases of cancer among responders than would have been expected had they not breathed in the toxins. Until now, the only significant supporting evidence was a small study of eight multiple myeloma patients.
Collaborating with colleagues from New York City's Albert Einstein College of Medicine and Montefiore Medical Center in the Bronx, FDNY researchers looked to a much larger source of data: nearly 10,000 male firefighters, all with health records dating back to well before September 11, 2001.
Among the 90 percent of the firefighters studied who were exposed, a total of 263 developed cancer. After adjusting for factors such as age and race, the team found that that figure represented a modest increased risk of 19 percent, or an additional 38 cases that wouldn't have otherwise occurred and could be attributed to 9/11 exposures. Although the difference fell short of statistical significance, Prezant noted that this is only the "start of the story."
The researchers emphasized that many cancers, including mesothelioma and other malignancies related to the known toxins found at Ground Zero, can take decades to develop. What's more, the study already misses three years worth of cases that may have developed since 2008.
Dr. Prezant noted that his team plans to continue following the firefighters over time, as well as look at cancer rates among EMS responders. As the current study lumped all cancers together, he also anticipates that the accumulation of additional data will allow researchers to tease apart rates of individual cancers.
"We're pleased that additional peer-reviewed studies are being added to the body of knowledge related to the question of potential World Trace Center-related health effects," Fred Blosser, public affairs officer with NIOSH, told HuffPost. "We will closely examine new studies along with the larger body of knowledge as we conduct the second periodic review."
He added that NIOSH expects to conduct that second periodic review in early to mid-2012.
Yet James Melius of the Mount Sinai School of Medicine, who authored a commentary that accompanied the new report, suggested that a reevaluation of the evidence should be conducted "sooner rather than later."
"I believe that evidence from this study, plus what we know already about the exposures experienced by people involved in the rescue and recovery effort, certainly justifies the addition of cancer to that list of covered conditions," he said.
"Now that there is new evidence of an increased rate of cancers among 9/11 responders," added Maloney. "I hope that Dr. Howard will reevaluate adding coverage for cancers under the Zadroga Act, which the legislation empowers him to do."
Related
Popular in the Community