Niki was beautiful, and at the tender age of 19, already graced the cover of LIFE Magazine. Her family -- the Saint Phalles -- was the thirteenth oldest family in France. And still, her parents thought that they would "fare better in the United States." At the age of 3, Niki was brought to New York, where her family settled in Manhattan's Upper East Side. Her mother had a "vicious, unpredictable temper," and often beat her children. Niki's two siblings committed suicide in adulthood.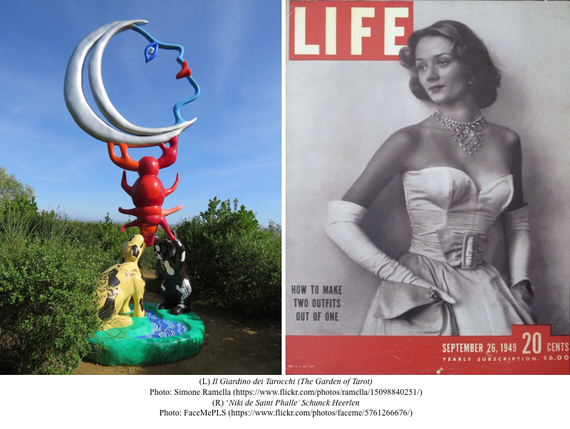 I've admired Niki de Saint Phalle (1930 - 2002) as a uniquely talented and adventurous artist for many years. But now, after reading the latest issue of The New Yorker, with its fascinating and rather scary profile of Niki de Saint Phalle by Ariel Levy, I understand that I knew nothing about her as a person.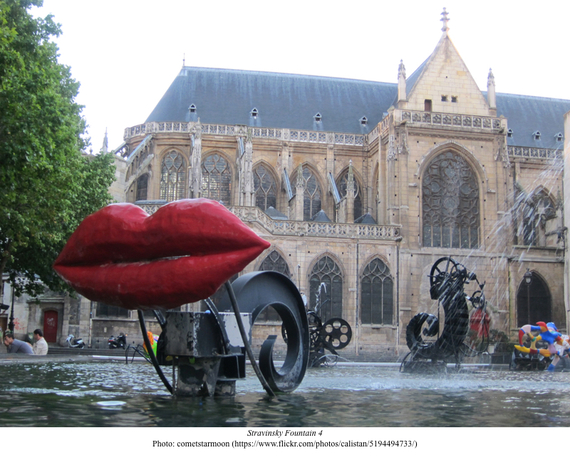 If you've ever been to Paris and walked around the Pompidou Centre, you will undoubtedly remember the famous Stravinsky Fountain (1983), with its moving rusty metal parts made by Swiss sculptor Jean Tinguely and spiced up by Niki de Saint Phalle's wild array of brightly colored - even gilded - sculptures. Niki and Jean were friends, lovers, and for a number of years, husband and wife -- which didn't preclude either of them from having numerous other romantic partners.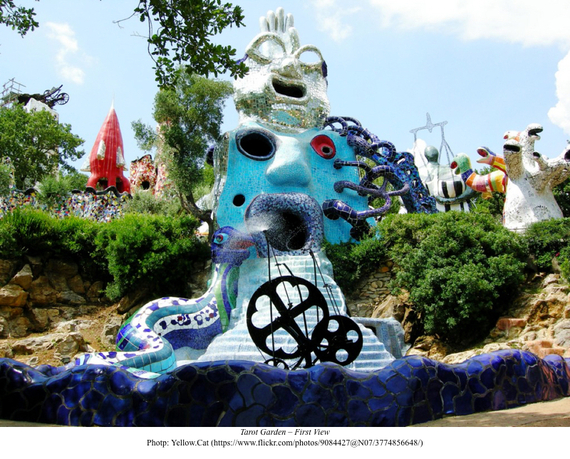 The New Yorker's profile opens with a captivating double-page photograph of the most famous artistic creation by Niki de Saint Phalle -- her Tarot Garden, a fourteen-acre sculpture park in Tuscany on which she labored for several decades. Looking at her sculptures in no way implies merely standing at a respectful distance and appreciating its forms and colors. Not at all. Looking at her fantastical creatures, with their voluptuous shapes and rainbow-colored mosaic surfaces, is to be caught off-guard. It is to get overwhelmed by their exuberance, to lower one's defense system and to be given, if only for a moment, the forgotten happiness of a child playing in a sandbox.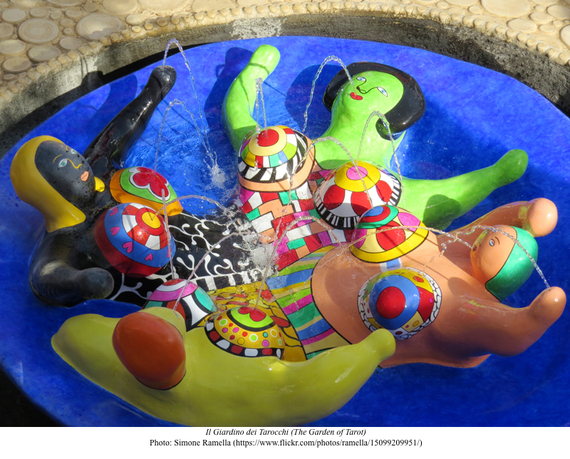 But reading this profile, I learned that her life was full of neglect and tragedy. One of her lovers "talked constantly of suicide, which she found inspirational." Soon after, she herself ended up in a mental clinic, where she underwent ten rounds of electroshock therapy. And that's when a miracle happened to this young woman who, until then, never thought of herself as or attempted to be an artist. She started to collect twigs and leaves while walking in the garden, and made them into collages. In her own words, "My mental breakdown was good in the long run, because I left the clinic a painter."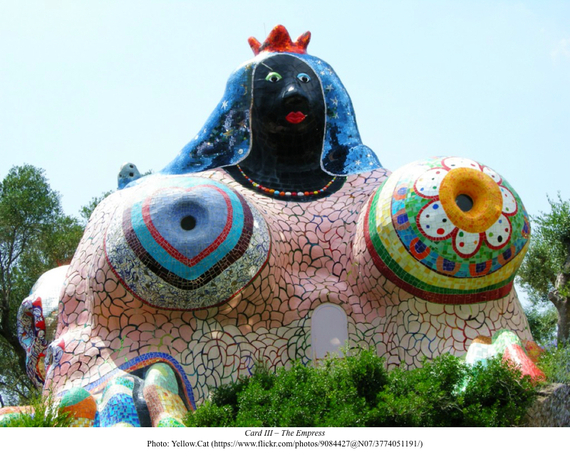 She was passionate about her art and first became famous as an artist who shot at canvases laden with bags of paint, so that the paint would explode over the canvas. It's difficult to reconcile the sense of happiness conveyed by her monumental sculptures and their colorful mosaics with the darkly disturbed history of her private life. She was sexually abused as a child by her father. As a young mother herself with two little kids, she was -- to put it mildly --neglectful. You simply must read the The New Yorker's entire profile.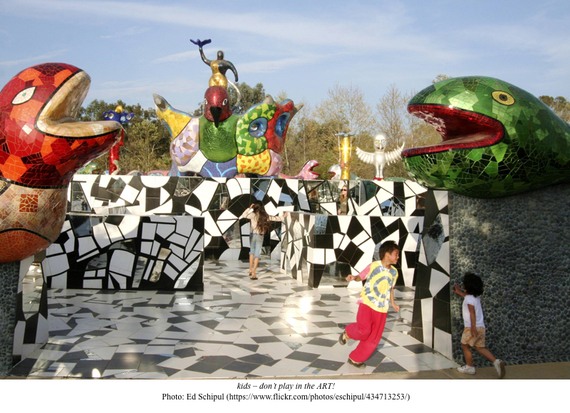 On the advice of her doctors, the artist spent the last years of her life here in Southern California, with its climate being ideal for her health. Her last monumental project was the large garden, with towering fantastical sculptures. It's known as Queen Califia's Magical Circle, and it's located in Escondido, not far from San Diego. Entering the garden and walking around the totem-like sculptures, even climbing them, one can hardly resist the temptation to touch their shimmering mosaic surfaces. I'm sure that the artist wouldn't have had it any other way. Watching the kids and adults running around, hugging and playing with her sculptures, one feels the magic spirits of Niki de Saint Phalle's precursors, Spanish artist Antonio Gaudi and Italian immigrant Simon Rodia, smiling upon us.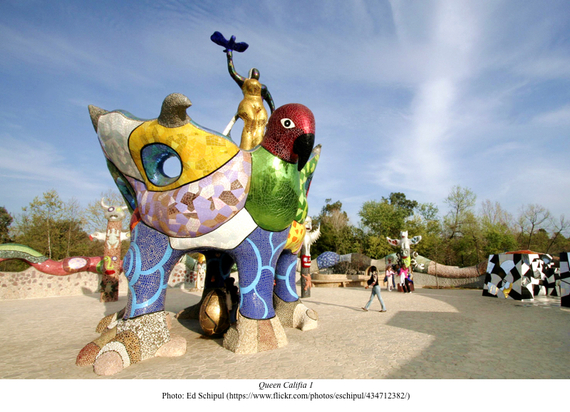 To learn about Edward's Fine Art of Art Collecting Classes, please visit his website. You can also read The New York Times article about his classes here, or an Artillery Magazine article about Edward and his classes here.
Edward Goldman is an art critic and the host of Art Talk, a program on art and culture for NPR affiliate KCRW 89.9 FM. To listen to the complete show and hear Edward's charming Russian accent, click here.
REAL LIFE. REAL NEWS. REAL VOICES.
Help us tell more of the stories that matter from voices that too often remain unheard.