It was a cold winter evening of March 4 in New York. Opera performances in an intimate setting however made the night warm and cozy yet impactful. Singers and performers mingled with opera producers, entrepreneurs, patrons, and investors.

The New York City Opera Renaissance Ltd is an effort to revive the New York City Opera from its glory days. Roy Niederhoffer, its Chairman, with wife Jenny, have pledged to date over $2 million along with the significant contributions from the rest of the Board towards the relaunching of the New York City Opera (pending bankruptcy court approval). NYCO Renaissance plans to return the company to a Lincoln Center venue and present a full season of opera for 2015-16.
Wednesday night's pre-gala get-together raised awareness, as well as support, to Monday's forthcoming concert featuring Sting, Placido Domingo and other opera luminaries. (Sting will be singing "Lost in the Stars".) They will all be performing at the gala concert on March 9th at the Rose Hall of "Jazz at Lincoln Center" which is located at the Time Warner Center. For more info and various ticket options, visit www.nycorenaissance.com.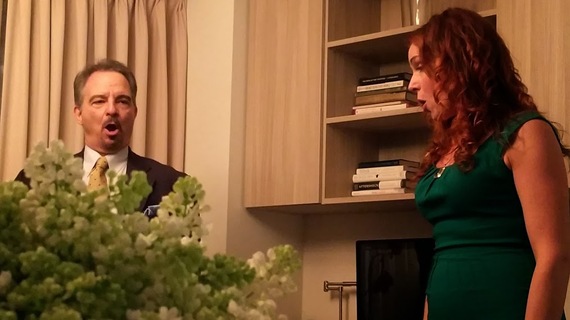 Baritone Michael Corvino and Mezzo Soprano Sarah Heltzel
I had a front row seat as the co-host of this wonderful evening. There were 70 patrons who came with my fellow board directors of the New York City Opera Renaissance at Victoria Vysotina's and architect John Berson's lovely home. Former NYC Opera choir singer and now banker Adrian Ross was there and heard the General Director of NYC Opera Renaissance Michael Capasso's vision of the new NYC Opera. The event was expected to end 830 in the evening but Roy created a delightful impromptu session of piano-playing and vocal performances that lasted for hours.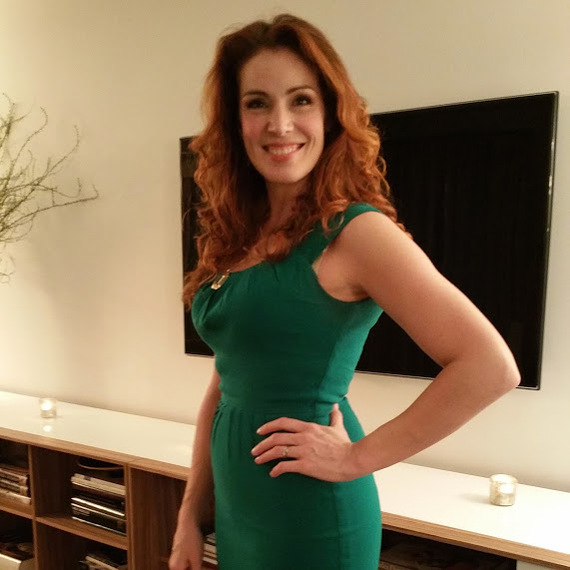 Mezzo Soprano Sarah Heltzel

The vibrant and stunning redhead Sarah Heltzel shone as she sang "Send in the Clowns" from Sondheim's "A Little Night of Music". The mezzo soprano added later, "The creativity I use as a singer to connect with an audience, is the same creativity I use as an entrepreneur to engage with investors in finding new outlets and opportunities for my artform. Small companies are now springing up to fill the void. Somehow people dismiss opera as superfluous or elitist but it actually offers more opportunities for us to explore and express our humanity's many facets of giftedness and creativity."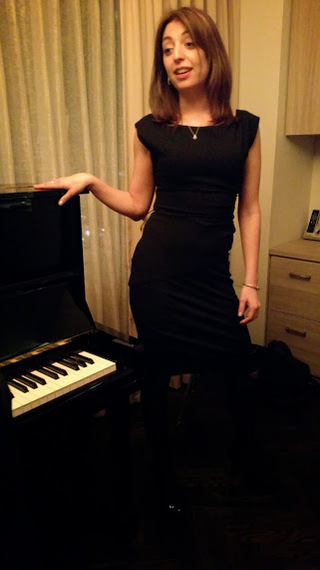 Lyric Soprano Talya Smilowitz
Talented lyric soprano and voice teacher Talya Smilowitz lit up the walls with smiles and laughter for the last remaining guests. She sang tunes from The Sound of Music, Girl from Ipanema, and favorites like "Tomorrow" from "Annie", "I Got Rhythm" by Gershwin, and the fun and fanciful "Supercalifragelistic" from Mary Poppins. She had a spunky, flirtatious aura and a pure voice. "Vedrai Carino" from Don Giovanni was her highlight.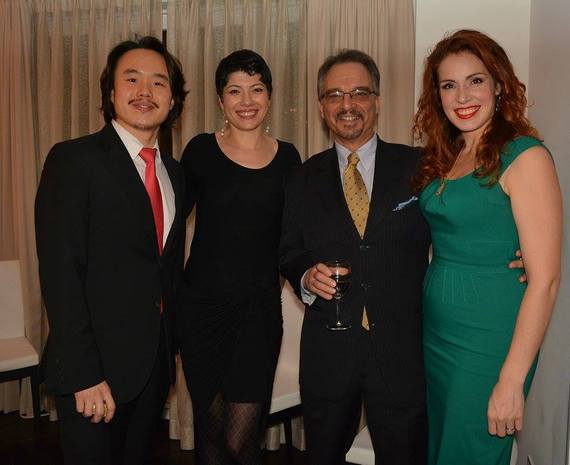 Tenor Won Whi Choi, Soprano Inna Dukach , Baritone Michael Corvino and Mezzo Soprano Sarah Heltzel
It was a refreshing night filled with music and enjoyed by lovers of music. I felt the passion emanating through soprano Inna Dukach when she sang "Donde Lieta Usci" followed by the quartet from Puccini's La Bohème. Before that, tenor Won Whi Choi's strong voice sang "La Fleur Que tu M'avais Jetée" from Bizet's Carmen while baritone Michael Corvino sang "Mamma, Mamma" from The Most Happy Fella by Frank Loesser.
All along I was thinking about their challenging entrepreneurial lives and how they will take all sorts of gigs like teaching music, performing for private parties and the like just to sustain their passion and create more income opportunities.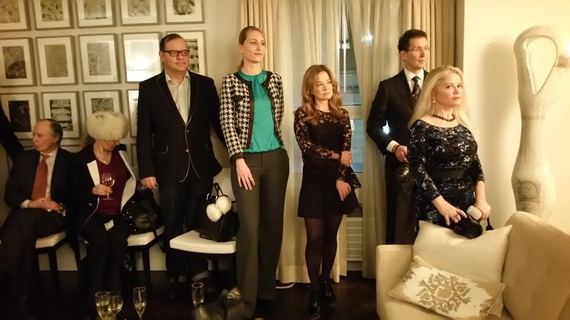 From left to right: Ian Shapolsky, Shapolsky Realty; Jill Olofsson, Shapolsky Realty; Tiberius Vadan, KPMG; Mrs. Vadan; Maria Ines Moraes; Colin McClive, Banker; Arilda Mc Clive, photographer for VictoriaGlobal.co
Eli Bar, head of Business Development of Elad Group (the NY-based real-estate development company who developed The Plaza Hotel), said, "I was very happy to hear last night that almost all the tickets for the gala on March 9 were sold out and we can now focus on producing shows for the new NYC Opera." Eli is one of the board directors who joined Roy and Michael Capasso late 2013 in the efforts to bring back the new NYCO to Lincoln Center.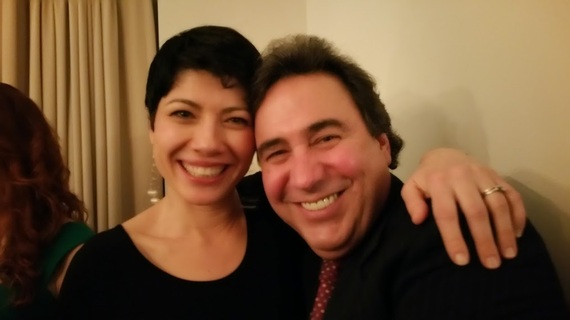 Inna Dukach and Michael Capasso
Board member Tiberius Vadan, Transactions & Restructuring Partner at KPMG LLP (one of the four largest accounting and advisory firms globally), also joined in the fundraising and supported hedge fund manager Roy Niederhoffer's entrepreneurial efforts to revive the new NYCO. He explains: "This is opera the way it was meant to be performed - alive, vibrant, filled with music and emotion - the same way in which Shakespearean plays were performed in London where you could touch the actors. NYCO Renaissance wants to take that same approach to timeless and modern operas by bringing the audience into the action and inside the music."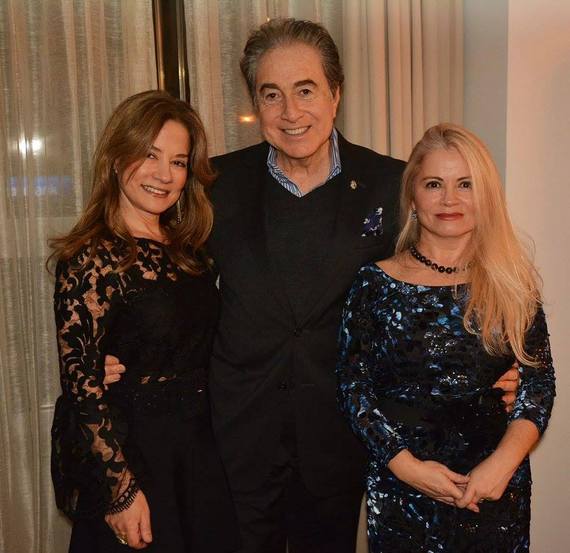 Maria Ines Moraes, Bruce Lipnick and Arilda McClive
Young Professionals of Lincoln Center joined to support and patrons were buying the hefty $1250 gala dinner tickets. Bruce Lipnick, a patron of the arts for decades has committed to join the star studded gala on Monday. "The arts are very close to my heart as I have a daughter dancing for The Washington Ballet. The work Roy [Niederhoffer] is doing is immensely important as this is the preservation of New York culture and it must be retained."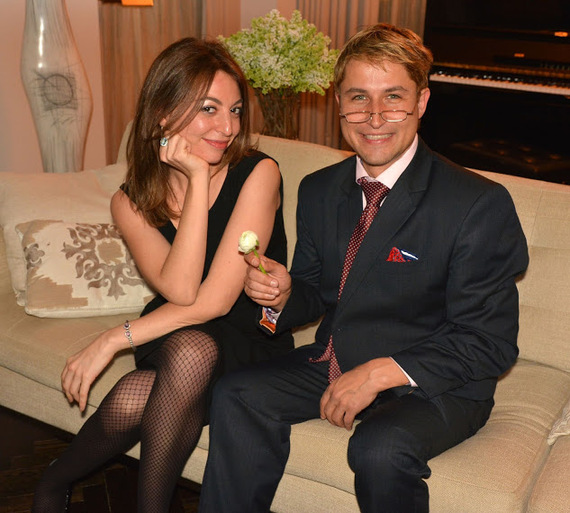 Lyric Soprano Talya Smilowitz and me
It is not an easy path to be a music entrepreneur but the artistry and excellence that the work creates penetrate hearts and souls. Last night was an amazing celebration of the arts and the artists and I felt the soul of my original The Soho Loft residence, where similar amazing performances were the usual fare, was also being revived.
Related
Popular in the Community