The connection between food and passion finds its way into all kinds of movies:
Robert Morley, George Segal, and Jacqueline Bisset starred in 1978's wicked farce entitled Who Is Killing The Great Chefs of Europe?
In 1985's Dim Sum: A Little Bit of Heart, Wayne Wang used Cantonese cuisine as a metaphor for love.
In 1992's Like Water For Chocolate, the passions felt by a cook were transmitted to the people who ate her food.
In 1996's Big Night, Stanley Tucci and Tony Shalhoub appeared as two brothers making a desperate effort to save their small Italian restaurant in New Jersey from closing.
In 2003's Pieces of April, a young woman (Katie Holmes) tried to cook a Thanksgiving dinner after the stove in her tiny walk-up apartment broke down.
In 2004's Dumplings (a Hong Kong horror film), a cook chopped up unborn fetuses from an abortion clinic for a special kind of dumpling that could help women look younger.
In 2005's The Mistress of Spices, an Indian woman living in Oakland used her culinary skills to achieve surprisingly romantic results.
In 2007's Waitress, Jenna (Keri Russell) hoped that winning first prize in a local contest for her pie recipe could be her ticket to freedom.
In 2008's Apron Strings, the owner of a bakery in Auckland, New Zealand discovered that her loser son loathed her traditional (but bland and unimaginative) English style of cooking and preferred to eat Indian food.
In 2009's Julie and Julia, Meryl Streep gave a bravura performance as Julia Child.
Using ethnic cuisine as an anchor for a romantic comedy, family melodrama, or fierce farce is not as easy as it sounds. The characters must be believable and the script still has to have good writing.
When I moved to San Francisco in 1972, one of my roommates was a major sex hound who asked me: "Why do you always talk about food the way most people talk about sex?" If he had lived long enough to see Today's Special there's a chance he might have finally understood.
Written by and starring Aasif Mandvi (who is familiar to most people from his appearances on The Daily Show with Jon Stewart), this is what I like to call a triple-threat film. Part romantic comedy, part family drama, partly devoted to ethnic cuisine and multiculturalism, it succeeds primarily because of its intelligent writing, complex characters, and dramatic honesty. Mandvi's script grew out of his one-man show entitled Sakina's Restaurant. In the following clip from news coverage of the Mumbai International Film Festival, he explains the basic setup of the plot:
What one has to see the film to appreciate, however, is the elegance of Mandvi's writing, the slyness with which certain gags are set up, and way he captures the sensuality with which some chefs approach their work. The plot basically revolves around:
Samir (Aasif Mandvi), a sous chef at a fashionable restaurant in New York. Samir has been eagerly looking forward to being promoted to head chef when his boss opens a new restaurant.
Steve (Dean Winters), Samir's boss and owner of the Pacific East restaurant. Steve likes having Samir on the line but does not see his sous chef as having a "front of the house" personality.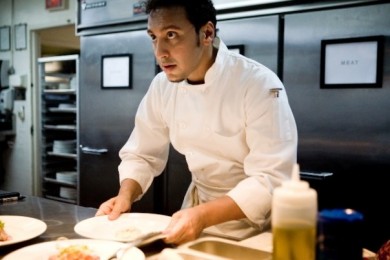 Samir (Aasif Mandvi) at work in the kitchen at Pacific East

Stanton (Kevin Corrigan), one of Samir's co-workers at Pacific East.
Carrie (Jess Wexler), a smart new hire at Pacific East.
Akbar (Naseeruddin Shah), a mysterious Indian taxi driver who drives Samir home from work one night.
Farrida (Madhur Jaffrey), Samir's meddling mother who keeps setting him up on blind dates with Indian-American women whose profiles she has found on the Internet.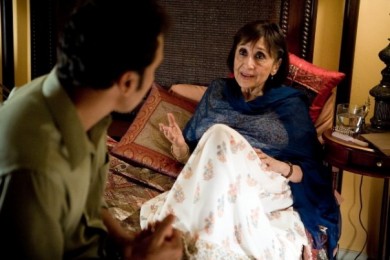 Samir (Aasif Mandvi) and Farrida (Madhur Jaffrey)

Hakim (Harish Patel), Samir's father who wants out of the restaurant business and plans to sell the family business to a friend who wants to open a fast food franchise. Following the death of Samir's younger brother in an automobile accident, Hakim has never really been able to give his blessing to anything Samir has ever attempted.
Munnamia (Ajay Naidu), the sullen cook in Hakim's restaurant, a man whose despicable kitchen habits could easily lead to several health code violations.
Rasool (Sean T. Krishnan), one of Hakim's kitchen workers who can barely speak English.
As directed by David Kaplan (who did such an nice job with 2008's Year of the Fish), Today's Special takes the softer approach to setting up jokes and conflicts rather than the slam-bang technique favored by larger studio films. Because Samir and his family must walk on coals in order to finally connect with each other's emotions, Kaplan's film feels much more genuine than many others. It captures a deeper level of humanity in each character with which any member of the audience can sympathize.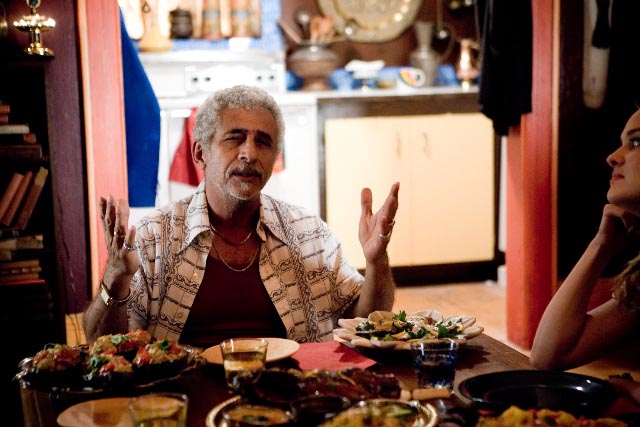 Naseeruddin Shah as Akbar

Today's Special is a refreshingly honest and intelligent film that (particularly in a post-9/11 environment) humanizes a Muslim-American family's challenges in such a way that Samir and his restaurant in Jackson Heights become one more set of immigrant spices added to New York's melting pot. Kaplan is helped tremendously by the Indian actors who play Samir's parents, kitchen staff, and Akbar (the crazy taxi driver who once cooked for important diplomats and who puts a sign in the restaurant's front window that says "Today's Special: Trust Me"). Here's the trailer:
Turning on an oven will only get you good results if you know what you're doing. Trust is a major issue in What's Cooking? (2000), a film by Gurinder Chadha set in a residential area of Los Angeles over Thanksgiving weekend. The homes which sit at the four corners of an intersection are populated by Asian American, African American, Hispanic, and Jewish families.
As the four families prepare their Thanksgiving dinners (with ethnic enhancements to the traditional menu), the tasting, criticism of people's cooking, and hunger never abate. Tensions around family crises involving sex, children, guns, gangs, sperm donors, and ex-husbands may rear their ugly heads but no one stops eating. As the old saying goes, "If you can't stand the heat, stay out of the kitchen!"
Perhaps you might prefer the droolingly delicious Lezioni di Cioccolato (Lessons in Chocolate). I call it "droolingly delicious" because it's so easy to drool over the male lead, Luca Argentero. Rest assured, there's a lot of chocolate as well.
Argentero plays Mattia, an arrogant Italian stud who, as a building contractor, is always trying to shortchange clients on the materials he uses, skirt safety regulations, and underpay undocumented laborers. He's a total bastard. A totally gorgeous bastard who undergoes enough of a redemptive transformation that, by the end of the film, he describes himself as "a lying asshole who at least wants to change."
As a result of Mattia's stubborn refusal to erect protective scaffolding at a jobsite, one of his best workers falls from the roof and is severely injured. Invoking an Egyptian superstition, the worker refuses to talk to the police for four days.
Kamal (the delightfully bug-eyed Hassani Shapi) was once an accomplished pastry chef in Cairo. Prior to the accident, he had enrolled to take a course in the art of chocolate making -- a course offered once every hundred years by the renowned Perugina chocolate company. Now, thanks to Mattia's cost-cutting shenanigans, he's stuck in a body cast and there is no way that he can physically take the course. Unless, of course, something can be worked out.
A wily Egyptian who knows how to milk lots of entertainment from making his boss suffer, Kamal insists that Mattia take the course using Kamal's name and teach Kamal how to make chocolate on the side. If he doesn't, Kamal will report Mattia to the police. Kamal also insists that Mattia cannot bribe someone else to do the work for him, but must take the course himself.
Kamal, however, is not about to stop there. In order to make the gorgeous, studly contractor look more like a poor undocumented immigrant worker, he strips Mattia of his expensive clothes and pretenses and proceeds to drive him to distraction with one crazy Egyptian tradition after another. Meanwhile, Mattia keeps trying to maintain his business contacts on the golf course.
Needless to say, Mattia screws everything up. Although he is rescued by Cecelia (Violante Placido), the prettiest woman in the chocolate making class, he quickly discovers that Cecelia -- who has a bad habit of falling for men who are pathological liars -- has enough emotional baggage to sink the entire Italian navy.
As Mattia soon learns: in order to make great chocolate -- and create "tiny moments of ecstasy" -- one cannot skimp on quality. Every trick Mattia has used to succeed in business in the past now works against him. Once Kamal and Cecelia knock the wind out of his sails, Mattia determines that he might as well try to win the contest for creating a new chocolate treat the hard way: by doing it honestly.
Written by Fabio Bonifacci and directed with a great sense of mischief and élan by Claudio Cupellini, Lessons in Chocolate is a fickle farce that moves at a frantic pace. You'll laugh, you'll cry, you'll want more chocolate. It's all great fun, aided and abetted by a superior cast of clowns.
Although these video clips lack subtitles, you'll get the drift easily enough. The trailer, which focuses on the movie's many pratfalls, doesn't really let potential audiences in on the true sweetness of the film's story and the redemptive powers of chocolate.
If you've ever been caught in the middle of a food fight, you know that nothing is sacred. That's pretty much the bottom line in Kung Fu Chefs. If you've ever wanted to have a martial arts meltdown in a supermarket's produce section, the following film clip (translated into Khmer) should make you extremely happy:
Although hardly as funny as some of Stephen Chow's films (Shaolin Soccer, Kung Fu Hustle), Kung Fu Chefs has some grand CGI effects and some great moments of silliness. This is not, however, a movie that should be seen by vegetarians, vegans, or anyone who gets queasy when dead animals enter a kitchen.
Sammo Hung stars as Wong Ping Yee, a disgraced chef who is despised by his gangster nephew, Wong Pai Joe (Louis Fan). The bitter Wong Pai Joe hopes to regain the rights to the totemic Dragon Head Cleaver. Wong Ping Yee tries to help two sisters who own the Four Seas restaurant (Cherrie Ying and Ai Kago) while training a young and romantically foolish wannabe chef named Ken'ichi Lung Kin Yat (Vanness Wu) to win the competition which will make him the Top Chef of China.
That's really all you need to know about the plot. Fists fly, fish fry, and there is a happy ending. The special effects go way beyond anything you'll see on Iron Chef America. Here's the trailer:
Calling all HuffPost superfans!
Sign up for membership to become a founding member and help shape HuffPost's next chapter