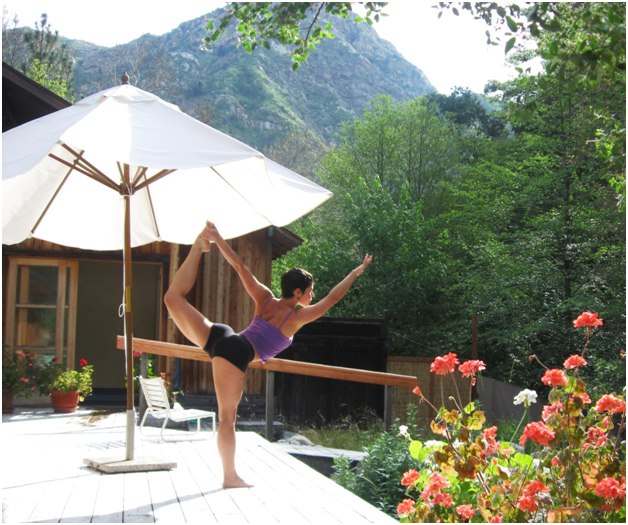 Truth: I am not a "Kumbaya" sort of person. As a writer and traveler, I come naturally by a streak of the dreamer, but campfire chants (or any chants, for that matter) tend to make me squirm. I do yoga in search of killer abs more than inner peace, and am probably the only person I know who has not read Eat, Pray, Love. While I do my best to admire the unity of humanity, I am city girl all the way: pecking at my phone on public transit, huffing at crowds. With little time or desire to quiet my mind, I never thought meditation was for me — until, I attended a wellness retreat at Tassajara Zen Mountain Center.
Zenshinji (Zen Heart-Mind Temple) was founded in 1967 by Japanese Zen master Shunryu Suzuki-roshi. A place of calm, contemplation, and renewal, Zenshinji has a tradition of opening to the public for the summer season (April through September), its way of serving the community and "water[ing] the seeds of Zen practice in the West."
Guests may take part in retreats focused on yoga, mindful living, creativity, and more, or simply soak in the hot springs, hike in the mountains, and lounge by the pool. Either way, they become part of something bigger, leaving the connected, wired (and wireless) world behind in favor of chirping birds, kerosene lamps, and a daily rhythm that floats through the valley on the soothing vibration of a gong.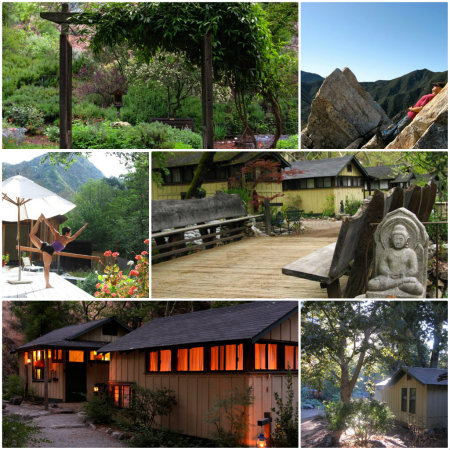 I signed on for "Dragon Song — A Zen and Vinyasa Retreat" on a whim. Feeling overrun and rundown, the prospect of forced isolation was appealing.
The retreat group, a motley crew of lawyers, executives, artists, Zen priests... seasoned yogis and fledglings alike, all seemed equally under the spell. That first night, we sat in a circle as Zenshin Greg Fain, the Tanto (head of practice) at Tassajara and leader of our retreat, told in his mellifluous baritone the tale of "the dragon song that comes from the withered tree." Then we meditated on our personal renewals — healing a broken heart, opening up, slowing down.
When we finally linked hands to pass energy around the circle, I found I had given myself over completely to the experience and promised myself, and this place, to relinquish completely.
The word "vinyasa" names a type of yoga characterized by its flow. Our days at Tassajara, both inside the yoga studio and out, had fluidity to them. I happily awoke to the 5:20 a.m. bell for morning zazen (seated meditation), and reverently removed my shoes at zendo, relishing in the feel of the smooth wood beneath my feet.
Sitting still for so long was not easy, and my mind admittedly wandered as I gazed at the wall (why do we face the wall? how is she sitting so still? what is she thinking? should I be thinking? what is for breakfast?). But here was a place to just be, just me with myself, without judging or being judged. When the service began one felt the full embrace of the community, students helping visitors to find their place in the chants, voices resounding and bodies bowing as one.
Marked by the gong, meals were a communal affair where all shared in exquisite, lovingly prepared vegetarian dishes. Even preparing a bag lunch had a particular ritualistic quality: homemade spreads, roasted veggies, and the famous Tassajara bread.
In the communal baths, I quickly learned that "clothing optional" really meant "nude." These baths also have a ritual to them, though, and once I understood that discomfort melted away in the medicinal, sulfuric hot springs, where the ladies detoxed and chatted after a day of activity.
When our final circle came around, tears were shed by many — for the newly forged friendships, for the personal progress, for the beauty that comes from quiet, and for the surprise of it all.
It feels a bit "hokey" to say it all changed in one weekend. And, to be honest, it didn't. Real life has officially returned now. I rush, fret the small stuff, and am far too dependent on my gadgets. But still I am not the same. And I wouldn't be alone in asserting that this place has magic.
Read the full story here.
Retreats start at $170. Rooms range from shared dorms to private cabins ($100-407). Nightly rates include three meals a day and full use of facilities.
Directions: There is no public transit that goes direct to Tassajara, but you can take the Monterey Airport from SFO to the Monterey Transit Plaza. From there, you can connect with other travelers via the Zen Center's Rideshare Board. Whether you opt to drive or not, we recommend springing for the Stage that shuttles guests from the town of Jamesburg over the last (somewhat harrowing) stretch to the retreat.