Janice Sands, Executive Director of Pen and Brush, sits down for a conversation with Bina Sarkar Ellias about her publication, her passion and her recent experiences in Poland and Taiwan.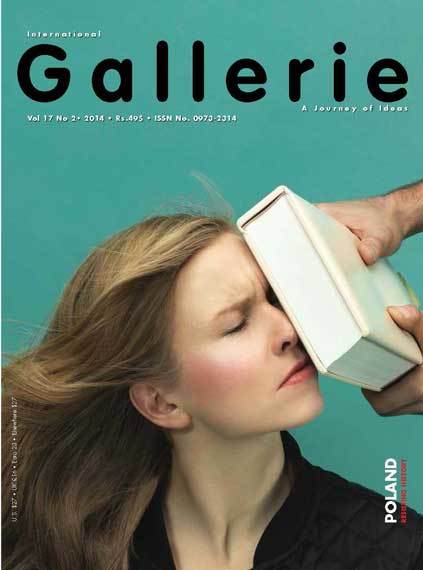 Janice Sands (JS): Your magazine, International Gallerie, places a lens on art, cultural history, climate, and social commentary with great depth in a way unlike other publication currently available. How did you develop this approach and what has come from introducing your readers/subscribers to other cultures in such a substantial way?
Bina Sarkar Ellias (BSE): Much of my sensibilities arose from direct experiences. Through my student years, I dabbled in drawing and painting. However, I found more joy in viewing and celebrating works of artists I cared about. I also learned to play the sitar in my youth, but preferred listening to the great music of masters. I used to write poetry from very early on but never considered being a "poet". And even as I once seriously considered being a filmmaker, I preferred watching the feast of world cinema!
As a student, I was involved in social activism. Influenced by Left literature and the Left movement in Calcutta of the late 60s and early 70s. My concerns were and are, for victims of inequality. Eventually, it was a conscious act that brought all of these passionate interests together as a discourse in International Gallerie. Gallerie is a sharing of arts and ideas. In this increasingly fragmented world, it aims to create an island for reflection that will cross oceans to understand, appreciate and respect cultural diversity. Ultimately, it is culture that humanizes.
JS: When did you first realize that art was your passion? Was there any one moment or event that began this lifelong career?
BSE: The proverbial "eureka moment" happened rather late in life. While I am a writer-journalist by profession, I've had several punctuations, as it were, in my life as a daughter, mother and wife; as a woman. While I was engaged in all of these roles as most women are, I had forgotten my identity as an individual. One day, when the much-required brick fell on my head, I woke up to the realization that my core creative passions were gathering cobwebs in the closet. That was when I gave myself a tangible purpose. Conceptually, Gallerie's perspective rose out of all the interests I had nurtured in my youth. When I initiated the journal in 1997, I did not have a clue who my readers would be. Today, after 18 years, I realize my readers are "the curious". They have been reading and collecting Gallerie for the treasures we have unearthed and shared.
JS: You truly immerse yourself in your work. Could you share some experiences that have stuck with you, or really changed your perspective on the world?
BSE: Work is my life force. In fact, I am fortunate to live my work. Every issue is a culmination of experiences with people and places. For instance, in our previous issue Poland: Resisting History, I walked through Auschwitz with a guide whose descriptions of the Holocaust were as intense as the stark visuals and barracks, the factories of brutality and the gas chambers. Such experiences make you wonder at and reaffirm the smallness of earth's living species and the largeness of the universe; how insignificant we are and yet how arrogant. Loss has also been a key element; loss of family and friends. You understand then, that you arrive in this world with nothing, and you leave with nothing. This awareness itself offers a perspective that guides you through helps you navigate life.
JS: Your upcoming issue features Taiwan, can you share some insight on the issue and your experience there?
BSE: Exploring Gallerie's Taiwan: Chronicles of Change was a vital learning curve. Having been colonized several times, its history has been in a continual flux. While most of the colonial influences have been camouflaged or been rejected, footprints of Japan's 50 years' rule has remained within their sensibilities and sense of aesthetics.
There is a compelling resistance to mainland China. Although Mandarin is in their vocabulary, a resurgence of the need to reclaim Taiwanese identity in its language and culture has been a strong dissident movement. Taiwan wants to be an independent entity. The indigenous Taiwanese are also claiming their rightful space after years of subjugation and arbitrary relocations. Through these years, women have been marking their expertise in various fields.
Currently, one third of Taiwanese legislators are female and manage ten government departments; they also head some of Taiwan's leading companies. And as an unprecedented milestone in their history, the forthcoming elections have two women leaders contesting for the President's chair. The ruling Nationalist Party's candidate Hung Hsiu-chu, a former teacher and current deputy Legislative Speaker and Ms. Tsai Ing-wen, the opposition Democratic Progressive Party Chairwoman are nominated and for the first time, Taiwan will have a woman President. This is indeed, one more reaffirmation that women need not subscribe to stereotypical roles. And if they are made to conform to such roles as it happens in oppressive communities worldwide, these women need to be made aware of their potential by those who have risen above the prescribed gender roles.
For more from Bina Sarkar Ellis on gender equity in the arts and advice for women artists and writers about cultivating a career in the U.S. and abroad, stay tuned for Part 2 of this interview.
Related
Popular in the Community